Running through the streets in groups and shouting "trick or treat" to neighbours and friends is a controversial idea in the middle of the second wave of the corona pandemic. Halloween parties or dinners with the entire circle of friends are also unfortunately not possible this year. However, to keep the little witches and monsters looking forward to Halloween and to make sure that you too can come into the Halloween Mood despite all the current circumstances, we have put together some great Halloween alternative ideas for you.
Pumpkin carving
A Halloween classic are pumpkins with creepy faces carved into them. But where does this tradition actually come from? People were afraid of the spirits of the dead, who visited the earth one day before All Saints' Day, on 31.10. In order to scare them away, they started to put creepy pumpkin faces with candles inside in front of their house. Keep up this old tradition and carve your own pumpkin lanterns.
Since most pumpkins are not allowed to be eaten the skin anyway, you can use them and convert them into lanterns. All you need is a sharp knife or cutter and you are ready to go.
If you want to make sure that your pumpkin is scary enough, you can also print out a carving template.
DIY Autumn Decoration
Halloween and the holidays that follow are the perfect time to relax in the warmth and get creative. Prevent the autumn blues and decorate your own four walls with great DIY autumn decorations. Whether you like to tinker, paint or take pictures – in our blog entry there are great ideas for everyone!
Halloween Photo Shooting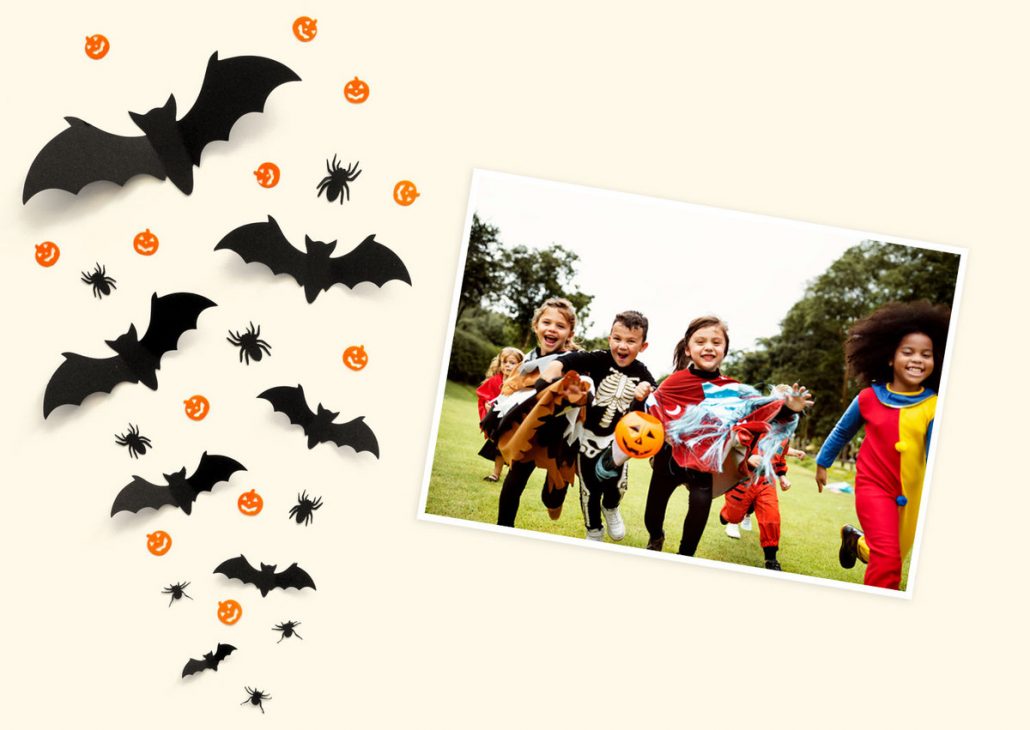 Children love to dress up and slip into other roles. Even if they can't go around the houses today, the dressing-up game doesn't have to be cancelled. Dress up and put on face paint at home and do a little photo shoot together.
You can then use the Postando Postcards App to send the photos to friends or grandparents as a greeting for Halloween. And to scare your loved ones a bit more, you can even integrate a creepy Halloween video on the postcard by using a QR code.
Make your own Halloween sweets
If you can't get candy from the neighbours this year, we'll have to get active ourselves! Most of the sweets can be easily made with just a few ingredients. How about homemade Bounty Bars? All you need is this:
200 g coconut flakes
300 ml coconut milk
100 g cocoa butter
4 tablespoons raw cocoa
5 tablespoons maple syrup
Mix coconut milk with coconut flakes and 2 tablespoons of maple syrup.
Then form the coconut mixture into bars and put them in the fridge for about 1 hour.
In the meantime, prepare the chocolate sauce. Heat cocoa butter in a water bath, stir in raw cocoa and add 3 tablespoons of maple syrup.
Dip the coconut bars into the chocolate and let them dry.
Go for a Halloween walk
The golden autumn invites you to take a walk through the colourful forests. You will be rewarded not only with the breathtaking view of the natural landscapes, but also with ripe fruits, berries and mushrooms.
Especially in the evening sun, an autumn walk can produce unique photographs that must be shared with your favourite people.
Send your autumnal photographs with personal Halloween greetings in the form of a Postando postcard.
And if you want to make the walk even more exciting for the little ones, you can combine it with a little Halloween scavenger hunt or go on a late night walk.
Watch scary movies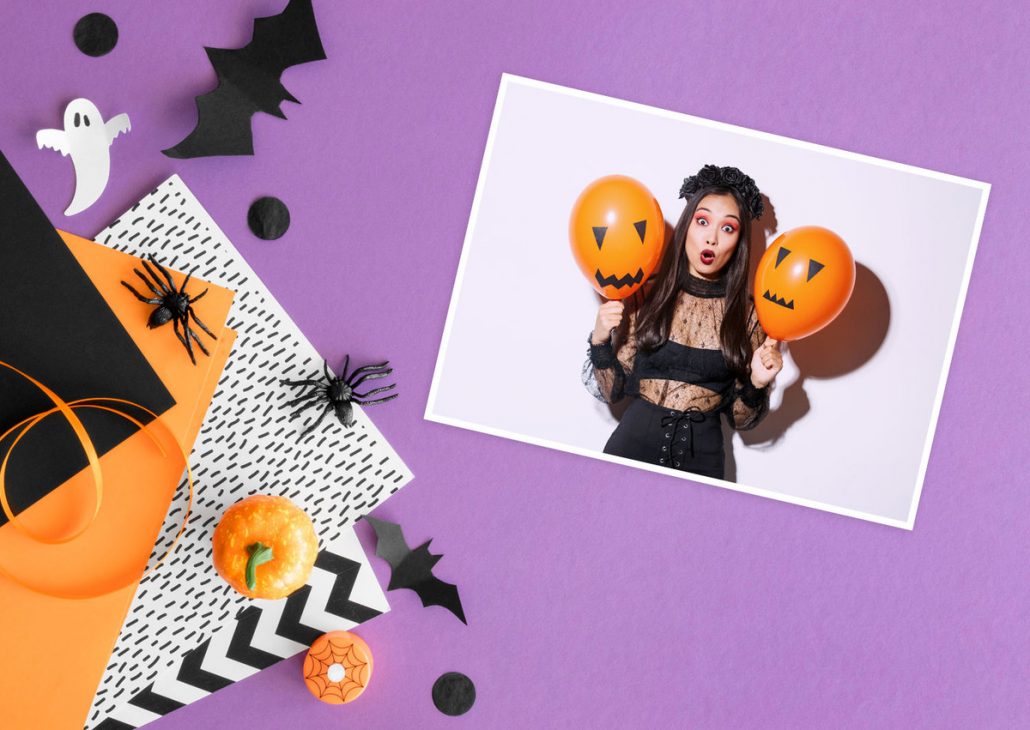 If you prefer to scare yourself rather than others, you should make yourself comfortable at home and watch scary movies. How about the movie Midsommar (2019), a horror movie that takes place in a hippie commune, or the horror movie Shining (1960) by Stanley Kubrick? The US thriller "Seven" is also perfect for an eerie home cinema evening.
Classics such as Monster AG or The Little Vampire are suitable for children.
And if you rather prefer it analogue, you can also simply tell horror stories and solve scary mysteries of the game Black Stories.
Together with a homemade pumpkin soup made from the remains of pumpkin carving, it is guaranteed to be a perfect Halloween evening!