ATTACH A REAL VIDEO MESSAGE TO YOUR POSTCARD
With Postando you can now share your most beautiful moments even more intensively. In just 4 easy steps you can attach a real video message to your postcards in order to share your experiences and special moments with your loved ones up close.
Your holiday greetings from the turquoise sea, the palm trees and the white sandy beach can now be accompanied by the sound of the waves. The first steps of the new family member can be captured in moving pictures on your greeting cards and conveyed in an emotional way. And wishes for birthdays, weddings or a newborn can from now on be sent individually and personally with a video message on your Postando.

With our Postando video postcard, tears of joy and hearty laughter are pre-programmed.
Create memories for eternity!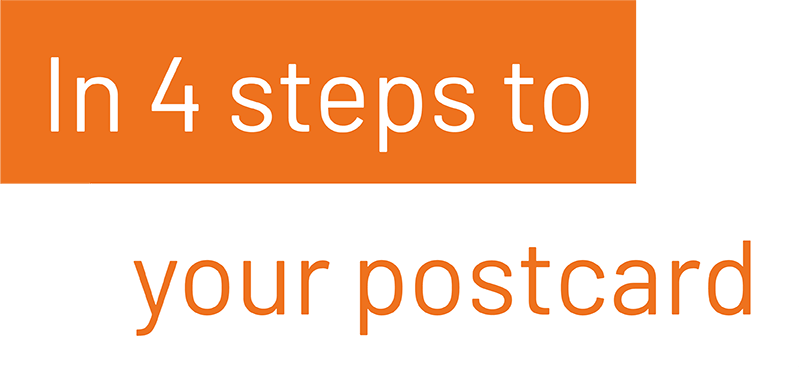 1st step
Choose the format of your Postcard and use your own photos or numerous templates.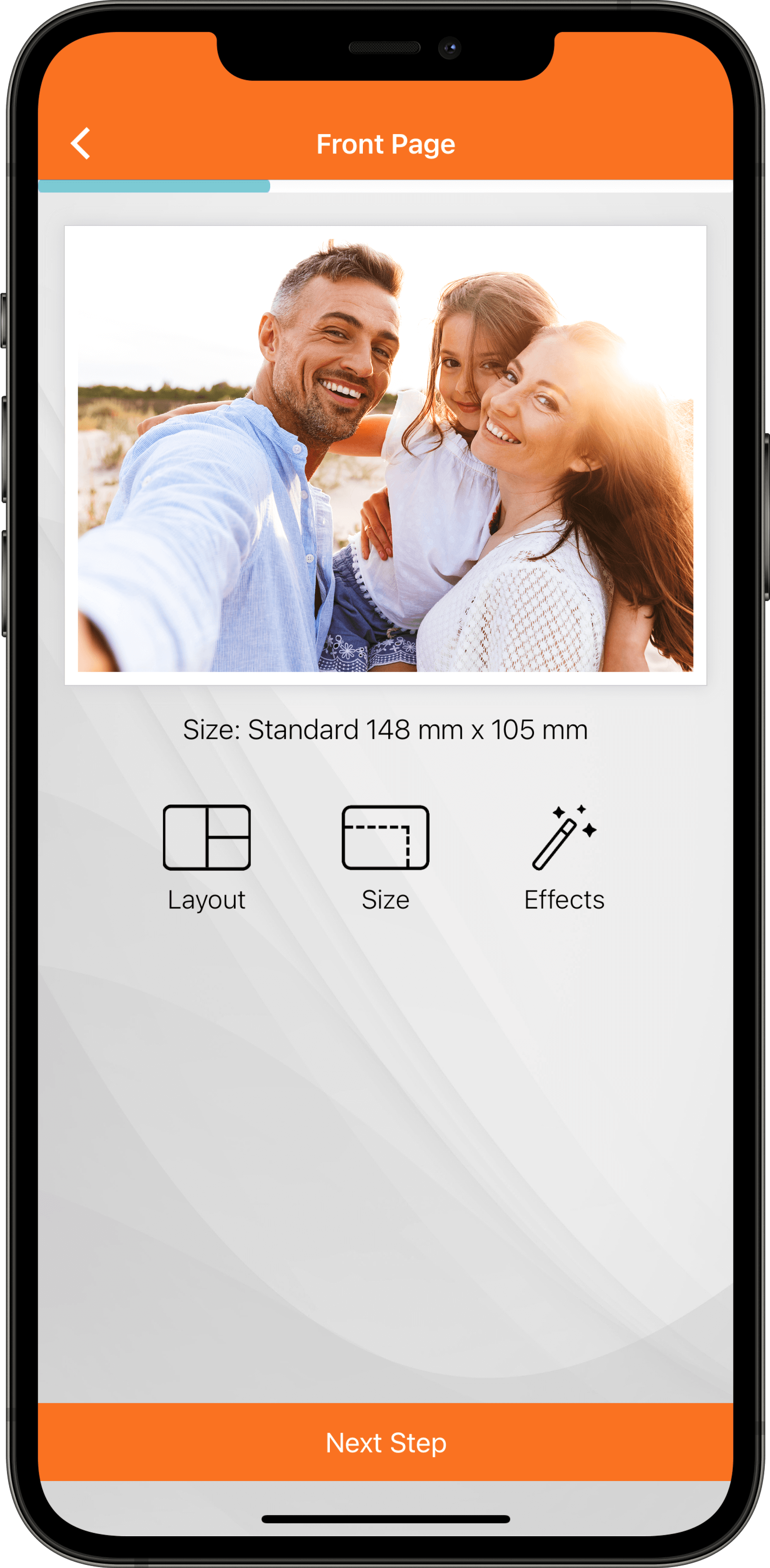 Step 2
Compose a message, select the lucky recipient and check the "Add video" toggle.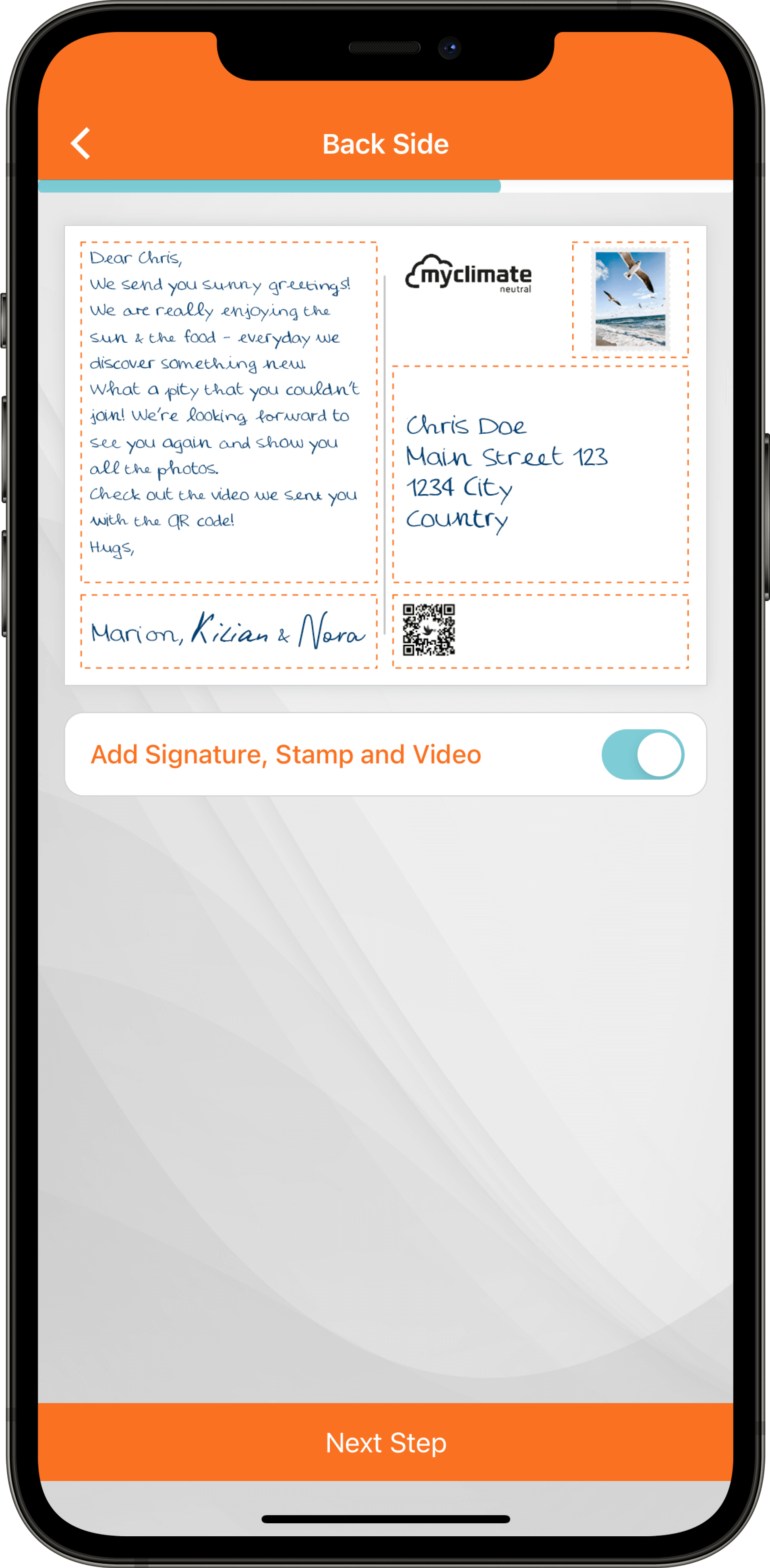 Step 3
Review your Postcard & check the front and back of your self-made postcard before final shipping.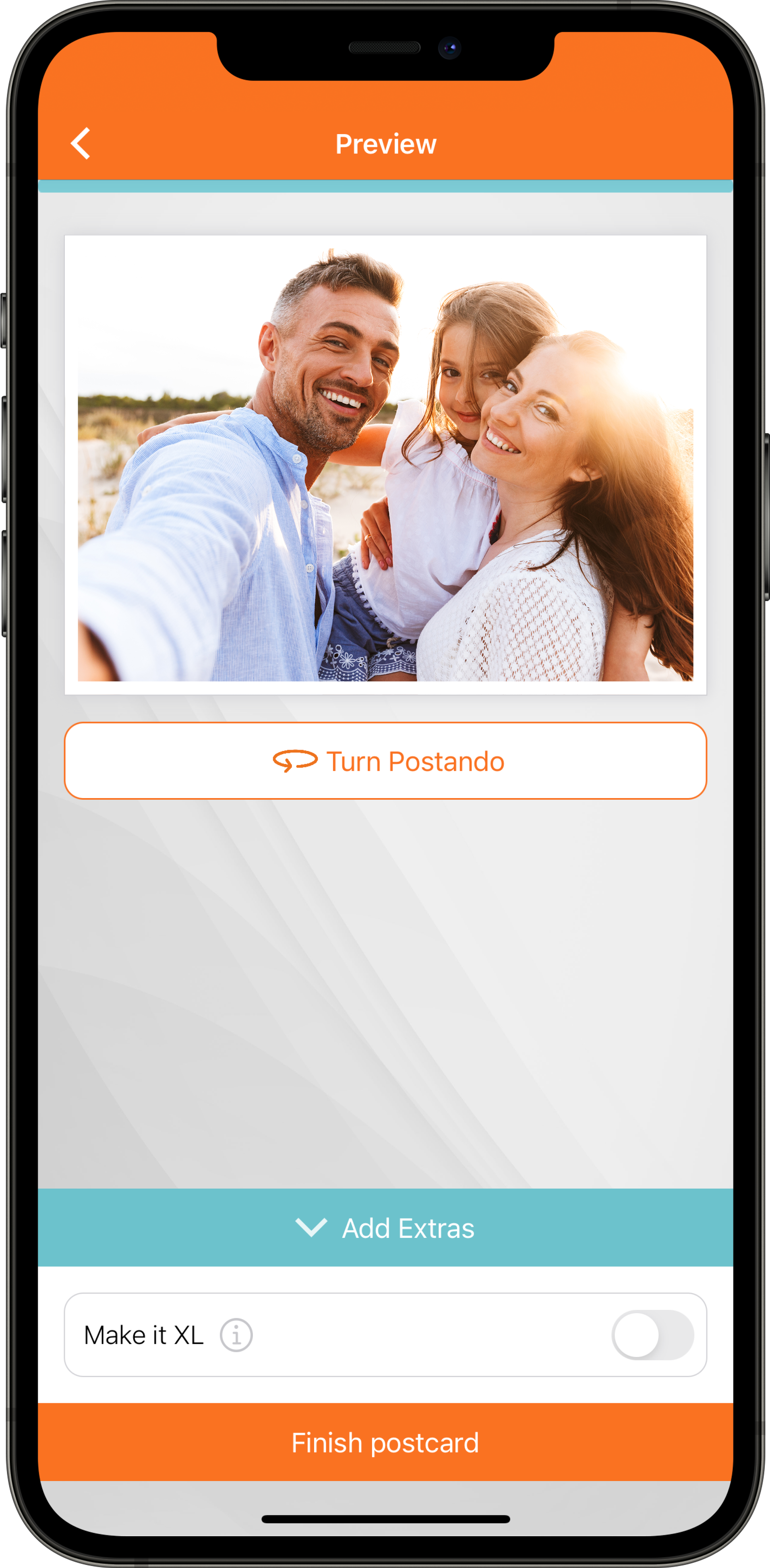 Step 4
Pay and send your Postcard directly in your recipient's letterbox to spread great joy.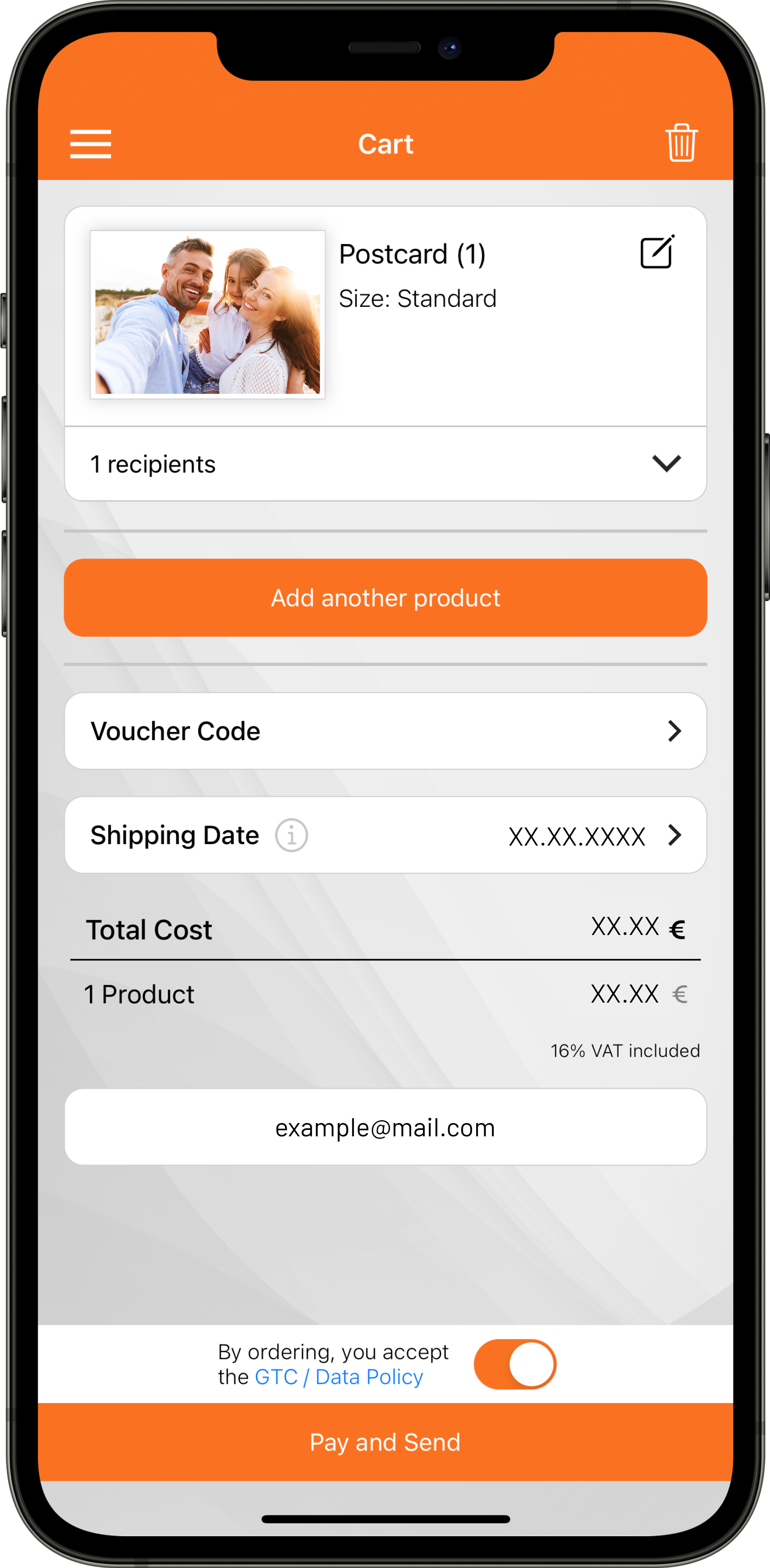 Common questions
How do I film a perfect video ?
Here are some important points to consider when shooting your video to achieve a successful result:
Make sure that the lighting conditions are sufficient. In the morning and in the evening the light is at its best, especially if you want to film outside in the nature. Of course you can also get a great result in the midday sun. However, so that the recipient of your video postcard does not only recognize you as a black silhouette, you must not film against the light.
At best, place your camera or smartphone on a tripod or other nearby object to prevent shaky video recording.

Consider a good sound quality. Therefore do not position yourself too far away from your smartphone. Background noises, such as car noise or wind, can also appear much more disturbing in your video recording than they are in reality.
But don't forget that your recording is a video for your loved ones. That means, instead of trying to make everything perfect, it is much more important to be yourself in front of the camera. Don't take funny mistakes too seriously and have fun with your little video shoot!
What can I film?
The content of your video postcard depends strongly on the recipient and possibly also on the occasion. Often you already have countless video recordings on your smartphone or an old hard drive, which are perfect for your individual video postcard. But instead of creating shared memories, you want to create something new and share it with your favorite people? There are no limits to your creativity! But if you spontaneously lack ideas, you can be inspired by our suggestions:
Are you on vacation right now? Send an idyllic nature shot – no matter if from the mountain panorama, the endless stand or a colorful flower meadow. Videos are able to capture the atmosphere authentically and let the recipient of your postcard share your impressions unaltered.
To send a postcard you don't have to be out of town. Go to your favorite place in your city – be it the roof of your house, the hidden park in your neighborhood, or a small café by the lake. Tell the recipient of your video postcard about this place and invite them to accompany you there next time.
Film yourself at home in your apartment at the place you like to be most. No matter if you are baking in the kitchen with a full apron, in the hammock on the balcony or with your cat on the couch. Be authentic and candid and just tell your recipient spontaneously what comes to your mind. For example, tell a funny story from your everyday life or about an encounter you had this week. Of course, you can also send a profound message with your postcard and tell your recipient three characteristics that make them special to you. Or you can simply say thank you for the fact that he is always there for you and you can rely on him.
What are the occasions for a video postcard?
You don't need a specific occasion to send a video postcard. All your loved ones will be happy about such a creative surprise and can't wait to finally unpack the QR Code. A video postcard is the perfect way to express your appreciation and solidarity with your friends. Surprise them with a small clip in which you tell them, for example, what makes your friendship so special to you. Even grandparents, who you often see far too seldom as you get older, are always happy to receive a small update from their grandchildren.
Since emotions and kind words can be conveyed even more directly through moving pictures, a video postcard is also a perfect birthday present. In this way you can give the birthday child the feeling that you are with him or her despite the distance. Who doesn't enjoy a birthday serenade sung by their loved ones? Maybe you have a funny video of the two of you at his or her earlier birthday party, which will bring back memories to the birthday boy or girl.
Another ideal occasion for which a video postcard can be designed is the vacation season. So much filmed and photographed as on journeys becomes rare. Use the video function to share your summer feelings and cultural impressions with those at home. Tell about a particular adventure you have experienced or share a funny anecdote that happened to you during your vacation. Most of the time you do so much that it is difficult to put all the experiences into words. A video offers you more space than the back of a postcard.
The video function is also a great way to make your thank you card even more sincere and personal.