The EU General Data Protection Regulation (GDPR), which has been in force for more than two years, has led some companies to restructure. For companies in the B2B and B2C sectors, there are now new restrictions on the processing of personal data. This is only permitted if there is a demonstrable, explicit, voluntary and, in particular, a purpose-based consent of the persons concerned. The entry into force of the GDPR therefore means that direct marketing campaigns via e-mail have immense restrictions. Only when an explicit and re-consent takes place on the part of the existing customers, companies are allowed to contact them. In order to continue to reach target groups within a GDPR compliant framework, companies need to look for alternatives. And so a well-known customer relationship management channel comes back into focus: advertising by post.
What are the advantages of advertising by post?
As direct postal marketing measures, for example in the form of flyers, letters or postcards, can be based on legitimate corporate interests, they do not require explicit consent. As a result, direct marketing by post to existing customers, as well as to new customers, is still possible even after the GDPR enters into force. Accordingly, as an entrepreneur, you can maximize your reach as an entrepreneur with GDPR compliant postcard marketing and, in theory, contact all your existing customers, unless they opt out of direct contact.
Speeches on the recommendation of an existing customer are also still possible. Even under the GDPR, companies are allowed to continue to contact interested parties who have been recommended by existing customers.
Absolute range and automatic shipping
Advertising by post enables not only the absolute reach but also maximum scope for design.
Sending an advertising message by postcard is an ideal way to stand out from your competitors as a company. The different design possibilities of image and typography bring a clear added value. The message stands out from countless other advertising flyers and at the same time manages to touch the recipient emotionally. Because the fact that your promotional postcard is demonstrably associated with a card traditionally sent from your holiday, it is perceived as a gift.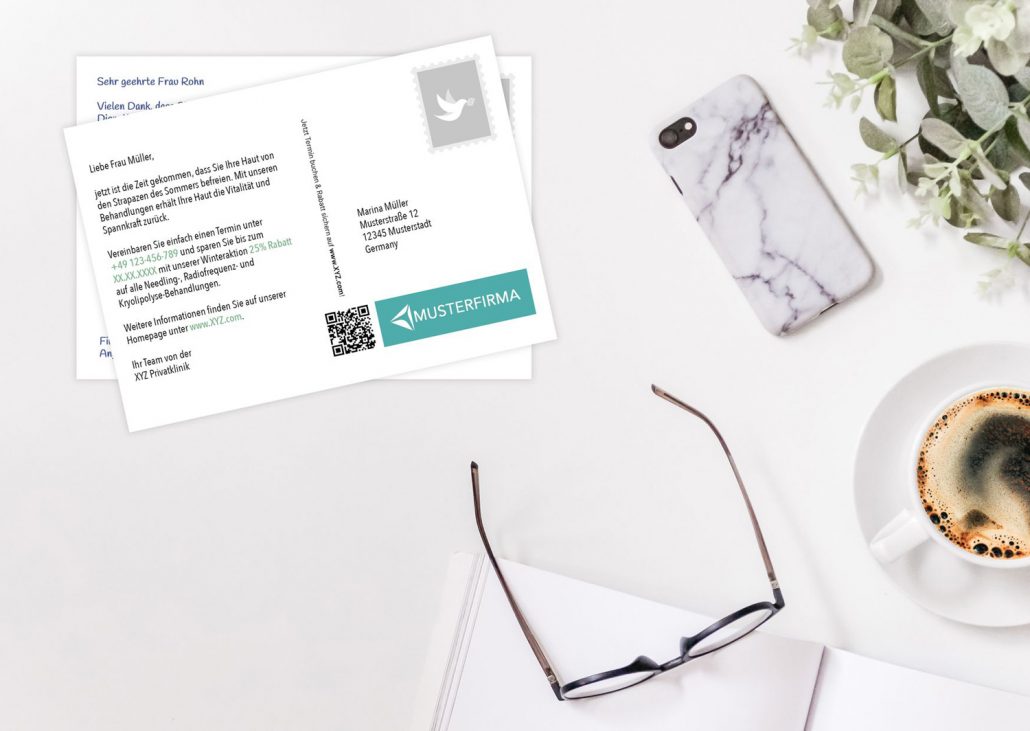 Another advantage is that advertising campaigns can be delivered by post just as automatically as via online channels. At Postando, we enable you to define specific groups of recipients as part of so-called trigger campaigns and to reach them at a specific time.
This possibility of automation has enormous added value for the channel and can be used for
a variety of applications, such as postal reactivation of customers, welcome messages or second-order pushes, are used lucratively.
High conversion rate
The conversion rate proves that postal mailings are far ahead of the mail.
The number of recipients of postal advertising messages, which are driven to an action, namely 4.5 percent, is significantly higher than that of e-mail recipients. Their average is between 0.1 and 0.3 percent.
The superiority of postal mailings can be attributed primarily to the fact that, unlike email marketing campaigns, fewer mass mailings are sent. Messages by post are customer-specific or person-specific and therefore more personal. Furthermore, numerous studies indicate that the entry into force of the GDPR in e-mail marketing has resulted in a loss of reach of more than 55 percent on average. On the other hand, the postcard, as an appealing and personal intermediary, is the ideal marketing tool to continue to reach 100 percent of existing customers.
Our B2B Portal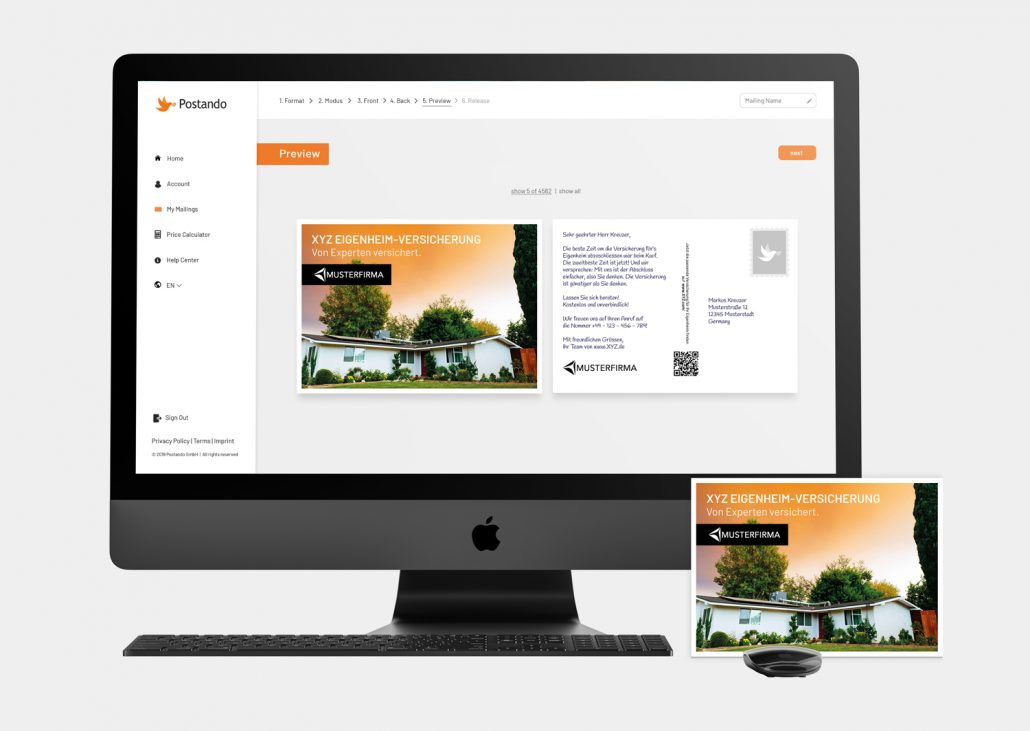 The GDPR not only brings with it hurdles that companies have to overcome, but also new opportunities. Companies are now being asked to focus more on actual prospects and potential buyers. Companies can build and maintain these important customer relationships through postal advertising messages in a high-quality, personalized way.
To make postcard marketing campaigns easy and efficient, the B2B portal is created.
The campaigns via the portal are GDPR compliant. This means that we process all the data of our partners within the European Union. Finally, they can be removed via automatic deletion concepts after a predetermined number of days after submission. In addition, we have data protection agreements with all partners as standard in accordance with GDPR. With regard to new customer acquisition, the GDPR is a compliant way to provide segmented address data throughout Europe.