The effects of the novel coronavirus are not only felt in the private sector. Companies, have to adapt to new circumstances and are affected by the restrictions, too. Therefore, strategies are currently being reviewed and changed. We show you how you can still achieve your goals with postcard marketing despite the crisis.
Postcard Marketing can be integrated into the field of offline marketing and can be successfully applied in a wide range of industries. Postcards are always perceived as something positive, as they are associated with the classic holiday greeting. Furthermore, the 100% opening rate speaks for the postcard as a marketing tool. With automation systems such as the Postando Business Portal, marketers can easily integrate this type of new and existing customer approach into the marketing mix. Every industry can currently benefit from innovative communication with postcards.
Gastronomy industry
The gastronomy industry is particularly hard hit by the corona crisis, with restaurants and bars having to close. However, this does not stop many restaurateurs from continuing to meet the needs of their customers and therefore pursuing other, successful strategies. Many restaurants are switching now to delivery service in the current situation. In this way, food can continue to be sold and, in the case of on-site collection an delivery, the risk of infection can be minimized.
The decisive factor in implementing the new strategy is customer loyalty. Customer relationship management measures are essential to win back and retain customers. For example, customers can be informed about the restaurant owner's change of strategy by means of a postcard. True to the motto #SupportYourLocals. In this friendly way, recipients of the personal card can be informed that their favorite restaurant nearby is now delivering. So they can, therefore, support it in this difficult time.
Event – and entertainment industries
Whether managers, artists or ticket sellers for major events – the event and entertainment industry also suffers from the Corona crisis and the resulting cancellations of numerous events and trade fairs. However, especially at this time, communication is essential to maintain one's own presence.
When events have to be postponed or canceled, musicians are the ones to suffer. Fixed ticket sales have to be reimbursed either partially or, in case of cancellation, completely. But many artists and event locations depend on these revenues. For this reason, many affected people ask their fans and visitors for support and not to cancel their tickets.
End consumers, who decide to dispense on their money are especially happy to receive a personal thank you by postcard. This nice gesture also motivates people to buy a ticket again after the current situation has ended. With an individual postcard as a thank you for loyalty, you can score points with the customer for 2 reasons. On the one hand because of the positive image of the postcard and on the other hand, because the recipient is happy about the attention.
E-Commerce and delivery services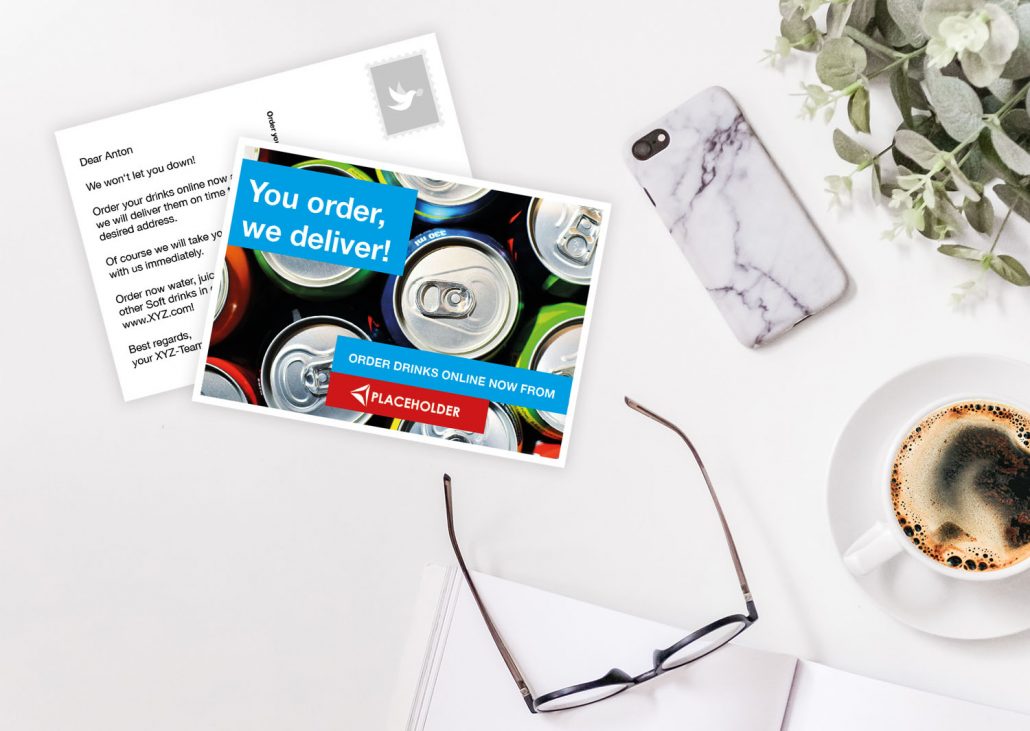 For online trade and delivery services, the #Stayhome movement has one main advantage: target groups stay mainly at home. There, where they can receive deliveries directly. A good time for delivery service portals and e-commerce companies to invest in new customer acquisition and reactivation of existing customers and to position themselves strongly in the market.
With postcard marketing campaigns and an appropriate incentive, a great impact can be achieved. A discount code on the postcard, which can be used, for example, for the first or next order, brings the company continuous sales. Also, the customer is happy about personal communication and the discounted purchase of the product or service.
Individuality and a personal approach are particularly important now. Therefore, we have included individual building blocks in our B2B portal for the creation of postcards. These allow the name of the recipient and your own handwriting to be inserted automatically. In this way, every end customer is given personal appreciation by means of a postcard.
Tourism industry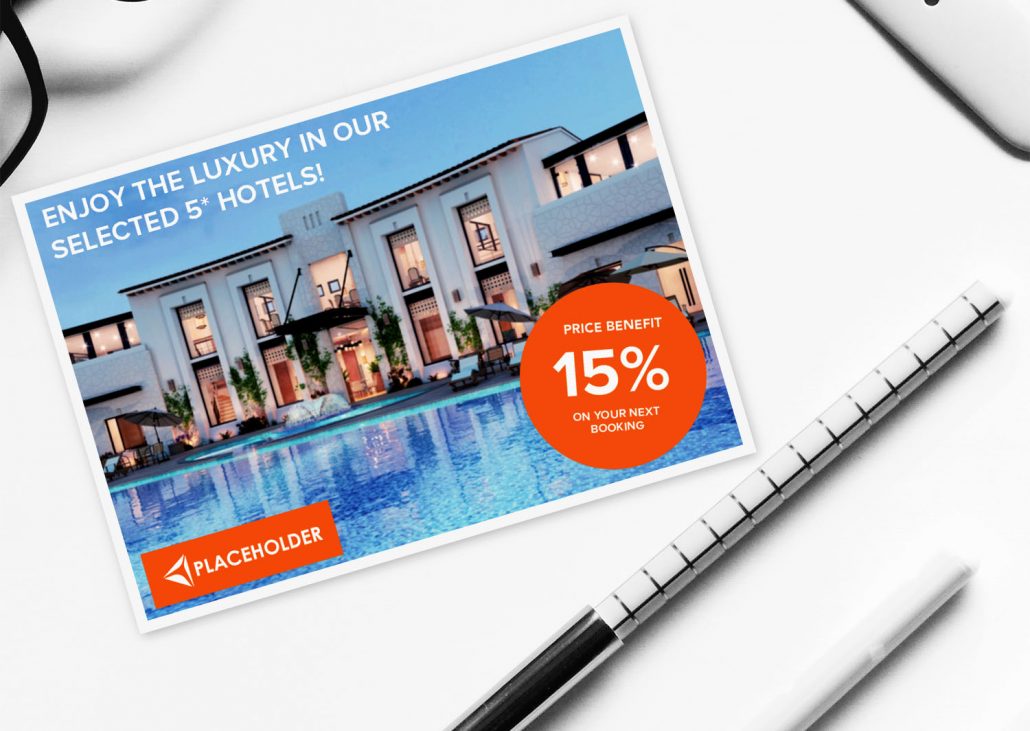 One of the worst affected sectors in the Corona crisis is the tourism industry. Airlines are canceling their flights and tour operators are swamped with cancellations. Small travel agencies, in particular, are now calling for strategically well-thought-out communications with existing customers.
The so-called follow-ups, in the course of which the customer can usually evaluate their experience with the travel agency, should be used as an opportunity in this situation. For example, travel agencies can now contact their customers who had to return from their holidays to show care and ask about the customer's well-being. The recipient appreciates the courteous service and is much more inclined to book again with the travel agency once the corona crisis is over.
Follow-ups are often handled via email and are often lost as they quickly become too promotional to be properly noticed by the customer. Therefore it is worth trusting and switch to postcard marketing. An individual postcard in the mailbox will definitely not escape the attention of the customers and will be remembered for a long time.
Whether thank you cards, for product communication or as a follow-up. Postcards are the ideal medium to make customer acquisition, reactivation and customer search more efficient and innovative in times of COVID-19. With the Postando B2B portal, individual and creative cards of high quality can be created and transmitted. This way, the messages reach the target group in a personal way.