In the age of social platforms, we are used to being in constant written contact with our favorite people. We quickly tap into our smartphone. Mostly one-handed, because we do countless other things by the way. With a single click, our message bridges different time zones in seconds and ends up in the recipient's overcrowded mailbox.
You want to counteract the daily flood of news and touch your favorite person with a special message? Your goal is to use emotional words that are still read and valued?
Then design your individual and unique love postcard, which is guaranteed to be kept as a small treasure trove of memories for life. In our blog entry you will find helpful tips and advice that will help you write your intimate love message.
Stop hesitating, take your pen at hand and let your heart speak.
Self-designed love postcards with photo
In addition to honesty and trust, mutual appreciation is an essential cornerstone for a happy and long-lasting relationship. A creative way to reveal your love and to show personal appreciation to your loved one is to create your love postcard. It doesn't necessarily have to be Valentine's Day to surprise your darling with a little attention. Using the Postando Postcards app, you can create your own love postcards at any time and no matter where you are and supplement them with your individual photo. Choose a photo of you together – whether a nice shot is from your last holiday together, or a funny selfie of you both in bed in the morning, your dearest will be thrilled!
Love confession via the Postando video function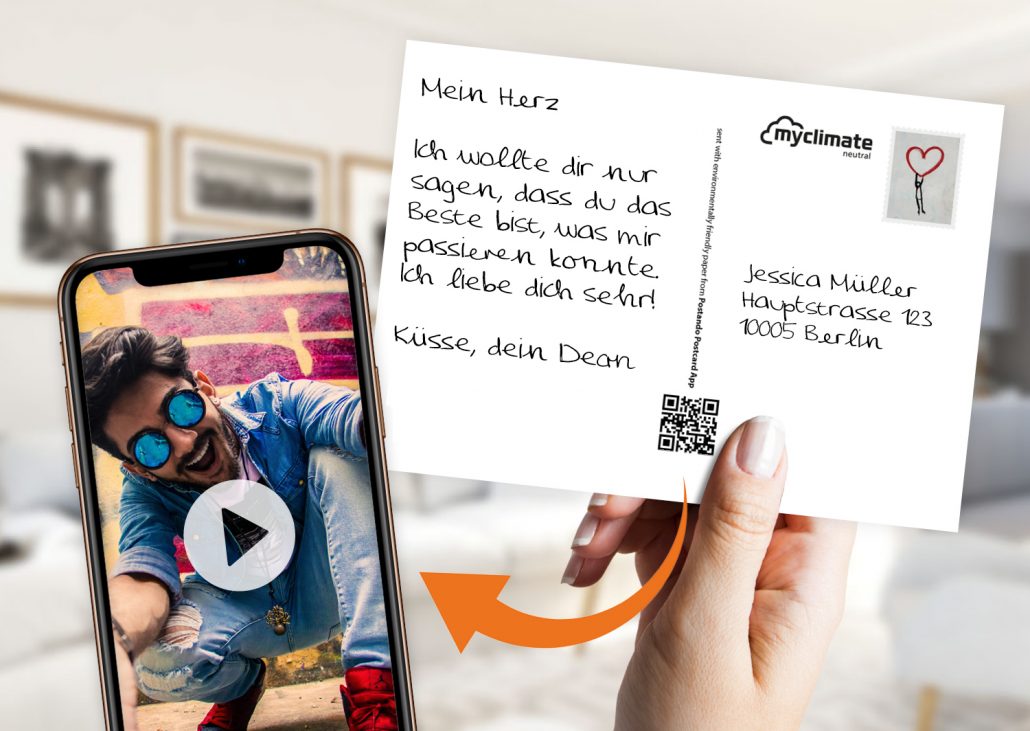 Especially those who have a long-distance relationship cannot regularly confess their love to their favorite person. But even couples who see each other regularly often forget to give their partner the attention he/she deserves in everyday life. Take your time and actively think about what makes your partner so special to you. After that, you can Record compliments and a small love confession in the form of a video and attach it to your postcard. The lucky recipient/in your love postcard only has to scan the QR code and he/she can watch your romantic video message.
Putting feelings on paper
Love postcards provide the right setting to reflect and express your feelings even in sad moments. Whether it's love grief or unfulfilled longings,writing a postcard will help you pour out your unhappy heart. It is often easier for us to deal with difficult issues in writing rather than to address them in a direct conversation.
A love postcard can also serve as an apology card. Maybe you made a mistake and inadvertently hurt your partner? Apologies don't go over the lips easily. A lovingly designed postcard in which you ask for forgiveness can be very helpful in conflict resolution.
10 ideas for your love postcards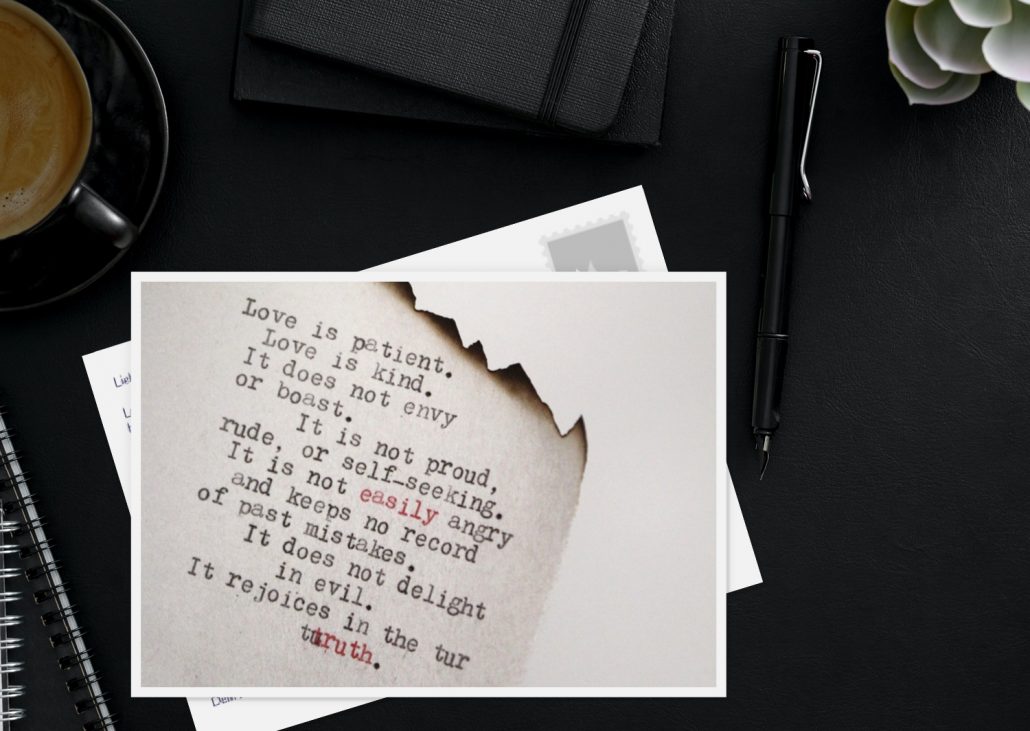 Complete the front of your love postcard with a romantic quote.
List three specific situations in your love postcard in which your favorite person has made you laugh the most.
Write him/her a personal and profound poem about love.
Don't just send a love postcard, but surprise your favorite person with a love postcard puzzle of 12 cardsthat together form a motif. So monthly butterflies are guaranteed in the belly! The Postando Postcards app allows you to set the shipping date in advance – so your loved one can be sure that no puzzle piece will be forgotten.
Create your personal love postcard with a voucher and invite your favorite person to your home for a home-cooked dinner, for example.
Complete your love postcard with a To Do listthat lists places you want to visit with her/him.

Write an anecdote about a shared experiencethat means a lot to you.
List ten reasons why you love him/her. There can also be funny and sweet quirks that make him/her laugh.

Send an online designed love postcard via Postando in maxi format and design the front with an individual photo collage.
For advanced users: Create your individual love postcard with a one-line drawing. For example, you can draw two touching hands, a merging pair, or simply a flower. You can simply paint this drawing on white paper or on a colorfully covered background.
Love postcard to friends
To send a love postcard, you don't have to be in firm hands! Surprise your family and friends with your self-designed love postcard and show them your affection. For example, you can take your loved ones back to old times with a self-created photo collage and tell them why they are so special to you. A love postcard also offers the space to perform and plan for your future for common adventures that have welded you together. What if you supplemented your individual love postcard with a voucher for a joint activity?