For us it is natural that we can always count on our friends. We also do not question that our parents, grandparents and siblings can always be relied upon. However, this wonderful feeling of reliability is far too rarely appreciated. Give your favourite people the attention they deserve and surprise them with your self-designed greeting card. In our blog entry we have summarized some creative suggestions that may inspire and motivate you. No matter if you're a passionate handicraft enthusiast or a fan of digital media – there's something for everyone!
Occasions for self-designed greeting cards
How multifaceted our design ideas are, so diverse are the occasions on which you can send your self-designed greeting card to your favorite people. For example, design creative greeting cards for birthday,wedding or Christmas. Your self-designed greeting cards also offer the perfect opportunity to thank your favorite people or recall shared experiences. Especially in times when we are prevented from seeing our loved ones regularly and to which we are forced to keep distance, a self-designed greeting card gives closeness and appreciation.
Besides, it does not always need a special occasion or reason to surprise your loved ones. Sometimes a funny experience with an old schoolmate comes back to mind, or you spontaneously remember an advisable tip that a friend gave you on your journey. It is exactly in these moments that you can record your thoughts, feelings and gratitude in writing or pictures and share them with your favorite people.
Create your own greeting cards

Here are the most important steps that will make it easier for you to create your own personal greeting card for your favorite people:
The format: First of all, you have to decide in which format you want to design your greeting card. Either a classic DinA6 card (10.5 x 14.8 cm), a maxi postcard, a hinged card or maybe even in a fancy shape? To make your greeting card even more individual, you can also cut it round, triangular or as a hexagon.
The Paper: Before you choose the right paper for your greeting card, it is important that you think about the design. If you want to paint your greeting card colorfully, a plain white or cream paper is suitable. Otherwise, you can choose between colorful paper in different thicknesses, paper in metallic look or even Japanese origami paper with individual patterns and shapes. Of course, it is also possible to combine different types of paper as a collage.
The design:

Now comes the most exciting part – the individual design of your greeting card. You can let your creativity run wild. But don't forget to pay attention to the preferences and tastes of the lucky recipients of your small works of art. Your grandparents love nature? Then try to design the front of the greeting card with a watercolor drawing of colorful flowers. You don't necessarily need expensive watercolour paints, because you can achieve the same result with simple watercolors. Another and even easier way to create a greeting card for your favorite person is to design with stencils. To do this, you can either record and cut your own stencils on thicker paper or a foil, or simply print them out of the Internet. How about the recipient's favorite animal? Whether you use the stencil with a spray can, crayons or felt pens – your favorite person will definitely be surprised! And the best thing about this creative design method is that you can use your stencils over and over again and create even more greeting cards for your loved ones.
Animated greeting card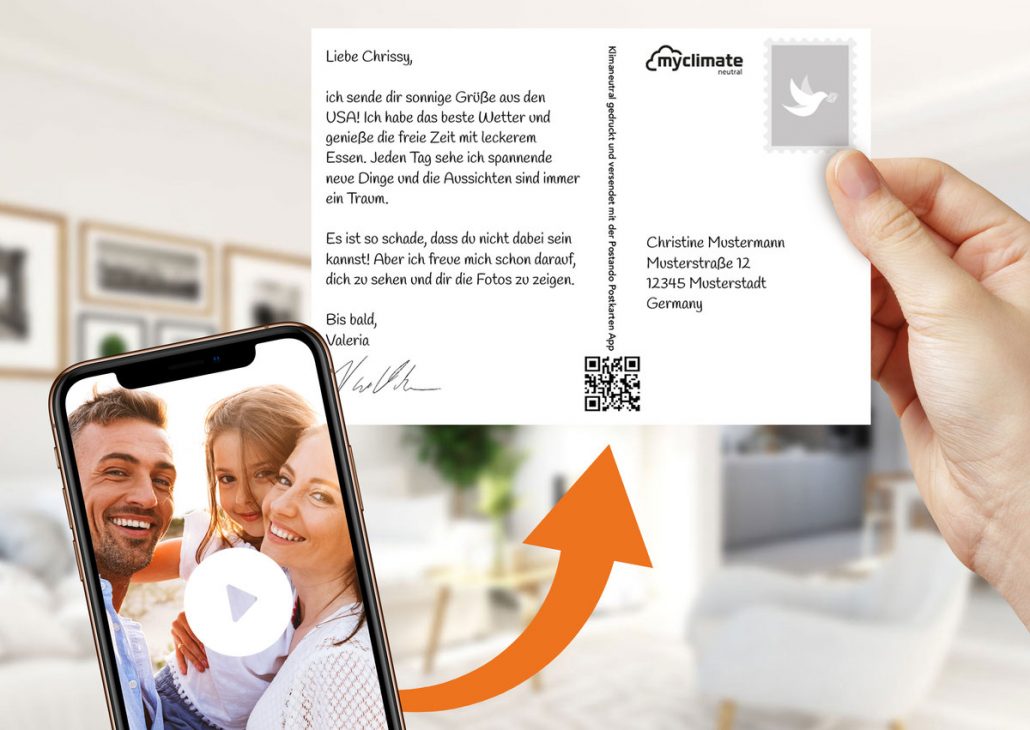 To create an even more personalized and personal greeting card for your favorite person, you can create a photo collage using the Postando Postcards app. Easily select your favorite photos on your smartphone, add an individual text on the back and let's take over the worldwide shipping for you. A new trend emerging in our digital age is also to combine analog and digital. This is also possible at Postando. Create an animated greeting card and connect the traditional and tactile postcard with a personal video. This can be retrieved from the receiver via a simple scan of a QR code. Videos manage to capture atmospheres authentically and let the recipient of your postcard share your impressions in an unadulterated way. With the help of an animated greeting card, you can personally send your warm words to your favorite people. You can also attach a funny video of you both, which reminds your loved ones of shared experiences.