SEND Fathers-day cards WITH THE POSTANDO POSTCARD APP
Every year on The Assumption of Christ, it's time again - it's Father's Day. Even if our fathers deserve our gratitude and appreciation all year round, at the latest today they definitely feel it! So that you can thank your everyday superhero in a creative and honest way, we have summarized a few gift ideas for you.
It's not that hard to make the dads of this world happy! Even as a child, his dad was tinkered or painted on his big day. Why shouldn't we surprise him with a creative idea today? Give him a self-designed Father's Day card that allows you to say thank you to your loved one in a very personal way.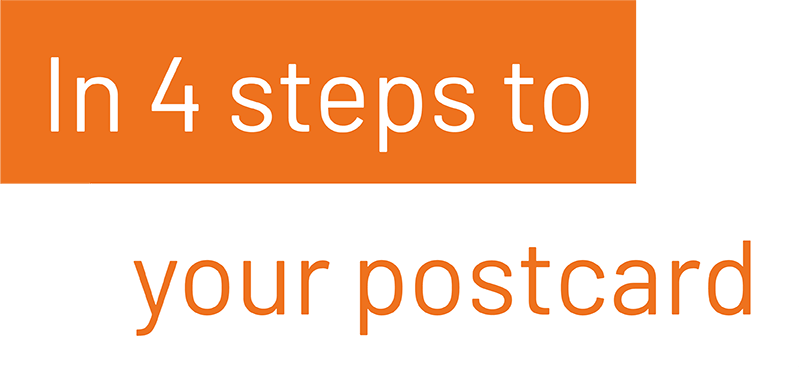 1st step
Choose the format of your Fathers-day card and use your own photos or numerous templates.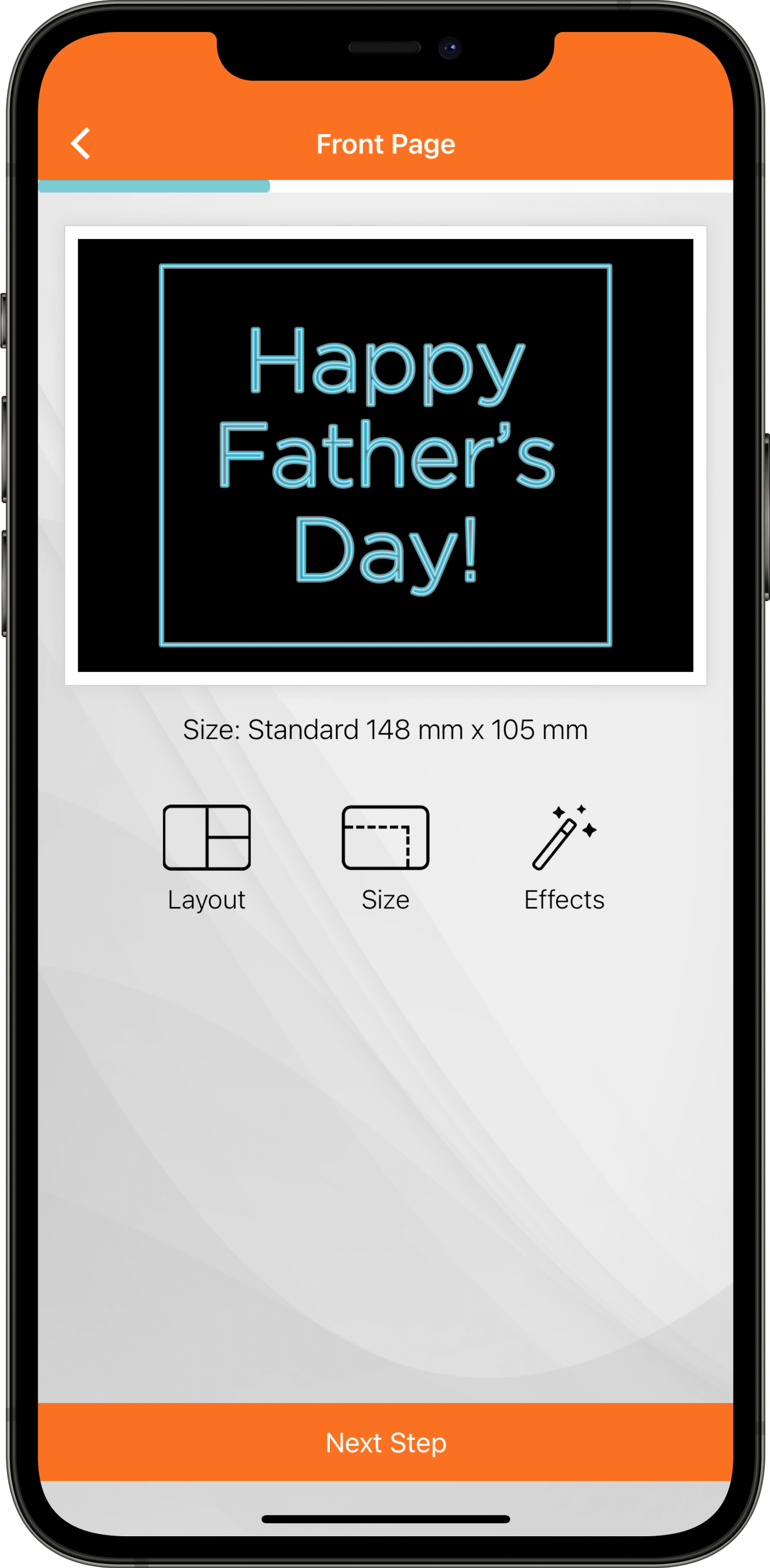 Step 2
Compose your personal message and choose the happy recipient of your Fathers-day card.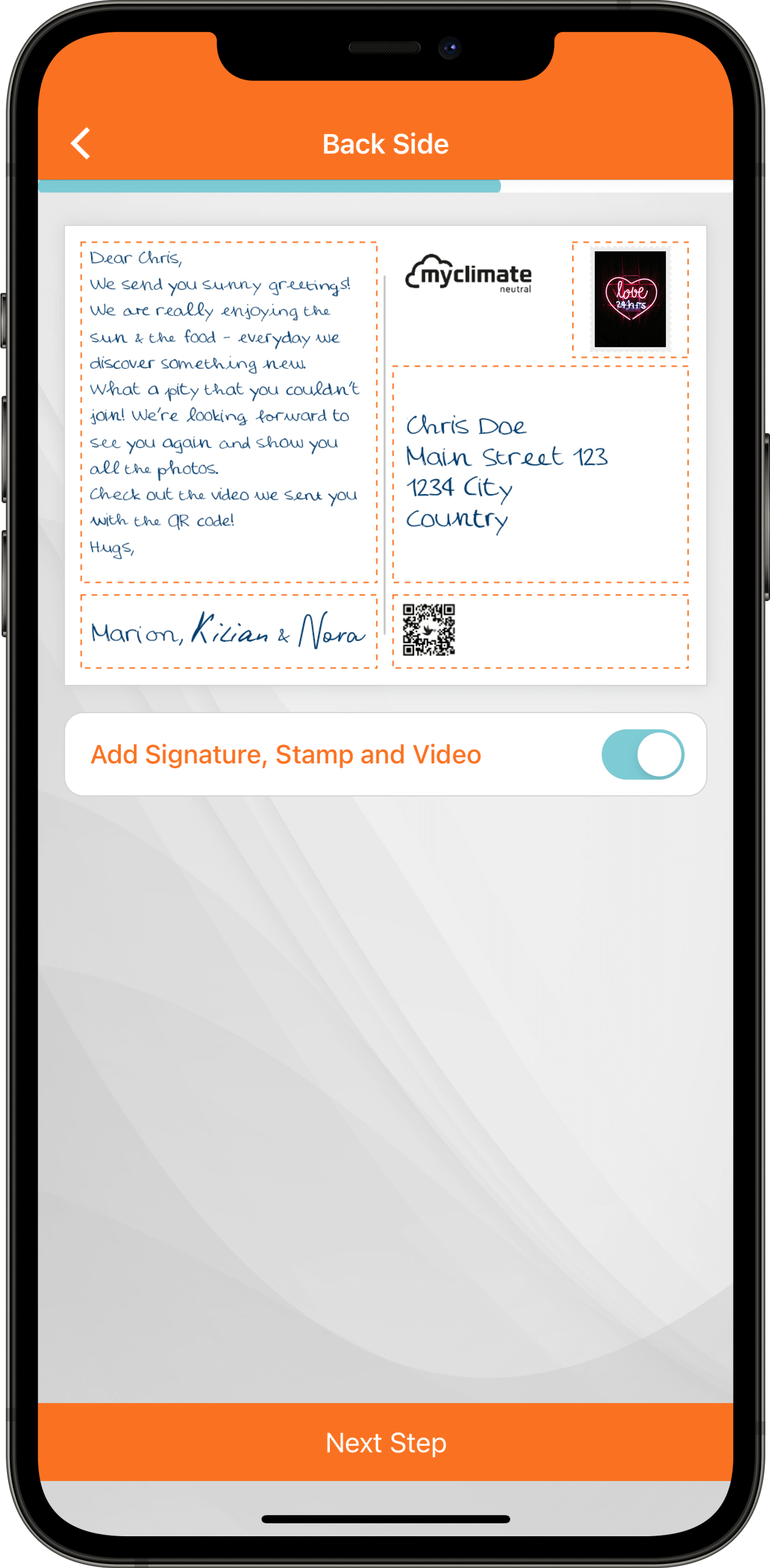 Step 3
Review your Fathers-day card & check the front and back of your self-made postcard before final shipping.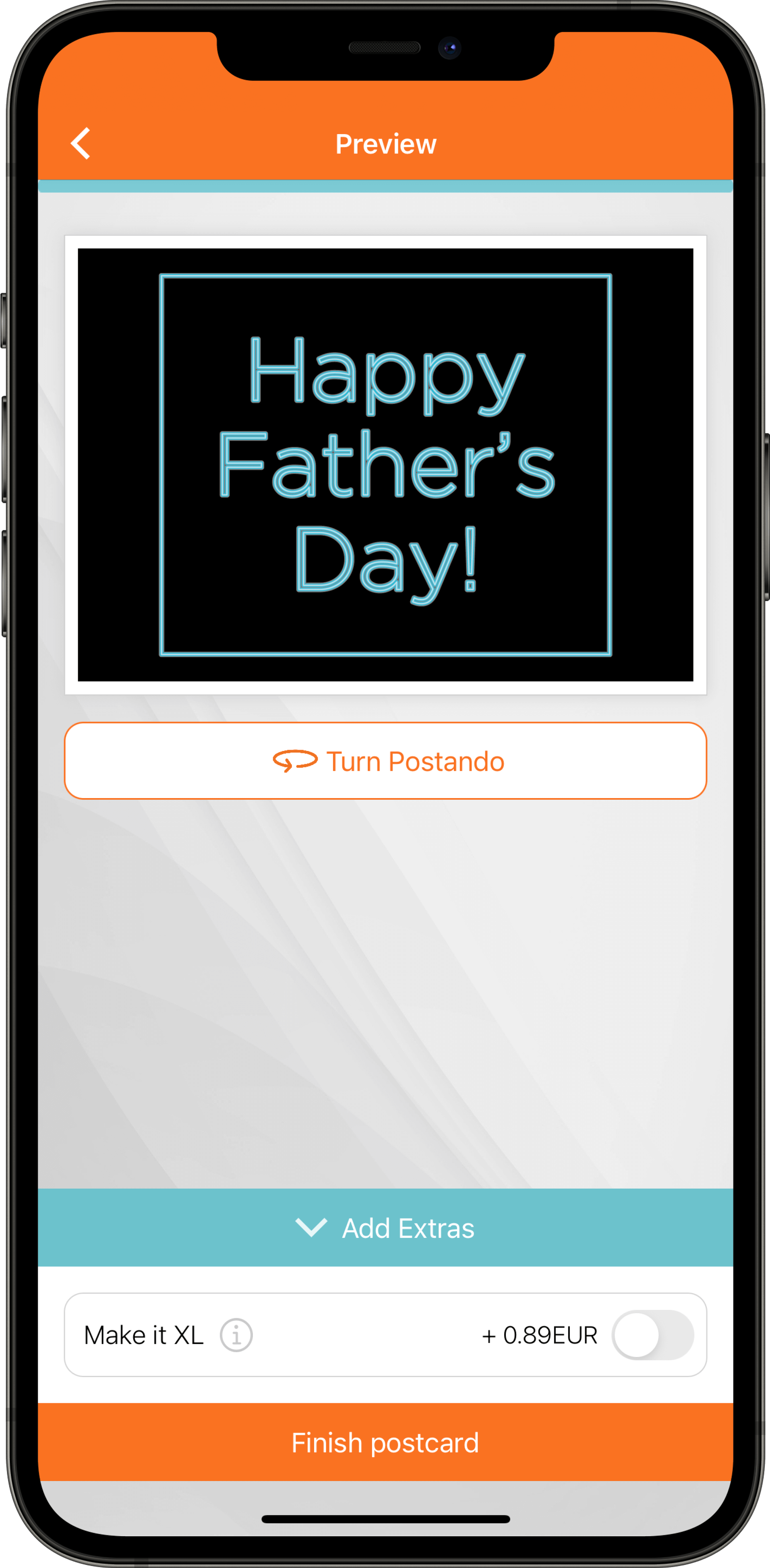 Step 4
Pay and send your Fathers-day card directly in your recipient's letterbox to spread great joy.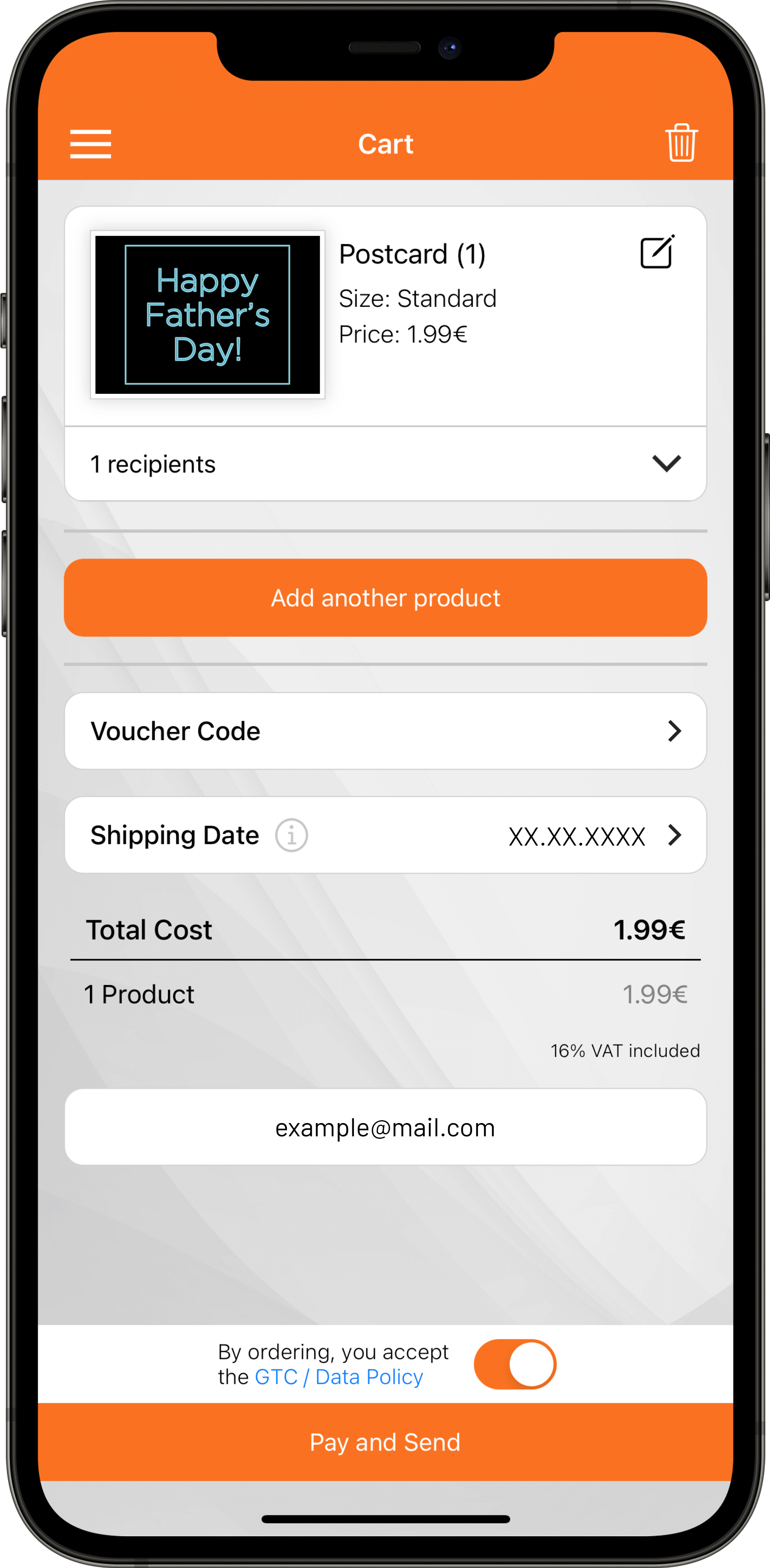 Our promise to you
Individual cards
With Postando you can customize your personal Fathers-day card with your own photos. No need for standard postcards anymore.
Simple & time-saving
Create your own Fathers-day card in just a few steps: Select your picture, write a message, add a recipient & send.
Worldwide shipping
Whether to Germany, Thailand or the US – we deliver your Fathers-day card worldwide for only 2,49€ per card.
Integrated video function
Share your breathtaking moments also in moving images, by simply adding a video to your Fathers-day card with the use of a QR code.
No registration
You do not need to create an extra account with us. Just download the app and send postcards - without registration & without entering your data.
Sustainable
Together with myclimate we are committed to protect our environment. Every Postando is printed and sent climate-neutral.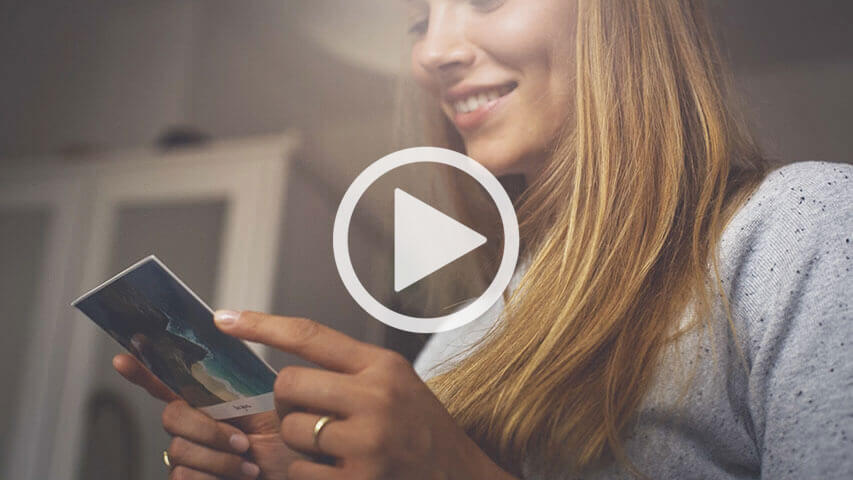 A High on Our Dads – The Ideal Father's Day Gift
What should I give my dad for Father's Day?
No matter if it is a birthday or a father's day. Every year you ask yourself the same question: What can I give my dad? Papas are clearly less easy to inspire than mamas. Bouquets of flowers hardly impress your dad and even chocolates don't manage to put a smile on his face? Try to think further than material things that your dad might be missing. Spending time together, for example, is worth much more. Especially when you see each other less and less as you get older. Maybe you will manage to make your loved one happy with one of our suggestions.
Be active together! For example, on Father's Day you can take a bicycle tour in the nature and then have a picnic together.
How about a raclette evening? Why not simply repeat the typical winter dinner on the terrace in summer? Besides, you will finally have enough time to exchange ideas and philosophize about life.
Invite your dad to a wine tasting. Or if he likes to drink beer, give him a tour of a brewery and let the evening come to an end in the beer garden.
A classic, but every dad likes it: barbecuing. Prepare a barbecue for your dad. Maybe you even go one better and prepare a small campfire in a fire bowl. Then you can also make homemade bread on a stick.
Your dad has a special hobby that you have never been able to understand? It doesn't matter if it's climbing, or he likes to sit for hours at the lake and fish. Father's Day is the perfect day to jump over his shadow and try out his favorite activity together. He certainly did not expect that!
What do I write on my Father's Day cards?
The design of the Father's Day card is done. Now comes the next and more difficult step – writing your individual congratulations for your dad.
Say thank you Why don't you just say thank you to your father? For that he is always there for you and accepts you as you are. Even if fathers don't always show it to you and often seem more emotionally slack than our mothers – they love you at least as much and rely on them even in difficult times. Let yourself be inspired under the section Thank You Cards and find the right words for your dad.
Write a Father's Day poem If you take a little time, you can surprise your dad with a very special gift. Be creative and write a poem on your self-designed Father's Day cards. It doesn't always have to be profound and emotional, but you can also come up with funny rhymes and make your loved one laugh.
Compliment your dad Your self-designed Father's Day cards are an ideal way to send warm and serious words to your dad. For example, you can list 10 reasons, which makes it so special for you. Also treasure his little quirks and show him why he is a great person.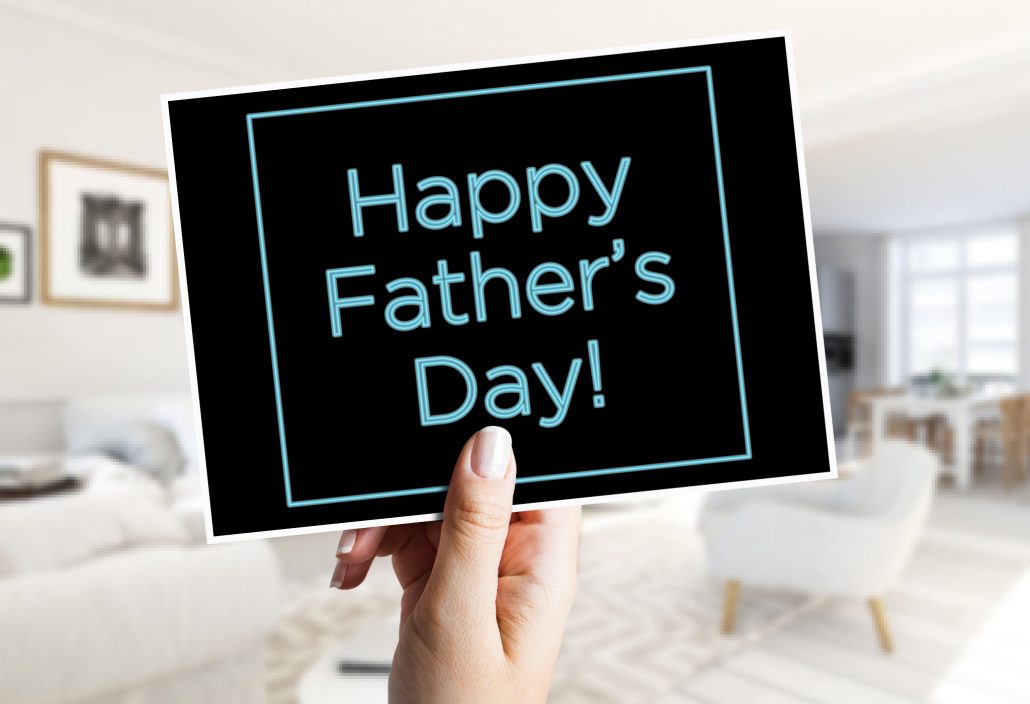 Why are self-designed Father's Day cards the ideal gift?
All of our above mentioned gift ideas for your dad for Father's Day can be creatively handed over by integrating them into your self-designed Father's Day card. You can add a photo of the two of you or the whole family to your personally written voucher. Thus your Father's Day card is not only a voucher for a common activity, but also a great memory. If you also give him a frame, he can even hang up your self-designed Father's Day card. So he will remember your day together all year round.
You are far away from home because you are travelling or moved to a new city for your studies? A Father's Day card is also an ideal gift in case you cannot be with your loved one on that day. We at Postando take care of the shipping, worldwide for only 1,99€. Especially when traveling, but also in stressful everyday life, important days sometimes get lost. Prevent you from forgetting Father's Day by designing your personal Father's Day card using the Postando Postcards App and setting the shipping date in advance.
Known from