SEND New-Years cards WITH THE POSTANDO POSTCARD APP
Put your loved ones in the face with their first smile in the new year and surprise them with your self-designed New Year's card. How about a personal photo collage on the front? So you can let the old year pass through in a creative way and relive common memories. The turn of the year is also the perfect moment to just thank your favorite people and plan new adventures with them.
So that you can give yourself a bit of peace after all the Christmas and New Year's Eve stress, we take care of shipping for you - and even worldwide. So you can browse your favorite photos from the couch and then send them easily via the Postando Postcards app.

Whether you're attaching a funny video with a QR code to your New Year's card or adding a list of your New Year's resolutions, there's no limit to your imagination!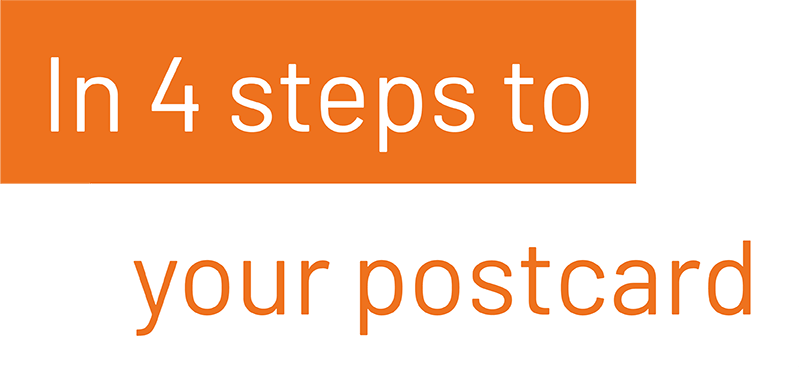 1st step
Choose the format of your New-Years card and use your own photos or numerous templates.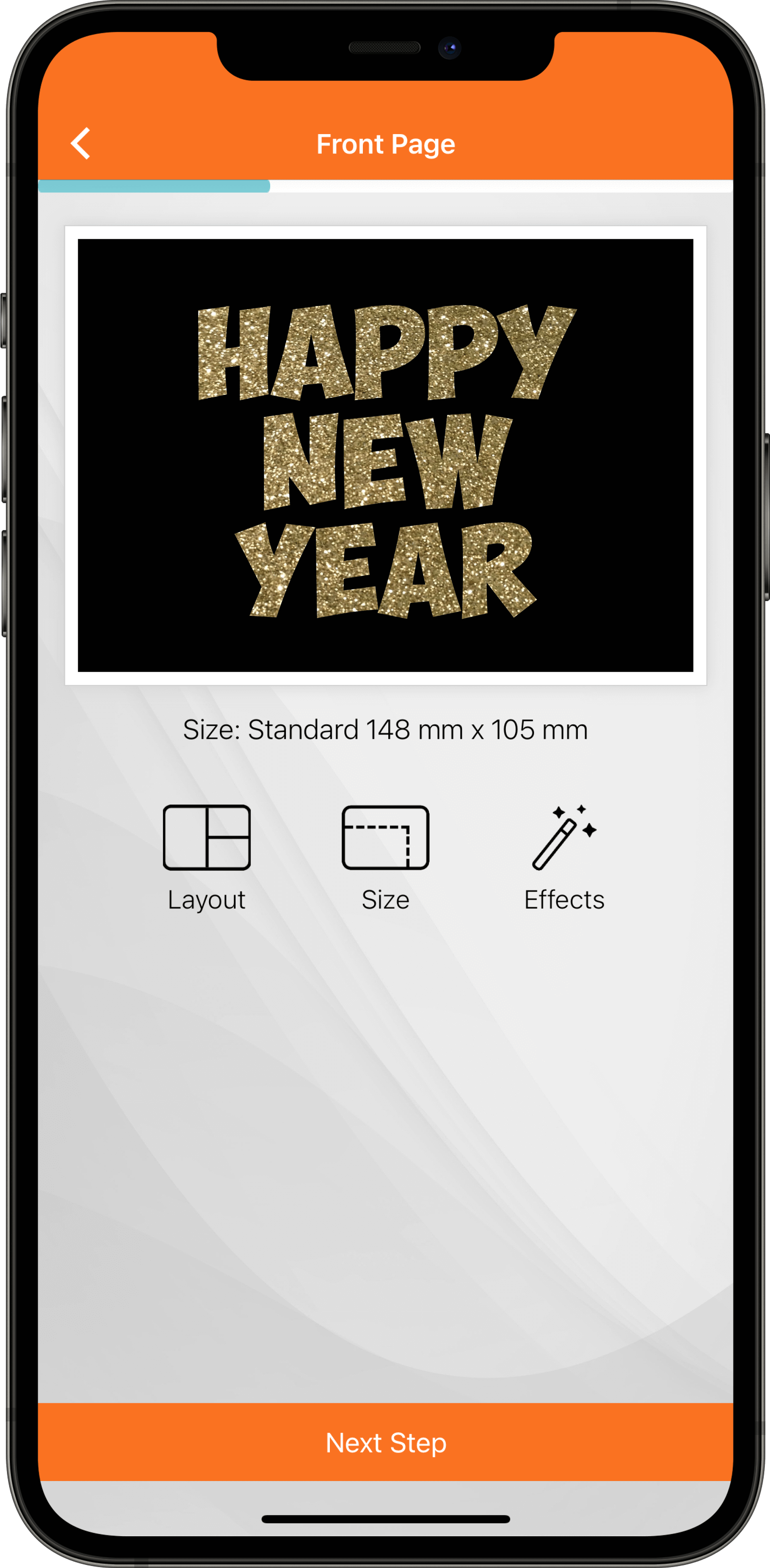 Step 2
Compose your personal message and choose the happy recipient of your New-Years card.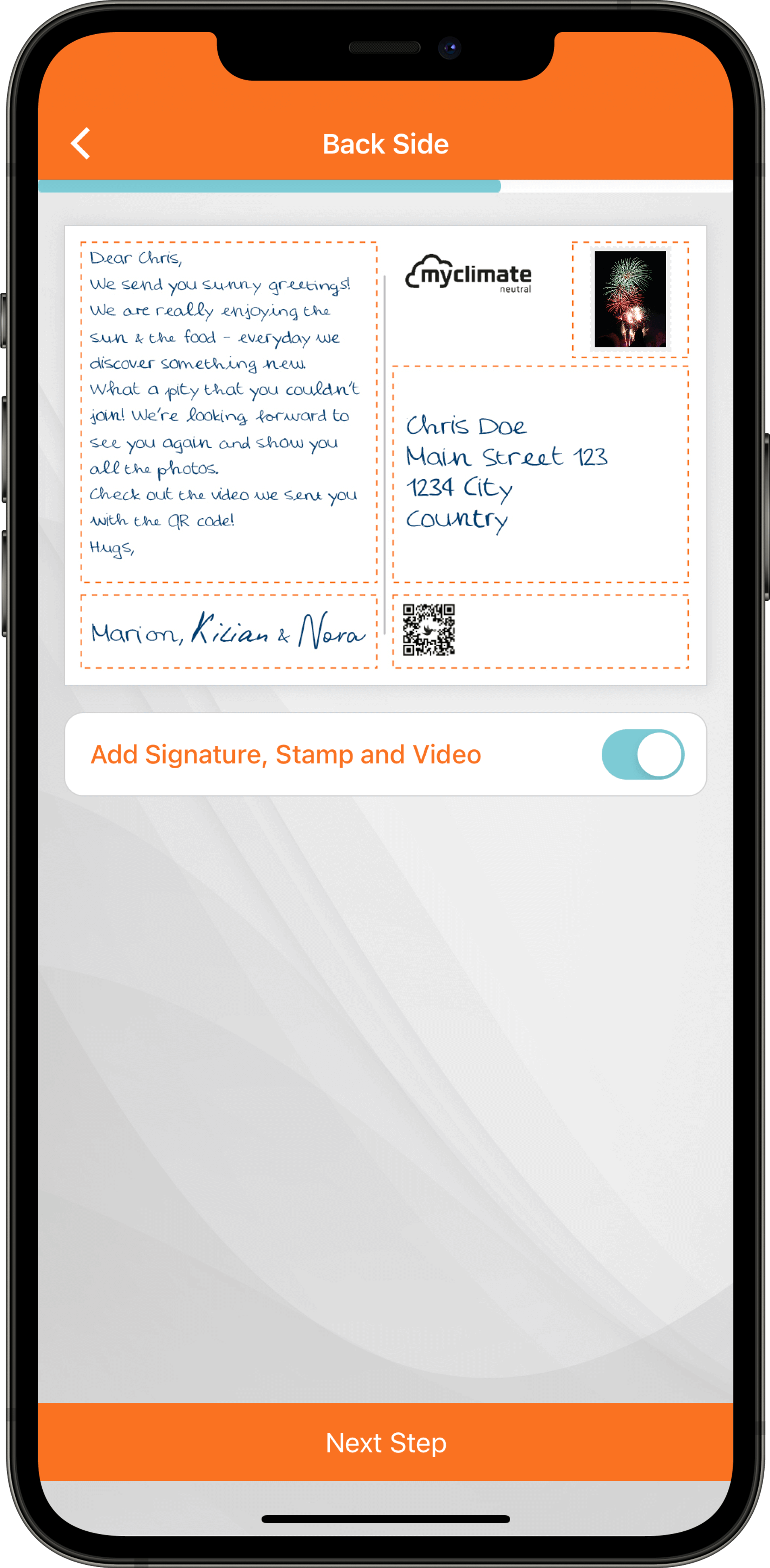 Step 3
Review your New-Years card & check the front and back of your self-made postcard before final shipping.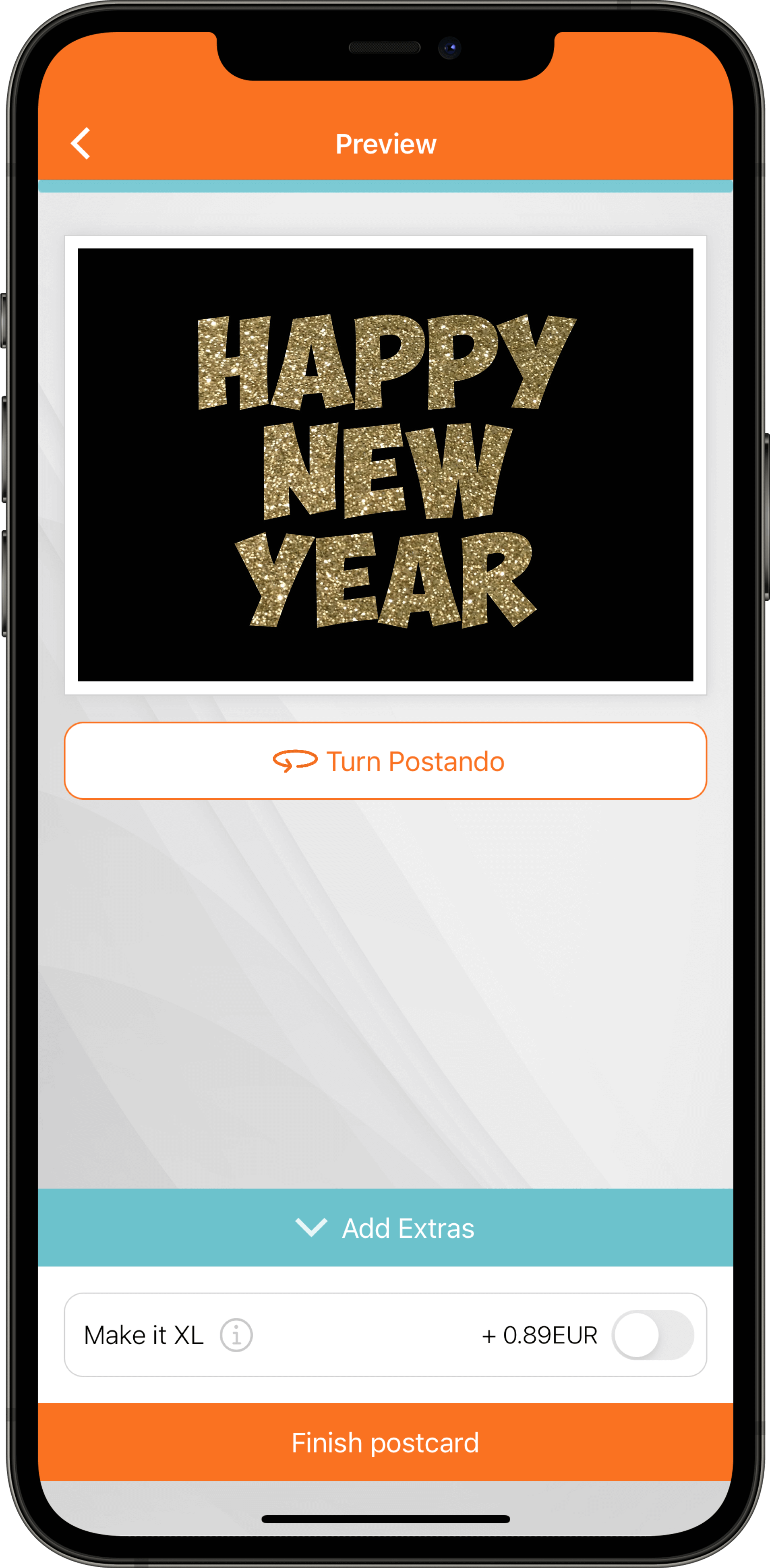 Step 4
Pay and send your New-Years card directly in your recipient's letterbox to spread great joy.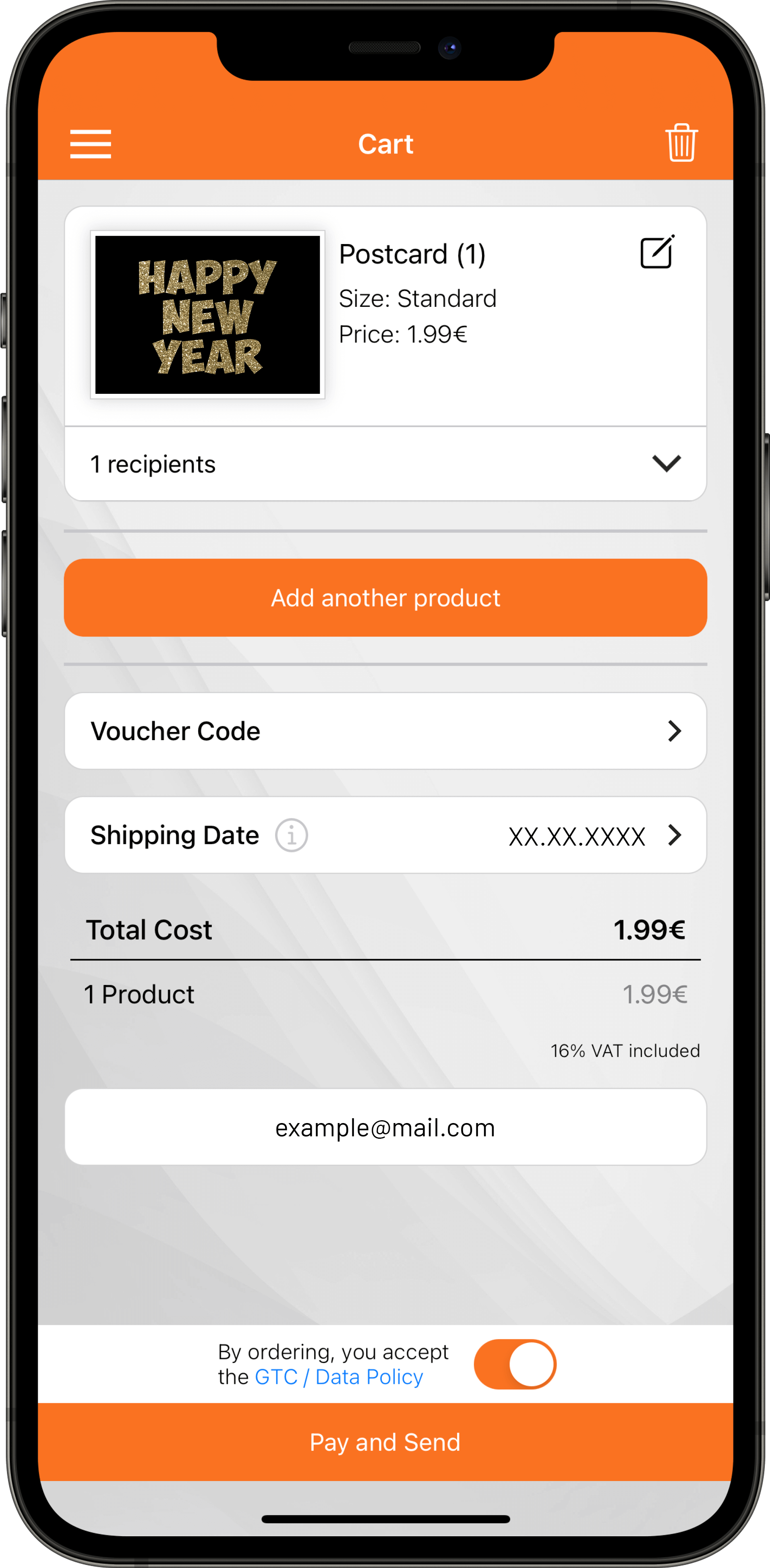 Our promise to you
Individual cards
With Postando you can customize your personal New-Years card with your own photos. No need for standard postcards anymore.
Simple & time-saving
Create your own New-Years card in just a few steps: Select your picture, write a message, add a recipient & send.
Worldwide shipping
Whether to Germany, Thailand or the US – we deliver your New-Years card worldwide for only 2,49€ per card.
Integrated video function
Share your breathtaking moments also in moving images, by simply adding a video to your New-Years card with the use of a QR code.
No registration
You do not need to create an extra account with us. Just download the app and send postcards - without registration & without entering your data.
Sustainable
Together with myclimate we are committed to protect our environment. Every Postando is printed and sent climate-neutral.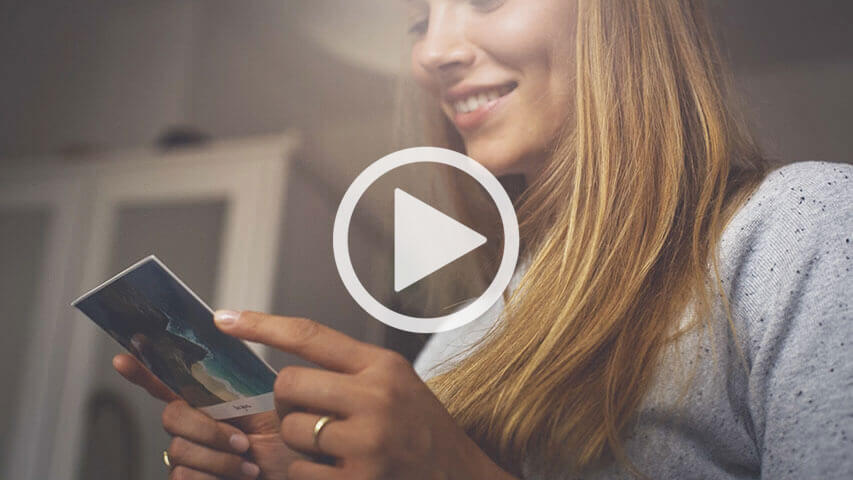 Design your own New Year's card and send it online
Why should I send a New Year card?
On New Year's Eve we look back on the last year. We also think about good resolutions for the new year. This relaxed atmosphere is great for writing a New Year's card. So you can write the new year's card exactly at the start of 2020. Writing New Year's cards is an old tradition in Japan for sending good wishes and memories. Every Japanese person sends between 19 – 25 New Year wishes. Also we know how to send self-made postcards on 01. January. In this way you show your loved ones who live far away or with whom you do not celebrate New Year's Eve that you are thinking of them. You can make your New Year's greetings funny or even classic.
Here we show you how you can make your New Year's cards yourself in many different ways.
How do I design my New Year's greetings myself?
How do I create a New Year card?
First of all you should think about who you want to send your cards to. Not only your friends, but also your family, colleagues or even neighbours will be happy about New Year's wishes. In the next step you should think about which pictures and wishes are for the different people. Think about creating your own New Year cards, for example with your own photos and memories. But you can also design more neutrally for colleagues. Furthermore, you can choose freely from pictures, content and message for your self-made New Year's cards. In this way you can give the respective persons an even more beautiful making the start of the new year possible.
Ideas for a New Year card
How you design your New Year's greeting is up to your creativity. There are many ways to make your New Year wishes original without the usual phrases like "Happy New Year" and "Happy New Year". Here are a few Ideas on how to write your New Year's card.
First of all, you can create your New Year's greetings as a small review of the year with photos and memories with your loved ones.
Think about what you would like to do next year with your loved ones and let them know about your plans for them.
Design your New Year's card as a strong invitation for a long overdue reunion.
Remember the funniest photos and situations from last year and put a smile on the face of your loved ones with your original New Year's wishes.
Use your self-made postcard to say "thank you".

"I would like to thank you for helping me this year."
"Thank you for the good cooperation."
"Thanks for being there."

Maybe the beginning of the year is also an opportunity to say "I'm sorry" and use your New Year's card for a new beginning.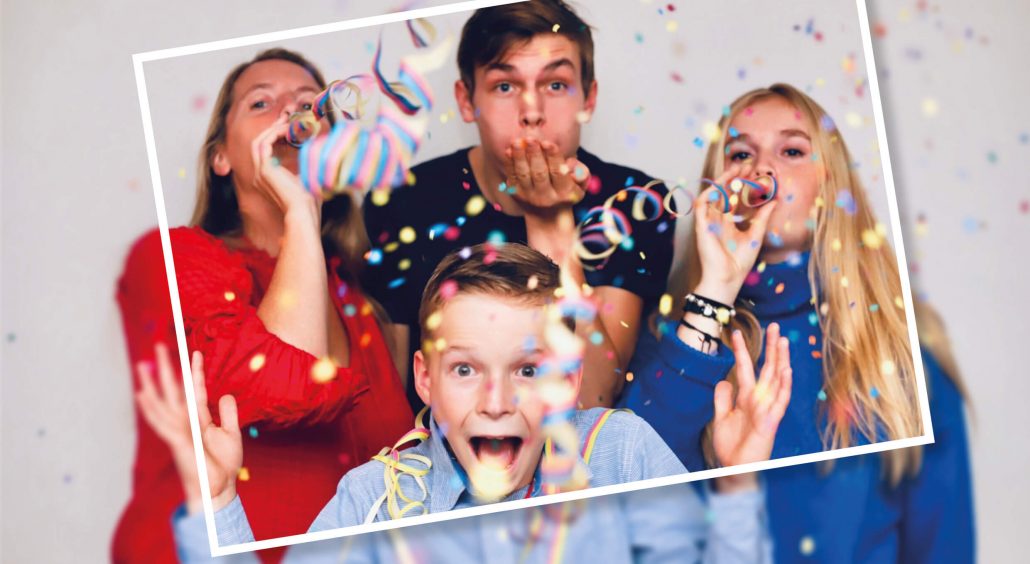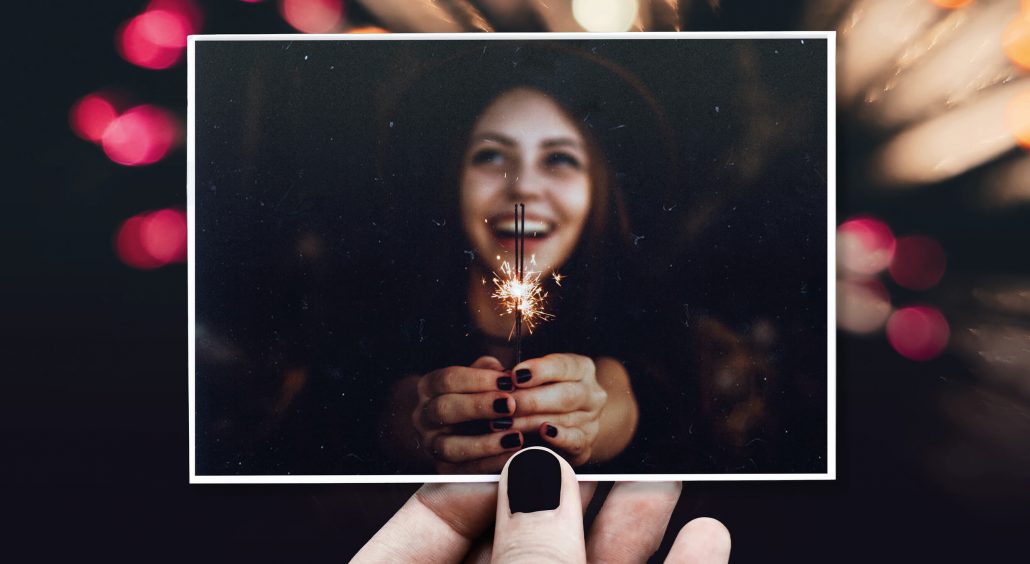 Creative motives for your New Year greetings
Every time you want to send a message with your New Year's card, the cover picture has to be adjusted. Based on this, it is also important whether the New Year wishes are business or sent to friends become.
You can personalise your New Year's cards by using photos or a slogan as the cover picture.
For New Year's wishes to colleagues or employees, the company logo or a team picture is suitable as a self-designed postcard.
If you would like to send a "strong" wish for the New Year, a cheerful picture is a good way to create your own greeting card.
Even classic motifs such as a lucky pig or horseshoes can be used to greet the New Year.
An unusual cover picture, for example, is a "Strong" New Year's puzzle. This is how you send your loved ones into the new year in a puzzle.
Through a video message in your "strong" New Year greeting, your loved ones can be close to you. You can find out how this works here.
As a general rule, the more personal and individual your New Year's greeting is, the more genuinely it will be received by your loved ones.
New Year card with your own pictures
You can add a personal touch to your New Year's greeting by sharing reminders with your recipients. For example, you can use your own photos and pictures from last year. You can personalise your New Year's cards and think about what interests the addressee or what connects you.
Be it pictures from your last holiday, the birth of a baby, a new pet or photos of the one situation where you still have to laugh out loud. Such motifs for the self-designed New Year card are suitable excellent. In this way your designed wishes for the new year will be especially noticeable and will make your fellow men happy.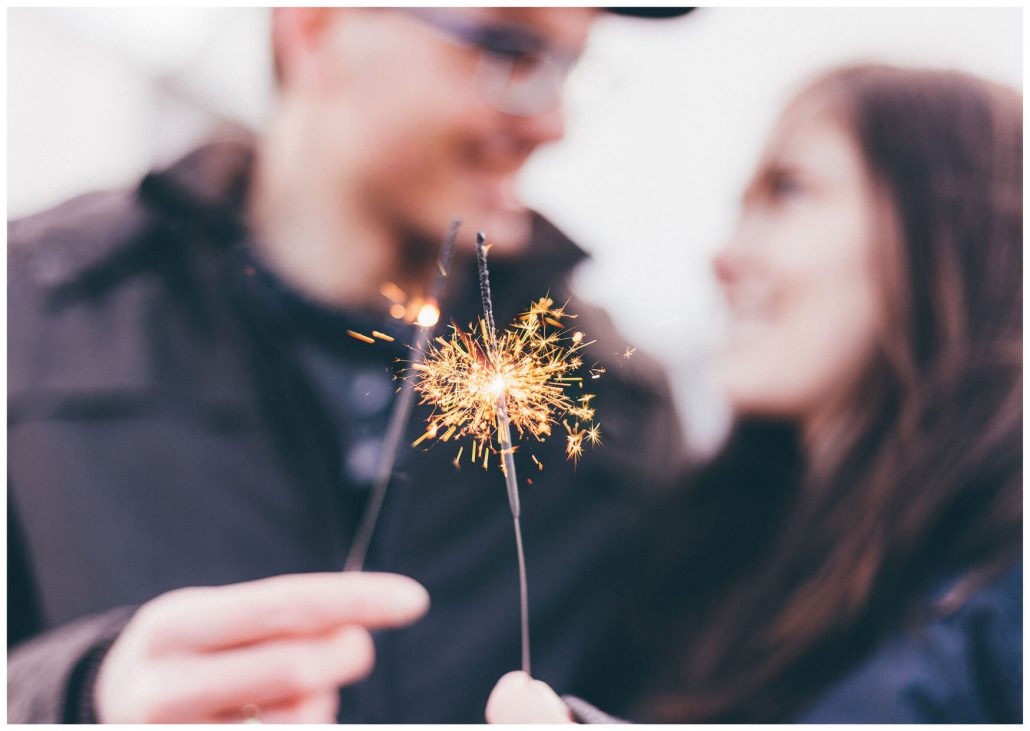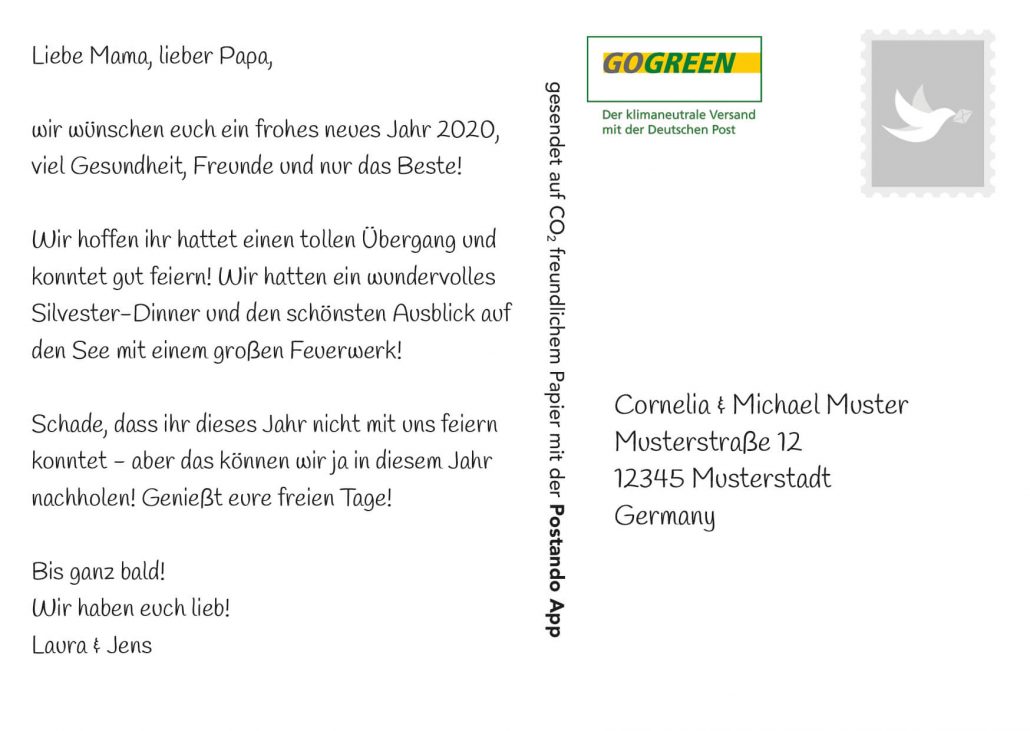 What do I write on my New Year greeting?
The New Year's greeting is the first message that family, friends and work colleagues read in the New Year. Therefore, your personal New Year's card should reach its destination. By designing your postcard yourself, you have many options for New Year cards. In this way you can send good wishes, give a smile to your loved ones, bring back memories or thank them for the good business relationship. But what can I therefore say to the write entire New Year's cards?
Send New Year wishes to colleagues or customers
Whoever wants to send a business New Year's card to his customers and colleagues can write about the good, further work on the one hand. On the other hand you can praise the relationship you have had so far. Basically the following applies:
write authentically, send a good wish and remain objective. You can choose the company logo or a team photo as the cover picture. For business New Year's wishes, pictures, like a lucky pig look kitschy.
What to write on the New Year cards to family and friends?
The look and text of homemade New Year cards sent to friends and family can be different. For example, New Year's wishes can be written in a fun way, with breaks and funny moments from the last year:
"Remember when you were…", "I wish you luck this year…".
A special text like a puzzle or a poem are also great New Year greetings.
"Good luck in the new year, your wishes will come true."
Furthermore, your designed New Year's card can be a Thank you:
"Thanks for supporting me last year", "Thanks for your help."
Also invitations are a great New Year greeting:
"Nice that we saw each other often last year, would you like to celebrate xy together with me this year?".
For New Year's wishes to friends and family there is no limitation on pictures, text and messages. You can include favourite themes, your experiences and adventures .
Sending a New Year card
Christmas is over and now you have to go again to send new year wishes? No problem! In just 4 steps you can send your own New Year's message from home with the Postando Postcards app. Above all all you have to do now is write the address on your New Year's card and that's it – then we'll get started.
Why send New Year cards with Postando
A CO2 friendly New Year's card: With us you can immediately redeem your first New Year's resolution to protect the environment. On the one hand, you send out reminders with your New Year's greetings. But above all you also act environmentally conscious. Furthermore, we do not use any harmful UV varnish, send with the climate-neutral GOGREEN shipping service of the German postal service and use CO2-friendly paper.
Your New Year's wish – once around the world. Wherever you are, wherever your homemade New Year cards have to go – it doesn't matter. We send your greetings all over the world for only 1,99 €. And the best: The annoying buying stamps and searching for a letter box is no longer necessary.
Your New Year's greeting with video: To make your New Year's wish even more personal besides your pictures, you can send your New Year wishes in moving pictures. Therefore you just have to make a video and send it with the postcard.
Your New Year wish arrives before you: In Germany we need 1-3 days to send your New Year greeting, worldwide 3-7 days.
You can download New Year's cards free of charge and design them yourself online.
Known from