SEND Invitation cards WITH THE POSTANDO POSTCARD APP
Your birthday is coming back. In addition to questions such as "Who do I invite?" and "What do I wear?" it's just as important to ask yourself, "How do I invite?". A special event also deserves a special form of invitation!
Most of the invitation cards purchased are very similar and are quickly forgotten and disposed of after giving. Therefore, design your individual invitation cards and even do so quite uncomplicatedly and online. The Postando Postcards app helps you surprise your guests with a creative invitation card. With your self-designed invitation card, you signal a personal appreciation to your loved ones and at the same time create a unique memory of the past event long after.

Whether your self-designed invitation card is to invite you to your wedding, housewarming party or garden party, the Postando Postcards app sets no limits to your creativity. Let your imagination run wild and send your personal invitation cards today to celebrate your big day together with your loved ones.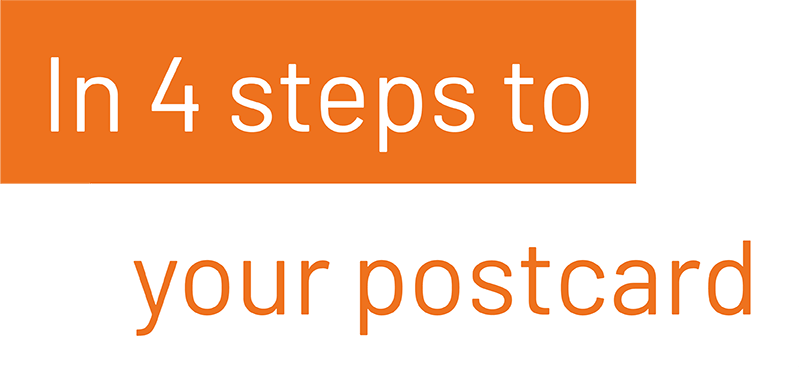 1st step
Choose the format of your Invitation card and use your own photos or numerous templates.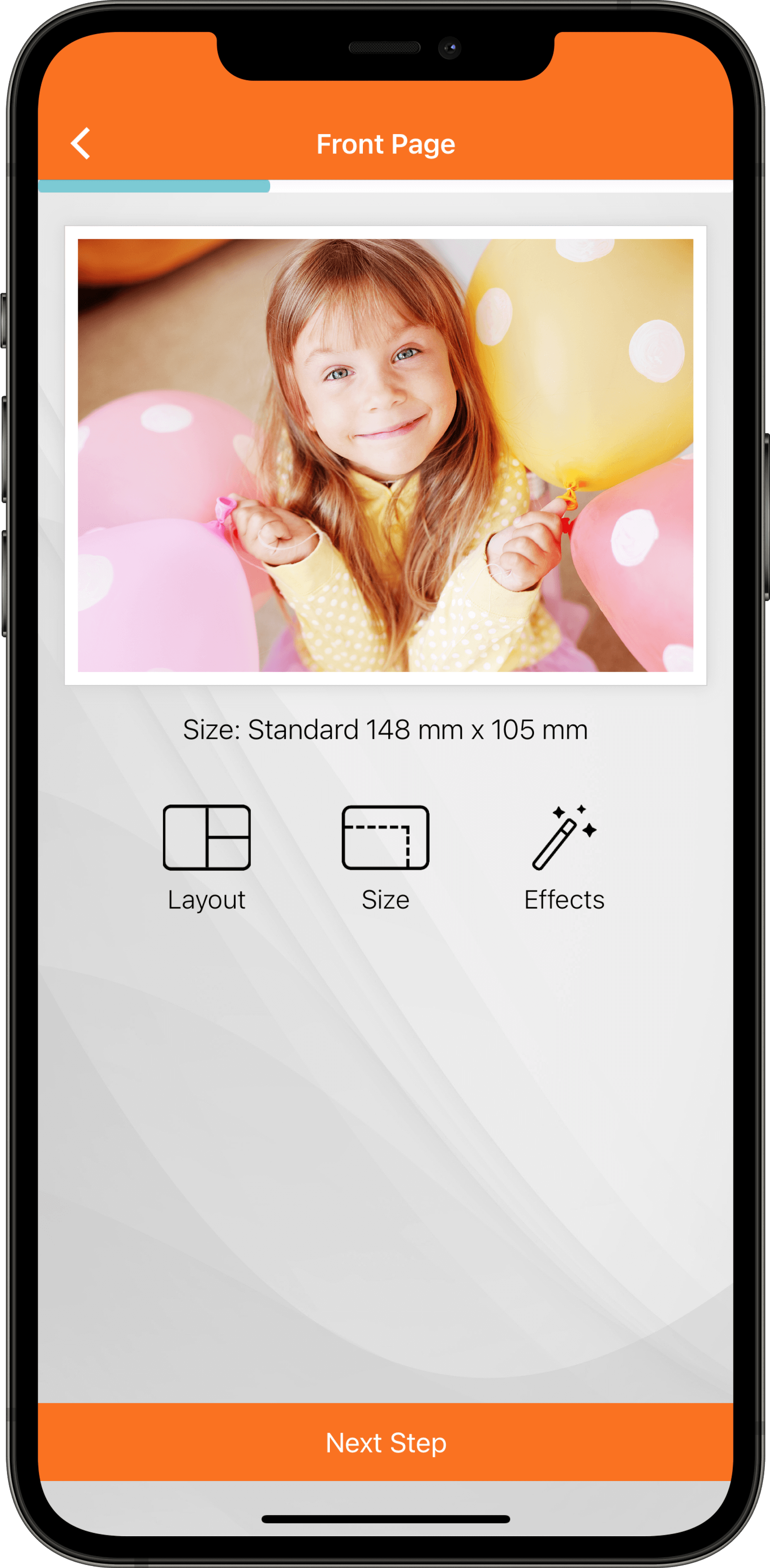 Step 2
Compose your personal message and choose the happy recipient of your Invitation card.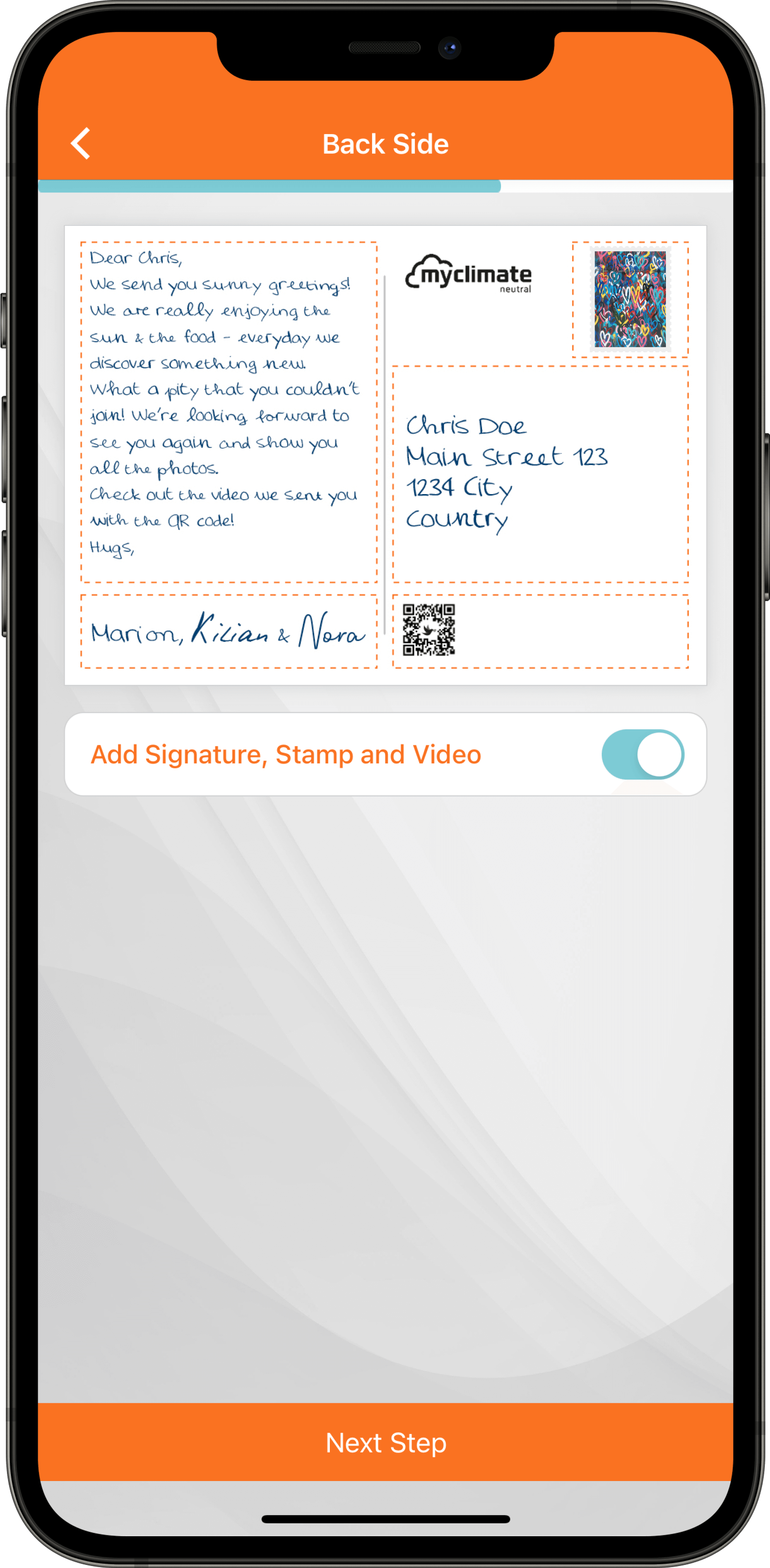 Step 3
Review your Invitation card & check the front and back of your self-made postcard before final shipping.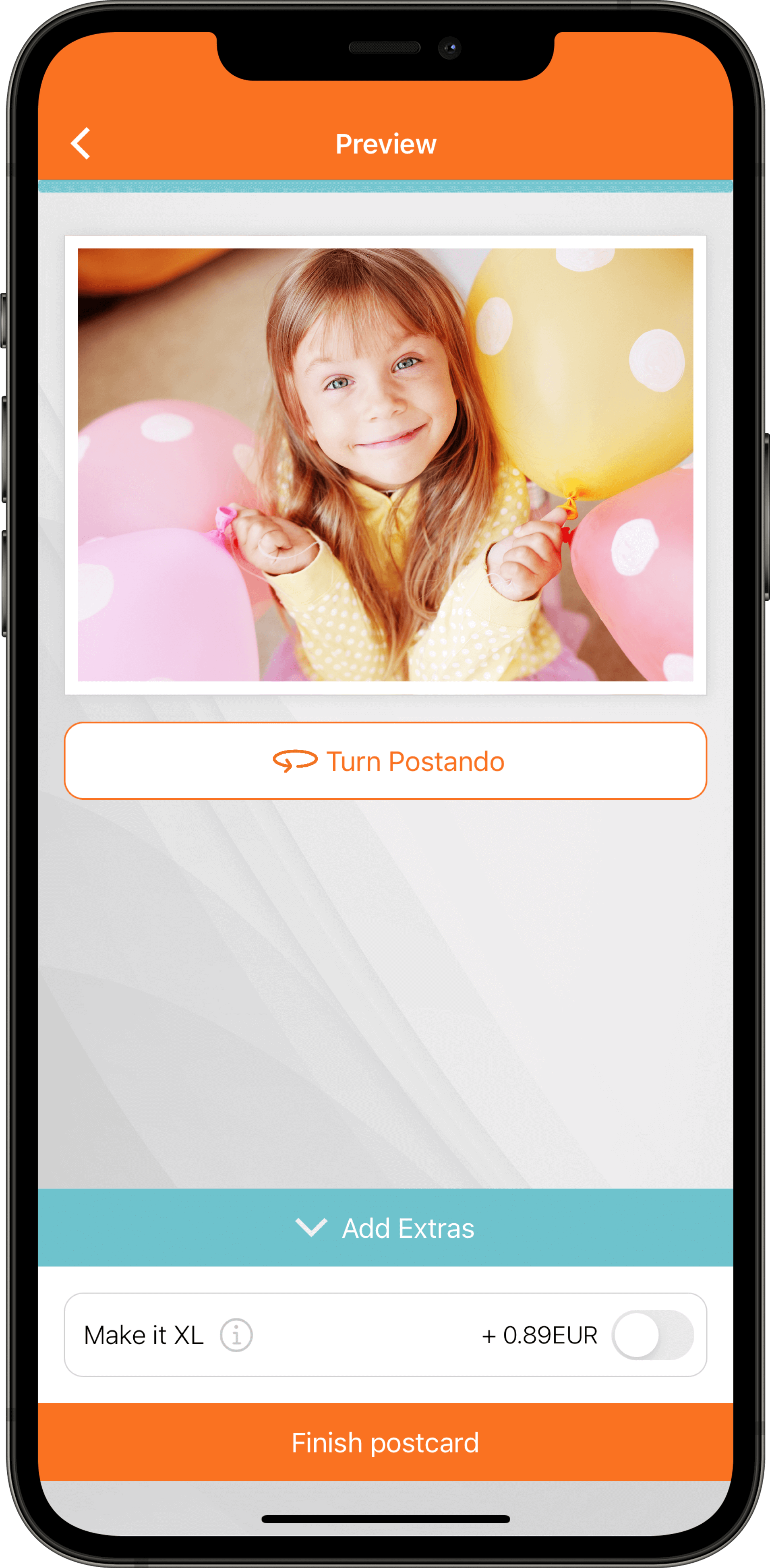 Step 4
Pay and send your Invitation card directly in your recipient's letterbox to spread great joy.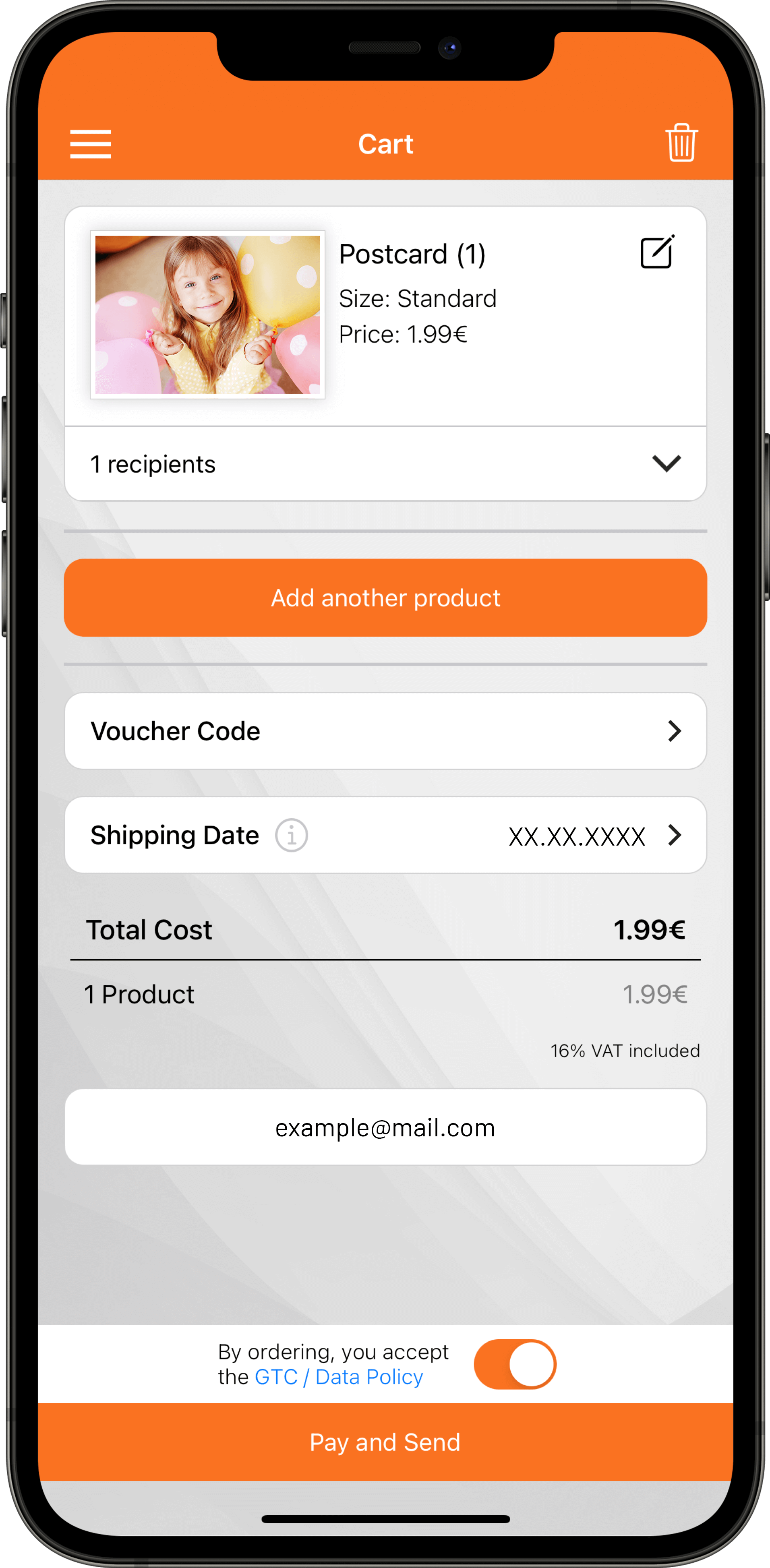 Our promise to you
Individual cards
With Postando you can customize your personal Invitation card with your own photos. No need for standard postcards anymore.
Simple & time-saving
Create your own Invitation card in just a few steps: Select your picture, write a message, add a recipient & send.
Worldwide shipping
Whether to Germany, Thailand or the US – we deliver your Invitation card worldwide for only 2,49€ per card.
Integrated video function
Share your breathtaking moments also in moving images, by simply adding a video to your Invitation card with the use of a QR code.
No registration
You do not need to create an extra account with us. Just download the app and send postcards - without registration & without entering your data.
Sustainable
Together with myclimate we are committed to protect our environment. Every Postando is printed and sent climate-neutral.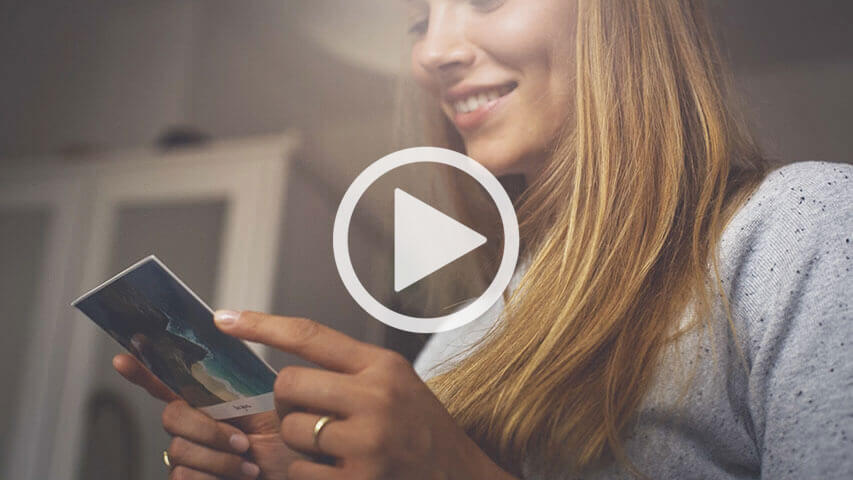 The creative invitation card – tune your loved ones to your big day!
For which occasions can I send invitation cards?
Isn't there always any reason to celebrate? Here you will find some occasions that create an even greater anticipation among your guests thanks to self-designed invitation cards.
Wedding
There is probably no more important and bigger day in life than his own wedding. Create your individual invitation card with a personal photo of you and your partner, which you took in a special moment. So that you can really have all your loved ones at your party, we send your online invitation cards for the wedding abroad for only 1.99€.
Birthday
Another year gone! Instead of worrying about getting older, you should enjoy the day to the fullest and celebrate. Send a creative invitation card for this important occasion. Attach a video file to make your invitation even more personal.
Move
Why don't you just ask your friends for help with a funny written invitation card? Those who have worked diligently to help with cartons and furniture towing can soon look forward to another self-designed invitation card to the inauguration party.
Cooking evening
What could be better than cooking with your closest friends and then sitting at the dinner table for hours and forgetting the time? Send an individual invitation card to a cooking evening. Maybe even with a special motto, like French or Japanese cuisine? Then your guests know with which wine or dessert they can best surprise you.
Garden party
Summer is just around the corner and the barbecue is waiting to be inaugurated. Send your loved ones an online invitation card to your garden party. The most diverse design options make it easy for you to make your personal invitation card colourful and summery in no time.
Baby Party
The birth of your child is imminent! Send your self-designed invitation card to all your girlfriends for the baby party and tune them in to the big event. If you know which gender your child will have, you can match the design of the invitation card to the baby party super.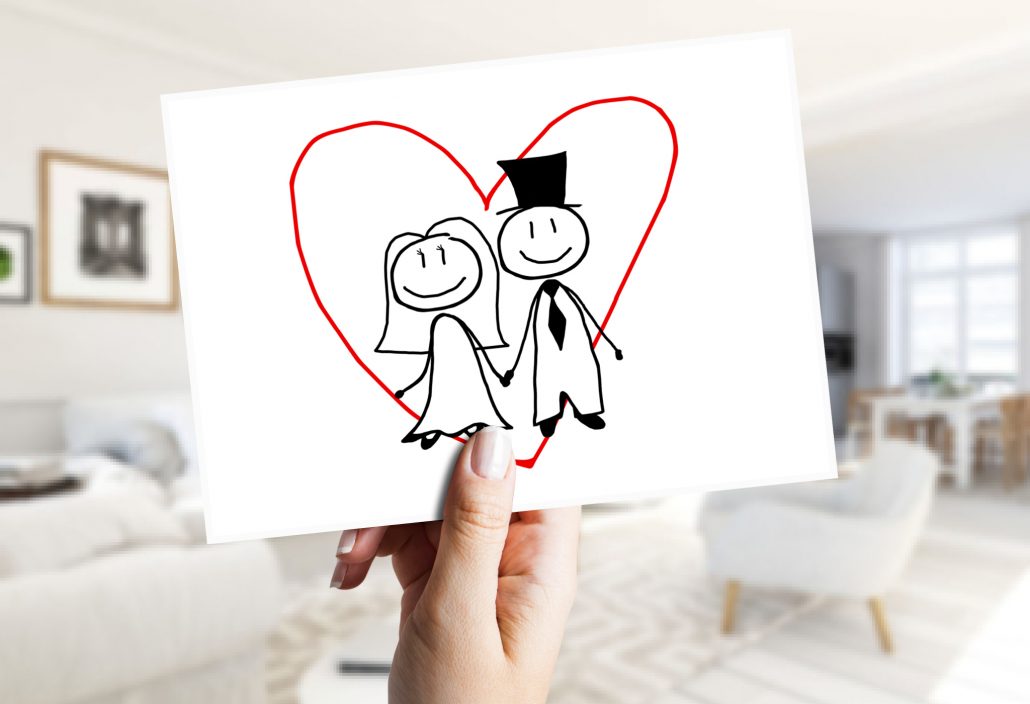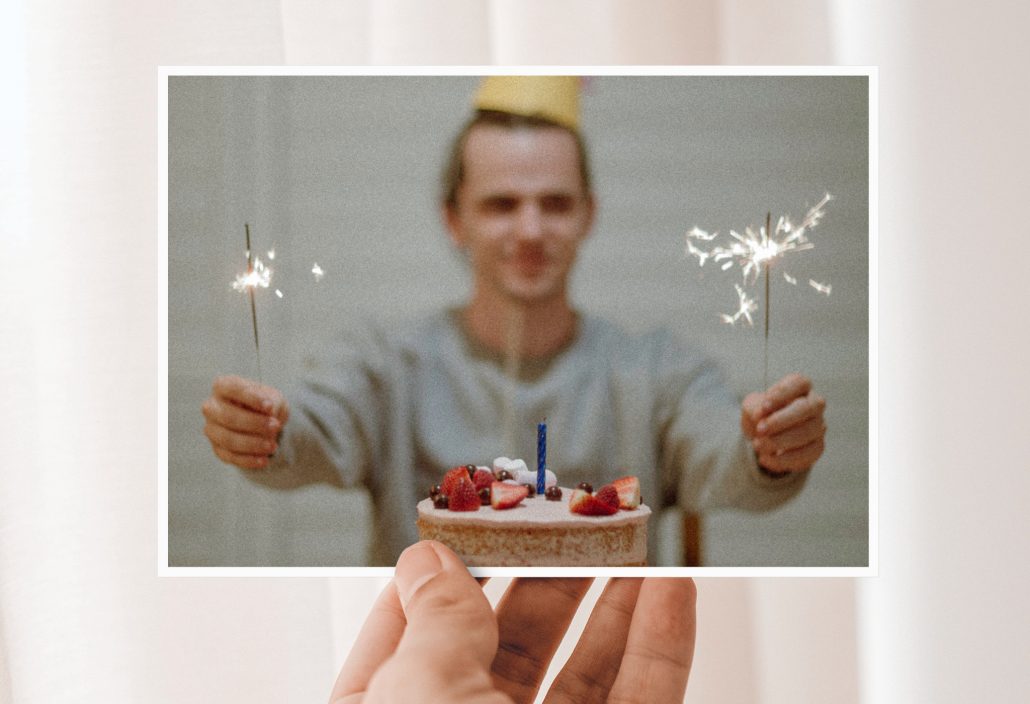 What do I write on my invitation cards?
Keep in mind that your self-designed invitation card should reflect the occasion, as well as the mood and motto of your event. In order not to lose sight of this goal and to find out its own ideas, it helps to ask oneself concrete questions. In order to share the most important information with your guests, it makes sense to integrate basic points such as the occasion of the celebration, the date as well as the time and place, clearly into your self-designed invitation card. This helps to avoid misunderstandings and to make sure that you are not congratulated too early, or that your friends do not cross at your former address.
When writing your personal invitation card, you can also anticipate further questions and provide helpful information to your guests. Can a +1 be brought? Do you want a specific dress code? Do you offer food to your guests or do you expect them to bring something? The better your guests can prepare for your big day, the more likely you are to meet your expectations and your celebration will succeed. To add an even more personal touch to your online invitation card, you can add your own handwritten signature to it via the Postando Postcards app.
How can I design an invitation card myself?
It's not just getting a card that gives you pleasure. But also sending. The best thing about designing your individual invitation cards is that there are no rules and limits! Just be yourself and design the front of your self-designed invitation card according to your personal taste.
But where do I start? Choose a format first and then just try out what you like. If you like to take pictures, simply upload an individual image and give your invitation card a very personal touch. Make good use of the photo and a sufficient brightness. In the next step, you can expand the front of your invitation card with a matching typography. Postando allows you to choose between different fonts and colors, making your self-designed invitation card unique. Why not make your guests laugh with a funny self-designed invitation card and get them attuning to an amusing evening? Choose a funny caricature or cartoon or try to paint a picture that reflects the motto of the event.
Designing online invitation cards is easy and definitely worth it. Try the Postando Postcards app and let yourself be convinced! By taking over the pressure and shipping, you have enough time to focus on the essentials of your party preparation.
Known from