SEND Holiday greetingss WITH THE POSTANDO POSTCARD APP
You spat between coconut trees, sip Pia Colada and enjoy the sound of the sea. The only thing that is missing now, but unfortunately did not fit in your suitcase, are your loved ones. Let them participate in your holiday adventures despite their distance by giving them a self-designed holiday greeting.
Finally, it's the end of browsing boring standard cards and looking for a letterbox. You don't even have to leave your hammock for your online holiday greeting! Grab your smartphone, choose your most beautiful holiday photo and let our pigeons take over the worldwide shipping for you.

You don't have the right words to record everything you're experiencing? Via the Postando Postcards app, your personal holiday greeting can even be supplemented with a video file. Pictures say more than 1000 words close and so you can guarantee to transmit the special atmosphere of your holiday resort to the home-to-home.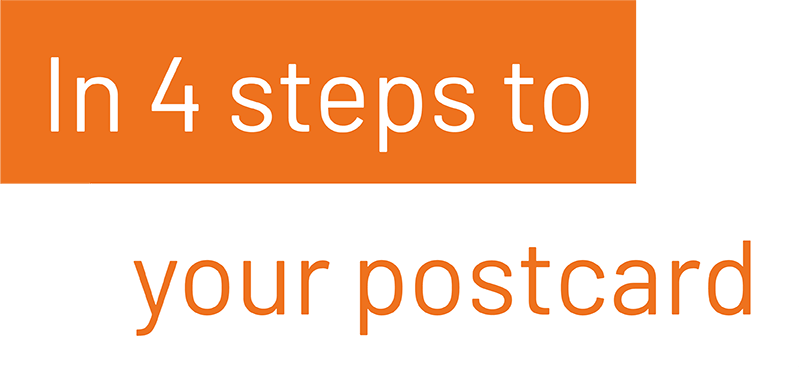 1st step
Choose the format of your Holiday greetings and use your own photos or numerous templates.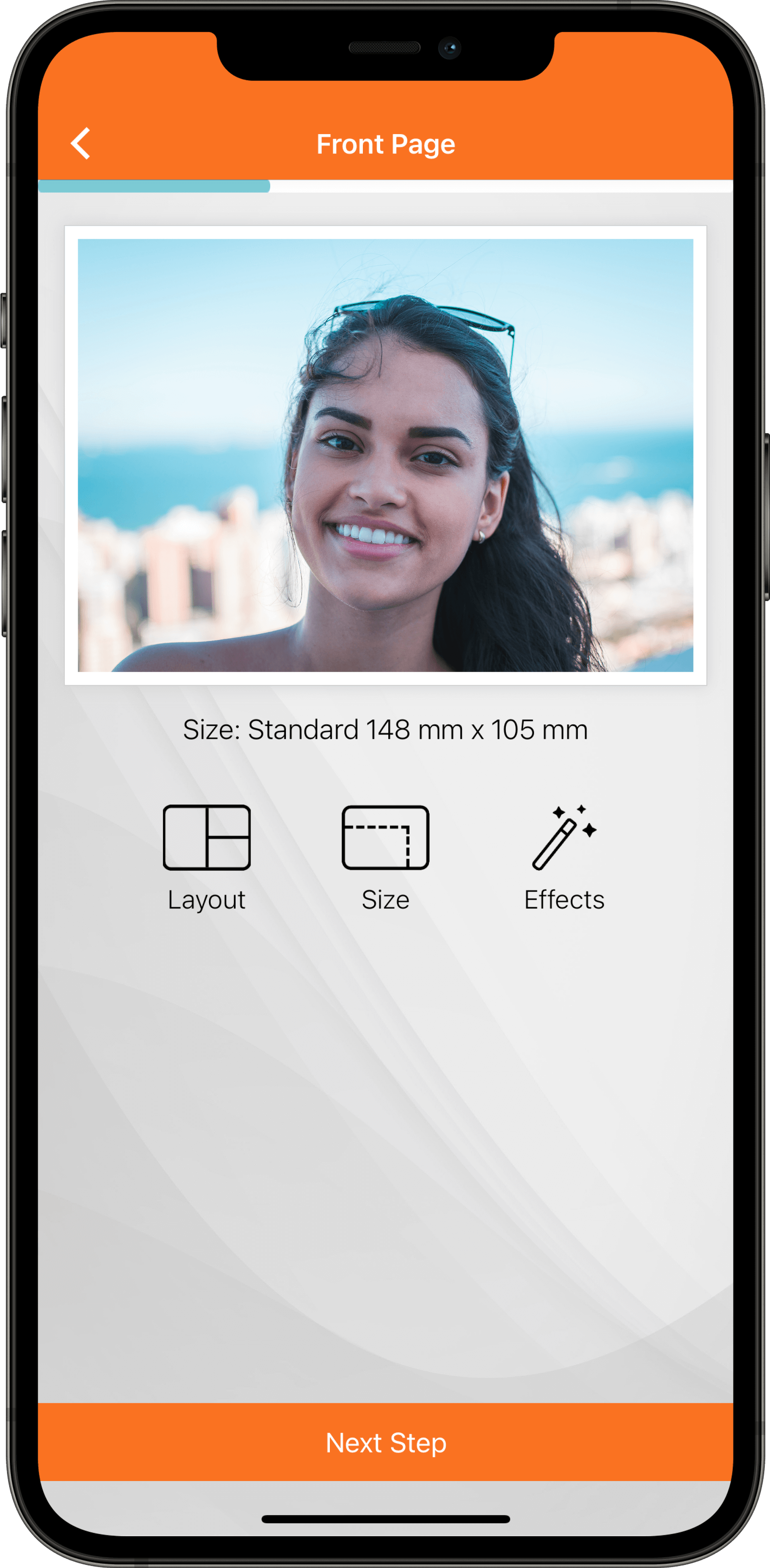 Step 2
Compose your personal message and choose the happy recipient of your Holiday greetings.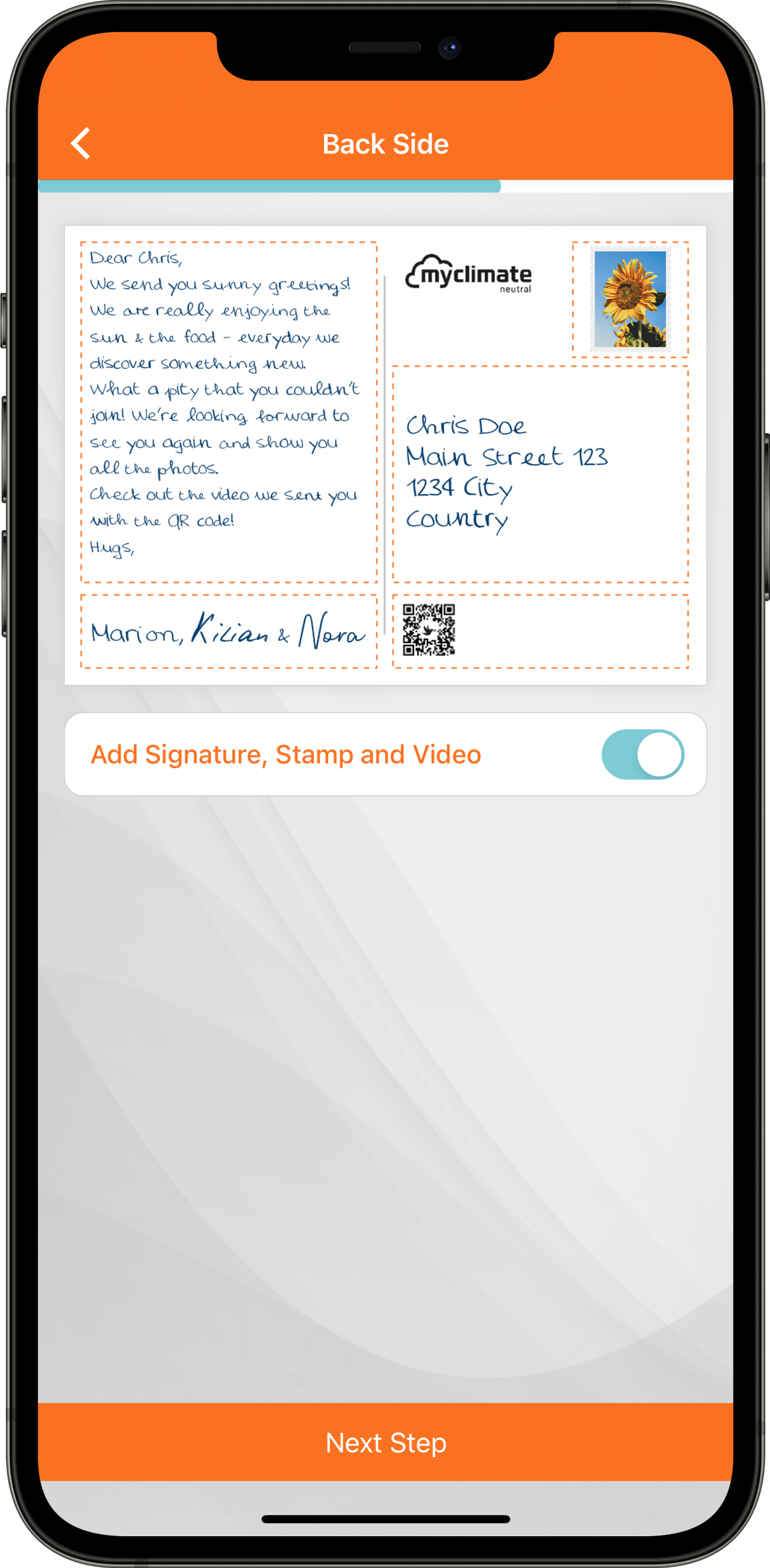 Step 3
Review your Holiday greetings & check the front and back of your self-made postcard before final shipping.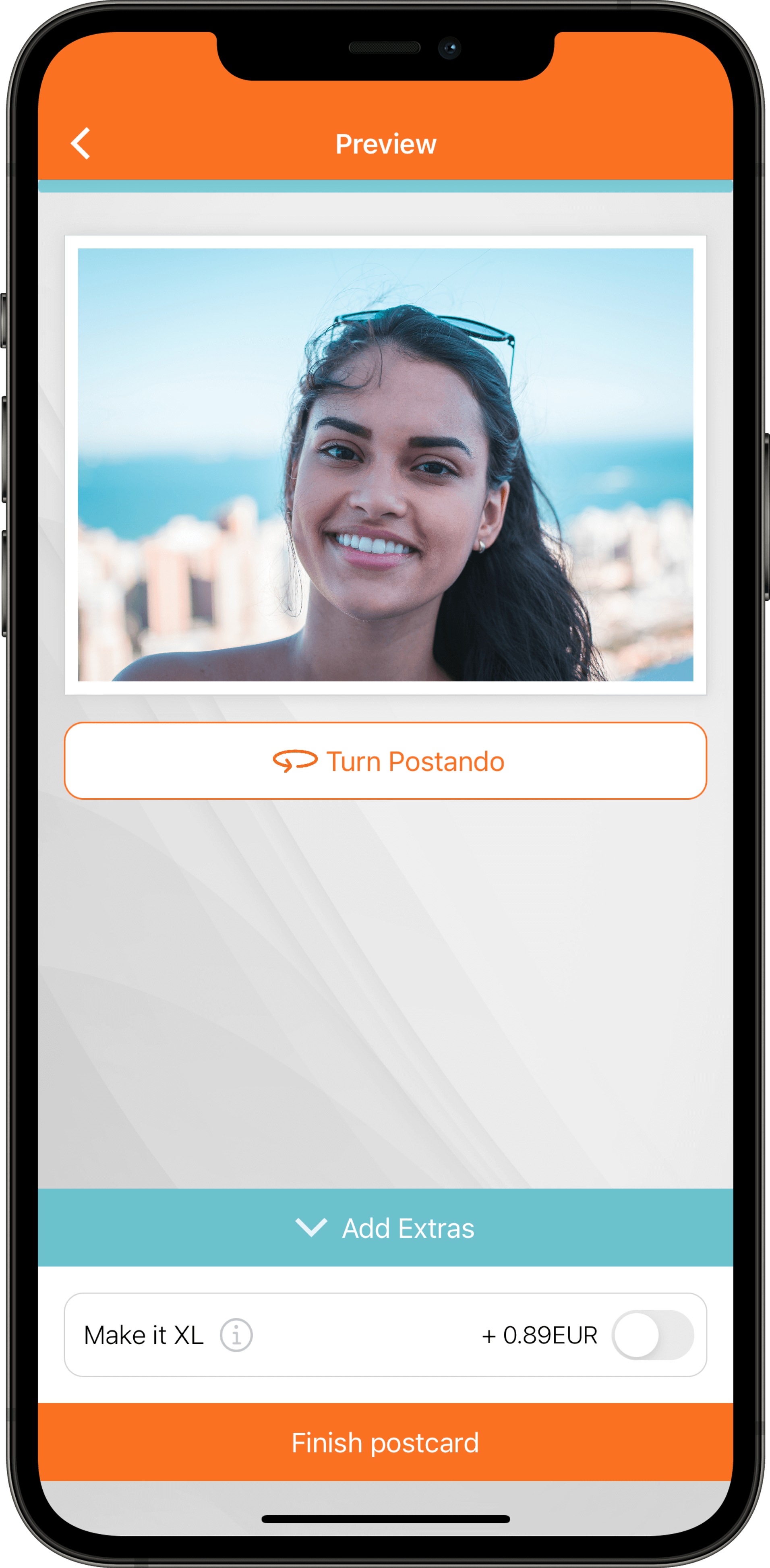 Step 4
Pay and send your Holiday greetings directly in your recipient's letterbox to spread great joy.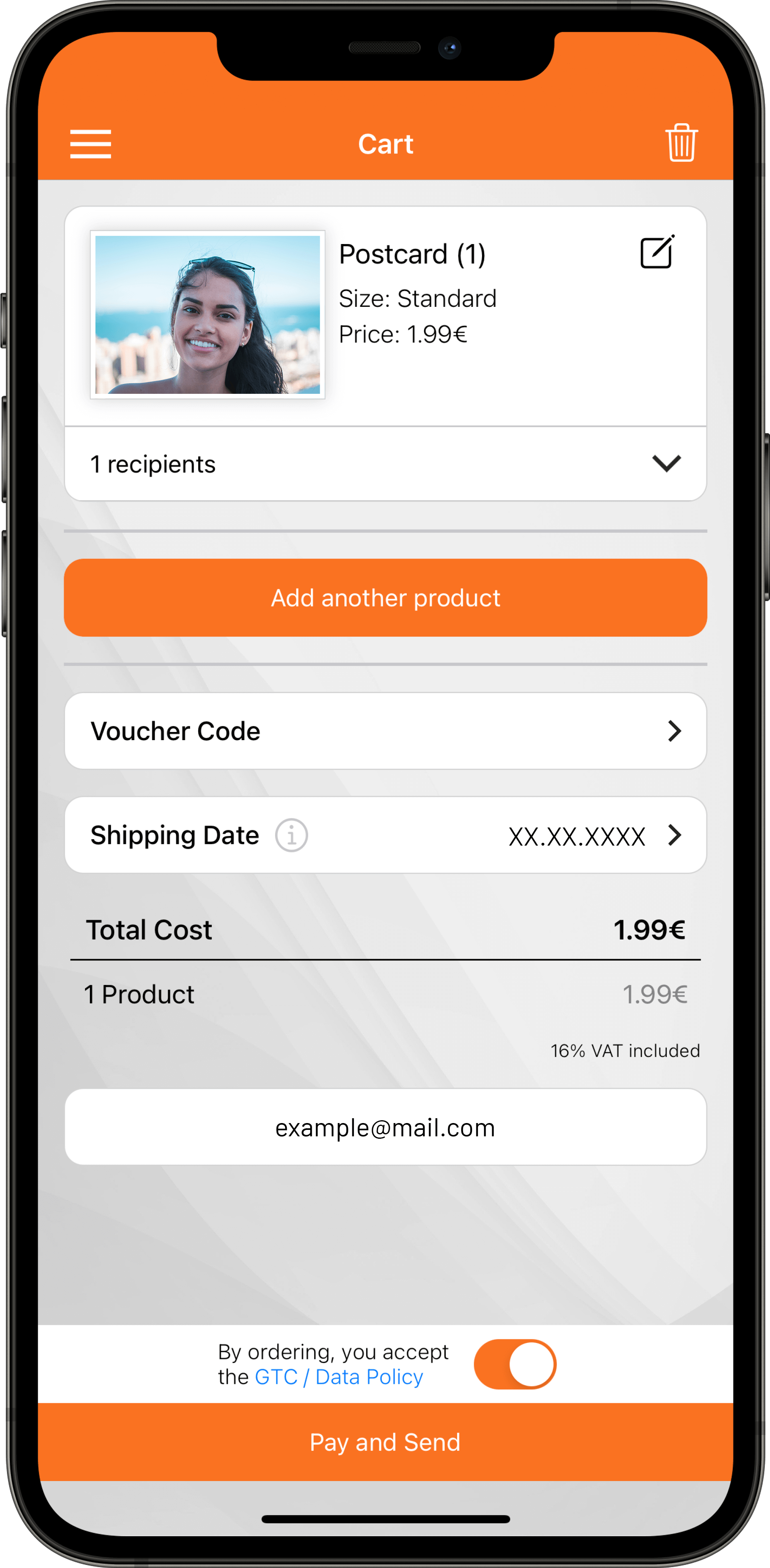 Our promise to you
Individual cards
With Postando you can customize your personal Holiday greetings with your own photos. No need for standard postcards anymore.
Simple & time-saving
Create your own Holiday greetings in just a few steps: Select your picture, write a message, add a recipient & send.
Worldwide shipping
Whether to Germany, Thailand or the US – we deliver your Holiday greetings worldwide for only 2,49€ per card.
Integrated video function
Share your breathtaking moments also in moving images, by simply adding a video to your Holiday greetings with the use of a QR code.
No registration
You do not need to create an extra account with us. Just download the app and send postcards - without registration & without entering your data.
Sustainable
Together with myclimate we are committed to protect our environment. Every Postando is printed and sent climate-neutral.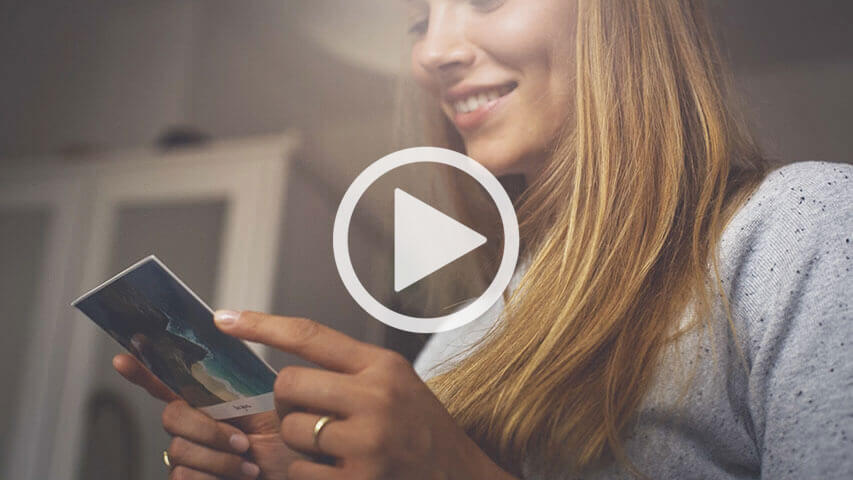 The holiday greeting – let your loved ones take part in your journey
Send your own pictures from your holidays as a holiday greeting
No matter if Bali, Brazil, Japan or the local Baltic Sea – holidays and travelling is always great: Get to know new countries, immerse yourself in new cultures and simply forget about everyday life. So that those at home can also share in our many adventures and new impressions, we have fortunately created the <>old holiday greeting. Everyone is happy about greetings from the holiday. With our postcard app you can even send your own pictures as a postcard and thus make your holiday greeting even more individual and personal.
You can find out here how to create the most beautiful holiday card!
How do I create the perfect holiday greeting?
Not only the grandma is happy about a personal holiday greeting from her grandchild. Friends, colleagues, the boss or the partner who has stayed at home also want to know how the traveller is doing in the foreign country – and this is best done in the form of a self-designed postcard.
When choosing the motif and the content of your holiday greeting, however, you should differentiate between the different target groups.
Attention when selecting the motif!
The aim of every holiday greeting is to convey a vivid impression of the destination. But it is at least as important to choose the right motif for each recipient of your postcard. It makes a big difference whether you send your holiday greetings to your friends' letterbox or to the address of your office.
The grandparents will be happy to receive a holiday greeting with a picture of a special building or a beautiful landscape, while a panoramic postcard is more suitable for the dear colleagues to get a glimpse of the destination. Also pay attention to the preferences of the recipients of your postcards. Beautiful beaches, funny postcard motifs or bizarre sights – such interests can be very well included in the choice of motif.
A new trend among postcards that allows even more individuality is the self-designed postcard. With a self-made photo on your postcard it links in any case to meet the right taste of the recipient!
Leave yourself time to write your holiday greeting
Take the time to think about what your holiday greetings recipients are interested in and what you want to give them from your trip. What kind of moments do you want your loved ones to share? What scenarios or impressions do you want them to remember later? What can you make them happy with? Nobody would like to receive a boring postcard written without love and without any real content.
What do I write on my holiday greeting?
"The sun is shining, the food is delicious, the hotel is great and the pool even better." This is definitely better! The weather and your hotel probably doesn't interest many of your holiday card recipients. Unless you are stuck in the middle of a typhoon or are having the best time in a 5 star hotel with a rooftop pool. The very special holiday greeting is not made with platitudes about the weather or the food. We have put together some ideas for the special holiday greeting for you:
Tell us about a remarkable event or a concrete experience that you have had during your journey.
Write something about country and people that will fascinate you. Special customs, extraordinary festivals, breathtaking landscapes.
Funny holiday greetings, such as describing mishaps, are sure to make any recipient of your postcard laugh.
Tell about new acquaintances, friendships or fellow travellers. How did you get to know each other, what is the plan for your further journey together?
With the help of curiosities, which are unique for a certain country, you can write wonderful holiday greetings. You are just in Thailand and have tried insects for the first time? Or you are in Nepal, the only country without a rectangular flag? Definitely worthwhile to write a postcard text about this and to explain the curiosities!
And for those of us who are particularly creative: how about a poem for those who stayed at home?
Holiday greetings to colleagues – What should I write?
If the greetings from the holiday are also to reach the colleagues and the boss, there are a few little things to consider:
When greeting your colleagues on holiday, it is better to be informative and factual about the country you are visiting than to talk exuberantly about the best time of your life – with all the escapades and the wish never to return. This quickly conveys the feeling that they were just waiting to get as many kilometres as possible between themselves and the boss and colleagues as quickly as possible. Even if it is true, it is important to exercise restraint here.
A second side effect of too much reporting is that the dear colleagues or the boss might get jealous. A holiday greeting should of course convey joy – but a holiday greeting to the colleagues is a feeling for the right measure
Tip: Simply include the employer's product or company in the holiday greeting in a humorous and individual way. But here, too, caution is advised: too humorous can quickly be perceived as "making a fool of yourself".
Funny ideas for a very special holiday greeting
Send all your friends, who are also in close contact with each other, as a postcard motif individual sections of an entire picture, which can then be puzzled together. In the holiday greeting text you can integrate the request to find each other and puzzle the different postcards together. But beware: When writing your holiday greeting, creativity is required so that your friends do not notice that every postcard has the same text on the back.
With our Postando Postcards App you can easily turn this idea into reality by creating personalised holiday greetings for your friends and family.
For trips lasting several weeks, it is a good idea to send further holiday greetings or a series of cards. New town or new country – new postcard. This is an effective way to take the recipient along on the journey. And the anticipation of the next postcard will be enormous. To be continued!
Sending your postcard
At the end, just add the correct address of the recipient of your holiday greeting and that's it – we'll take over from here. With the Postando Postcards App, you don't have to search for stamps and letterboxes for long, and yet your holiday greetings will still end up in your loved one's letterbox.
Why send your holiday greetings with the Postando Postcards app?
A CO2 friendly holiday card: With us you not only create lasting memories with your holiday greeting, but also act sustainably in terms of environmental protection. We do without harmful UV varnish, send climate-neutral together with myclimate and use CO2-friendly paper.
Your holiday greeting – once around the world: Wherever you are, up to wherever the recipient of your holiday greeting is – we send your holiday greetings worldwide, for only 1,99 €. And the best thing is: You don't have to buy stamps and look for a letter box anymore.
Add a video to your holiday greeting: In order to make your holiday greeting even more personal besides individual pictures, we also offer you the possibility to send a holiday greeting in moving pictures. Simply record the video and send it with the card:
Your holiday card will arrive before you, not only when you have been back for a week: Within Germany we need 1-3 days to send your holiday greeting, worldwide 3-7 days.
Known from