SEND Easter greetingss WITH THE POSTANDO POSTCARD APP
It is Easter, which means at the same time: an extended weekend! Finally time to unwind, go for a walk and marvel at the little spring wonders in nature. Easter is not only an occasion to take a break from everyday work, but also to spend wonderful days with your favorite people.
But maybe you can't celebrate Easter with your loved ones because you've travelled over the holidays? Then design your individual Easter greetings with the Postando Postcards app and surprise your relatives, friends and colleagues with your individual photo collage.

Instead of looking for a letterbox for eternities, you can concentrate entirely on the Easter egg hunt - because we take care of the shipping for you. For an even more personal Easter greeting, you can also attach a video file, which can be easily accessed via a QR code.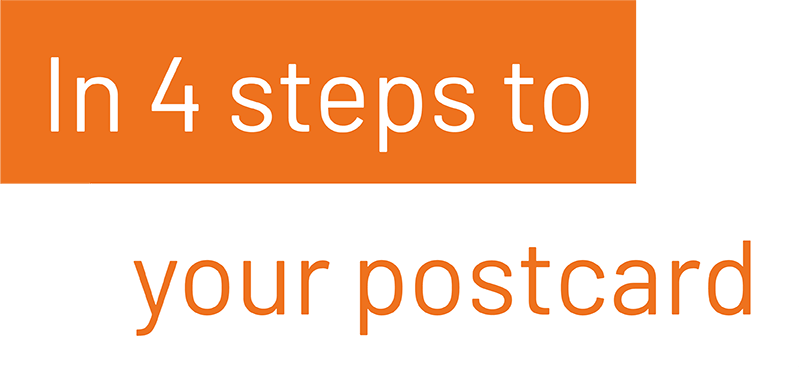 1st step
Choose the format of your Easter greetings and use your own photos or numerous templates.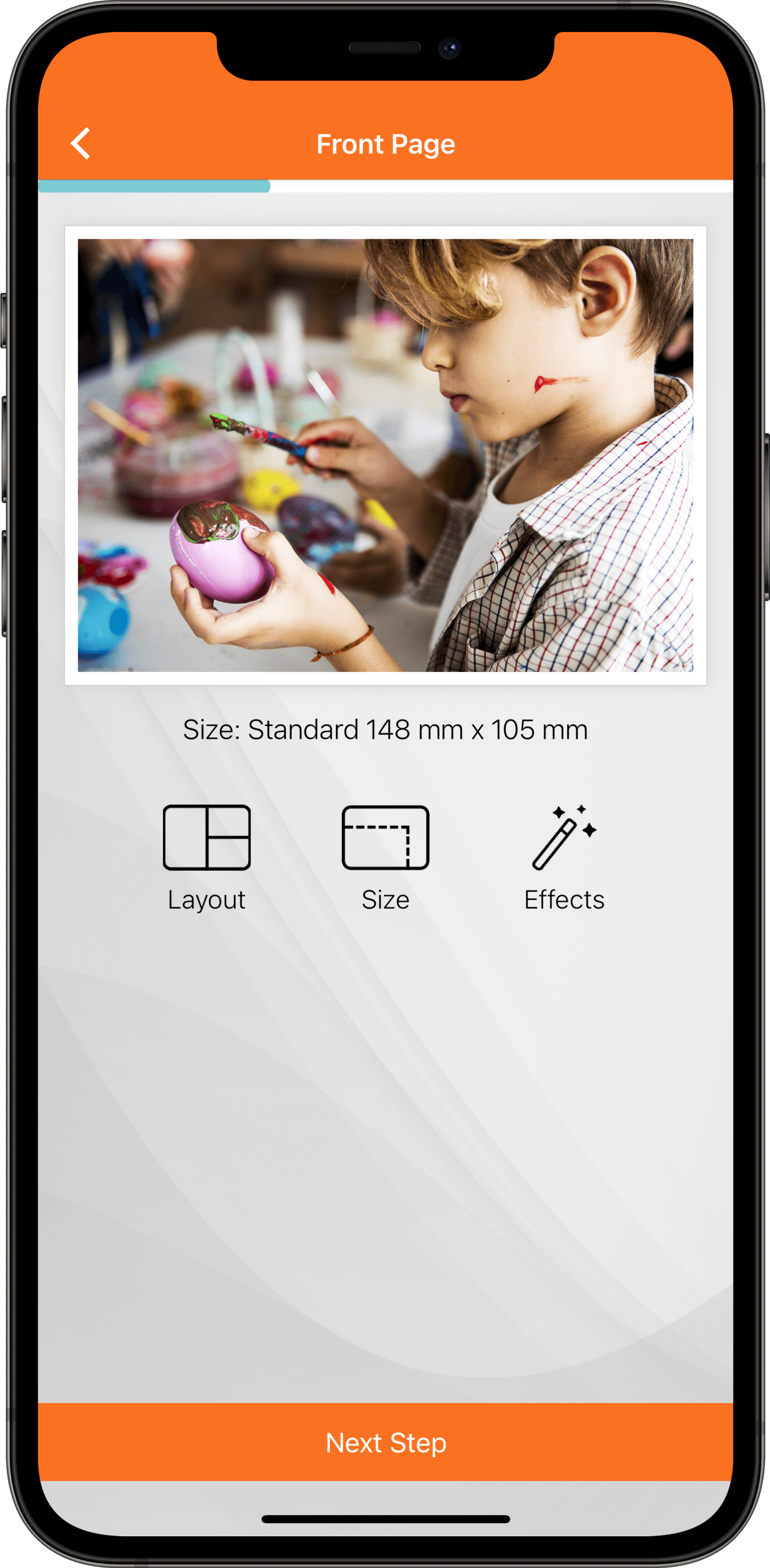 Step 2
Compose your personal message and choose the happy recipient of your Easter greetings.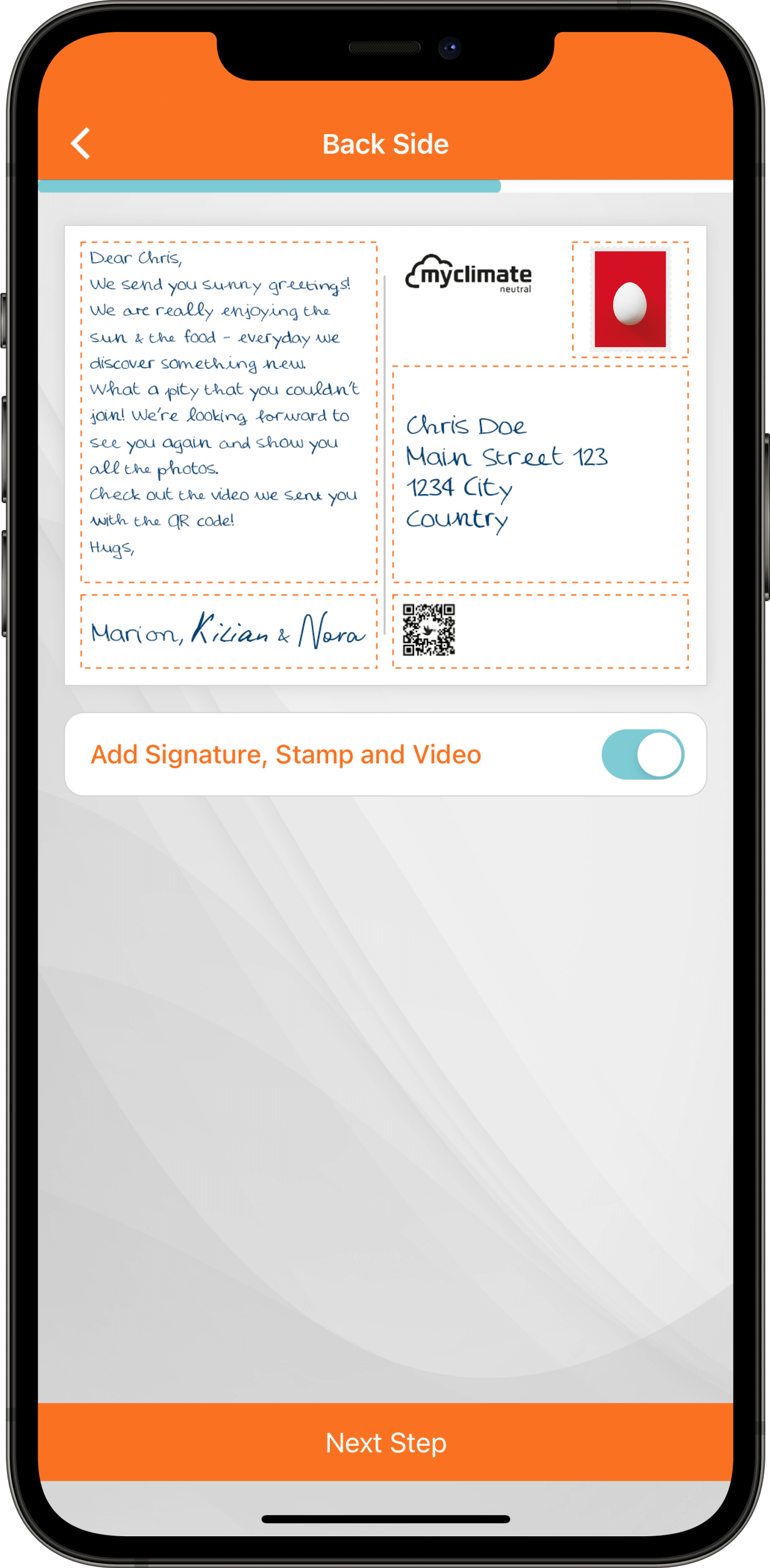 Step 3
Review your Easter greetings & check the front and back of your self-made postcard before final shipping.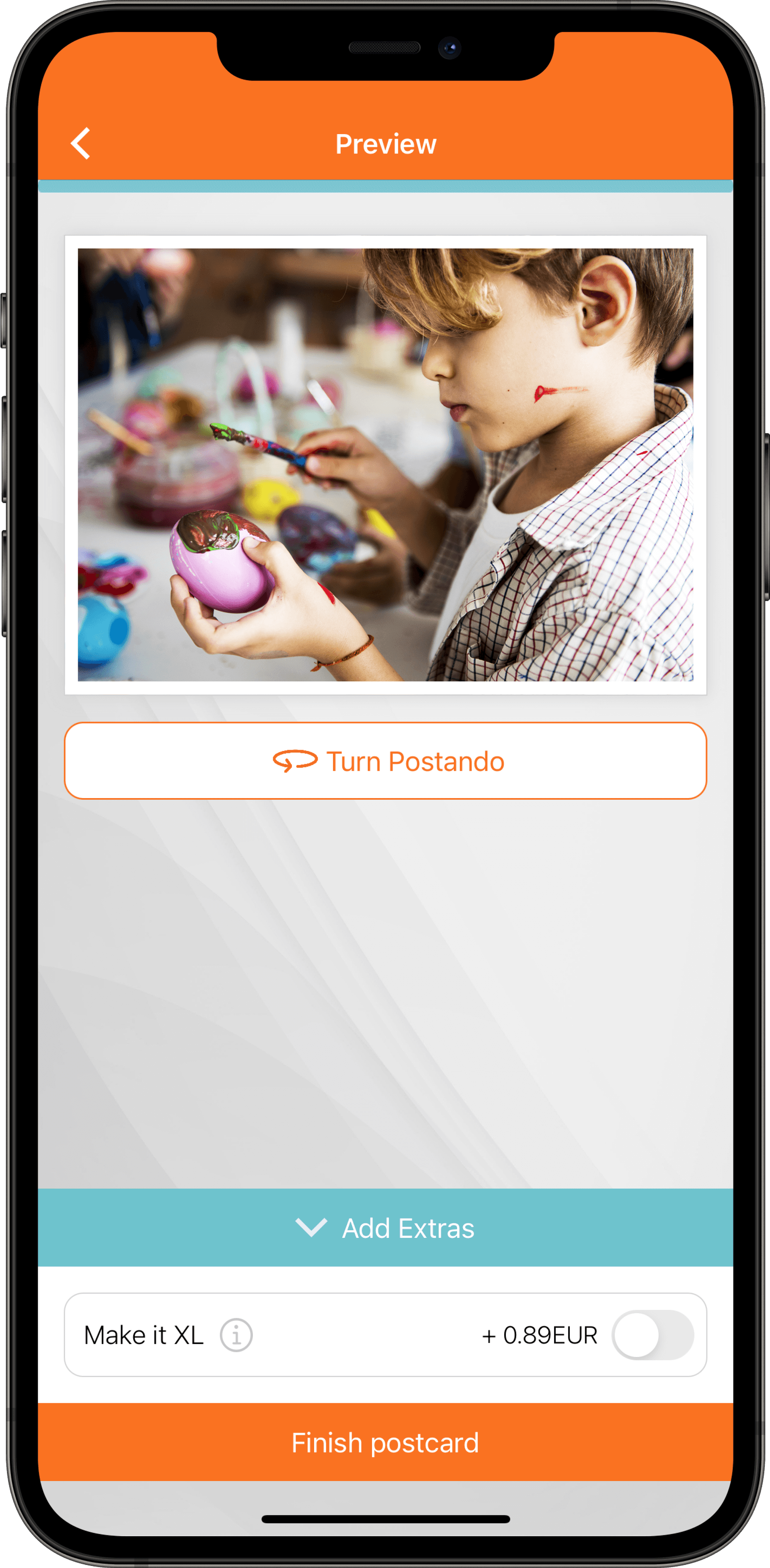 Step 4
Pay and send your Easter greetings directly in your recipient's letterbox to spread great joy.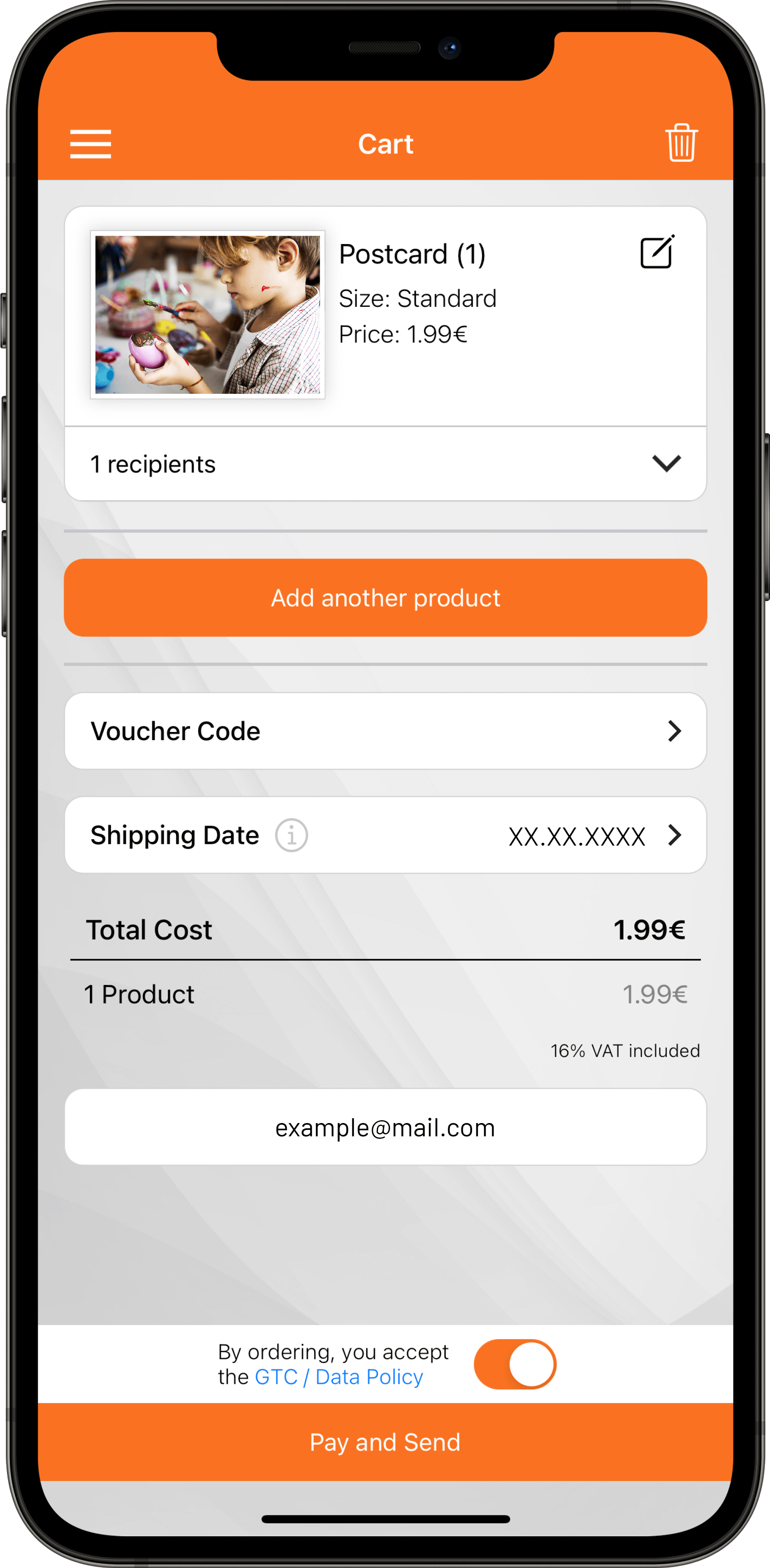 Our promise to you
Individual cards
With Postando you can customize your personal Easter greetings with your own photos. No need for standard postcards anymore.
Simple & time-saving
Create your own Easter greetings in just a few steps: Select your picture, write a message, add a recipient & send.
Worldwide shipping
Whether to Germany, Thailand or the US – we deliver your Easter greetings worldwide for only 2,49€ per card.
Integrated video function
Share your breathtaking moments also in moving images, by simply adding a video to your Easter greetings with the use of a QR code.
No registration
You do not need to create an extra account with us. Just download the app and send postcards - without registration & without entering your data.
Sustainable
Together with myclimate we are committed to protect our environment. Every Postando is printed and sent climate-neutral.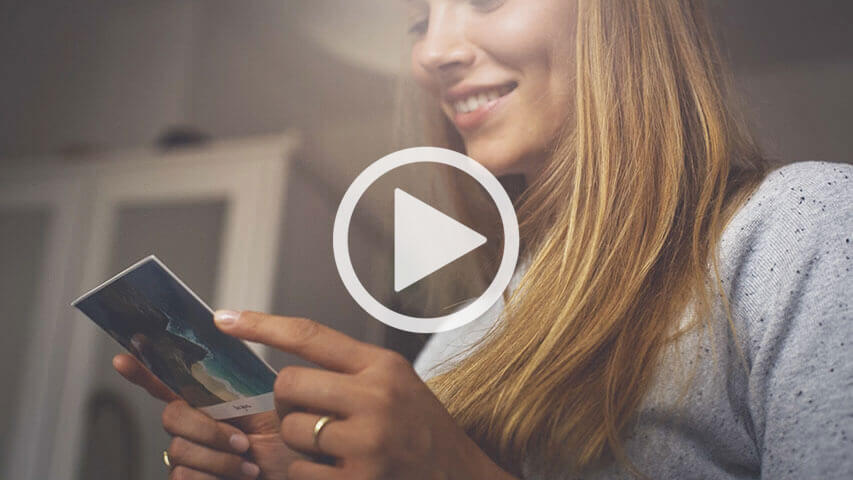 Create Easter greetings yourself and send them online
What do I give away for Easter?
Today, Easter is often used not only to celebrate the religious background, but also to get together in the family, spend a few relaxed days together and enjoy the approaching spring. However, it is not always possible to meet up with loved ones, as relatives may have to work on the holidays or may be abroad.
Besides chocolate, Easter eggs, flowers and flower bulbs, an individual, self-designed Easter greeting is therefore also an ideal small gift for Easter. With this little gesture you can easily reach your loved ones, even those whom you unfortunately cannot see in person at Easter this year. You also create a certain surprise effect in the letterbox, as not everyone expects a personal Easter greeting.
Joy can easily be advised with a little something that does not even need to be searched for in a big way.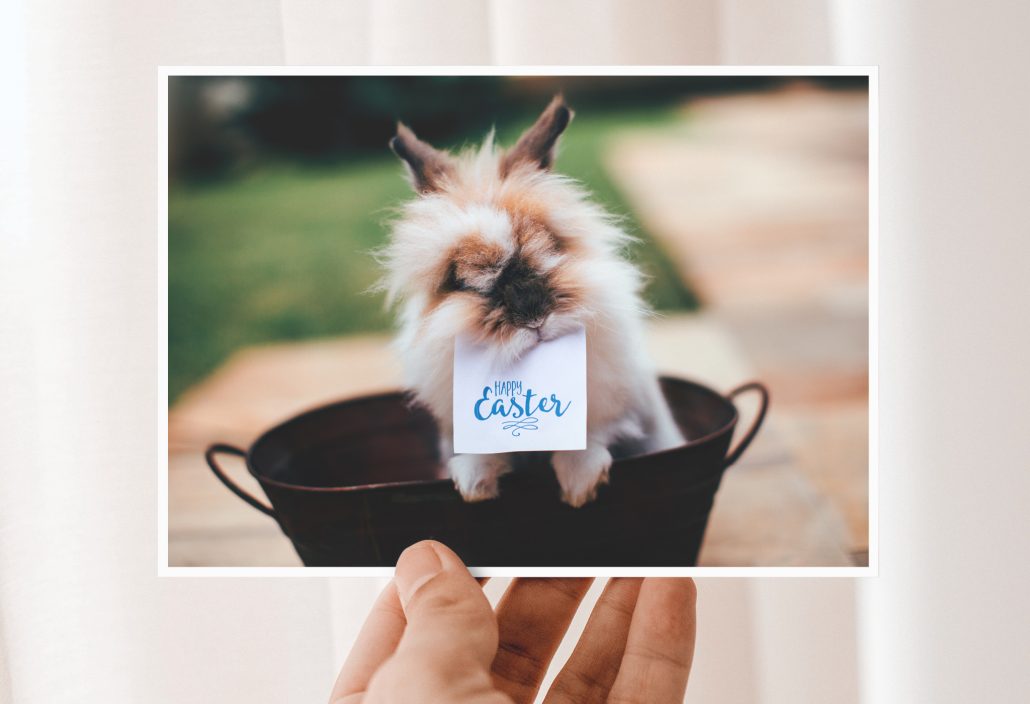 Custom your own Easter greetings
What do I write on my Easter card?
Easter offers the perfect opportunity to send funny Easter greetings. The approaching spring and the upcoming holidays put you in a good mood anyway, which is only strengthened by a funny Easter greeting. We have put together some suggestions for funny Easter cards for you, which you can of course modify individually.
Funny Easter greetings
"It's Easter every day with me, because I'm always looking for something, but today I'm not alone at last. Happy Easter and a successful search & Find."
"To all those out there who think they know how the rabbit runs: let me tell you, he is hopping! On that note, happy Easter."
"Have you heard? It's all over the news! Hackers have managed to penetrate the Easter Bunny's system and have published all this year's hiding places. Happy Finding!"
"Why must it always be a rabbit? Let's try an Easter pig!"
Of course you can also choose an Easter poem for your Easter card, or place the classic Easter greeting a la "Happy Easter" on your card. We have also put together some inspirations for you for this purpose.
Classical Easter wishes
I wish you a happy Easter with lots of sunny and relaxing hours with your loved ones. Have fun looking for eggs"
"I'm not the Easter Bunny, but I have also hidden something small in your letterbox – and if you are reading this, you have just found it. With this card I send you my love & a happy Easter.
And now everybody tip the spoons: Happy Easter to you and your loved ones."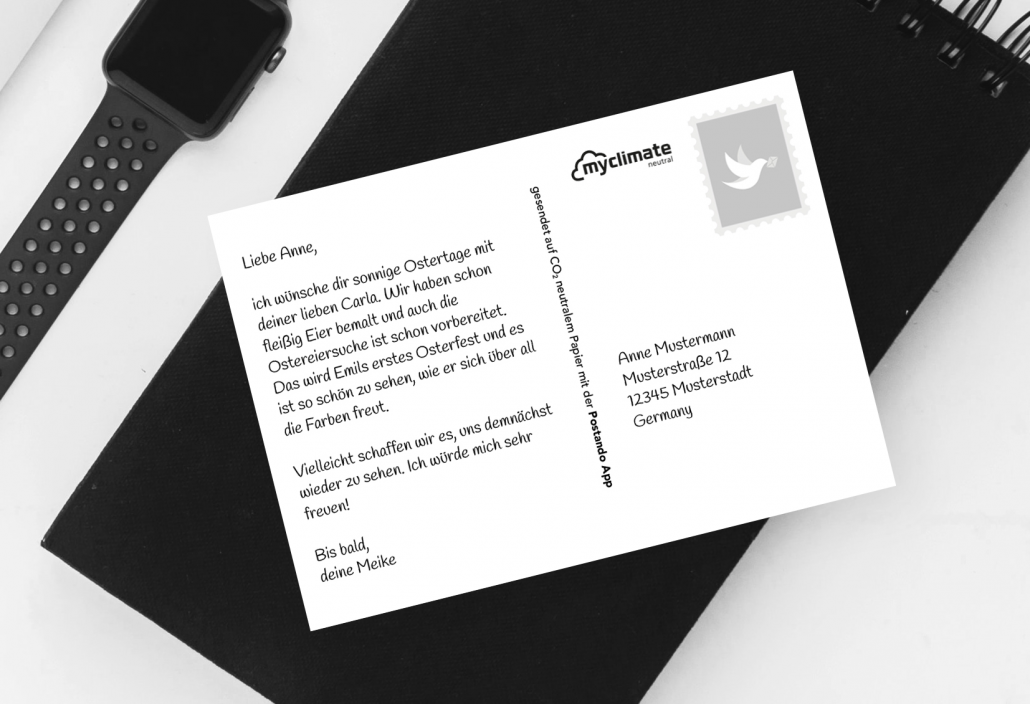 Packaging the Easter message as a poem
"All the best, all the best, just now for Easter! May it bring joy and relaxation above all else."
Under the tree in the green grass sits a little Easter bunny! Brushes his beard and sharpens his ear, makes a male, looks out. Then he jumps away in one leap, and a little cheeky sparrow now looks to see what is there. And what is it? An Easter egg!
Easter greetings with personal photos
Whether you choose an Easter poem, a funny or classic Happy Easter text, with your own photo on the front of the card you can make your Easter greeting the perfect package. A snapshot of the egg colouring, a self made photo of the Easter bells in the garden or the Easter shrub on which the Easter eggs are dangling – with Postando you can easily send your own photos as a postcard in just 4 steps and thus create and send a very individual Easter greeting yourself.
You can then send your personal Easter greeting to your family, friends and colleagues. Everyone will be happy about this unexpected surprise.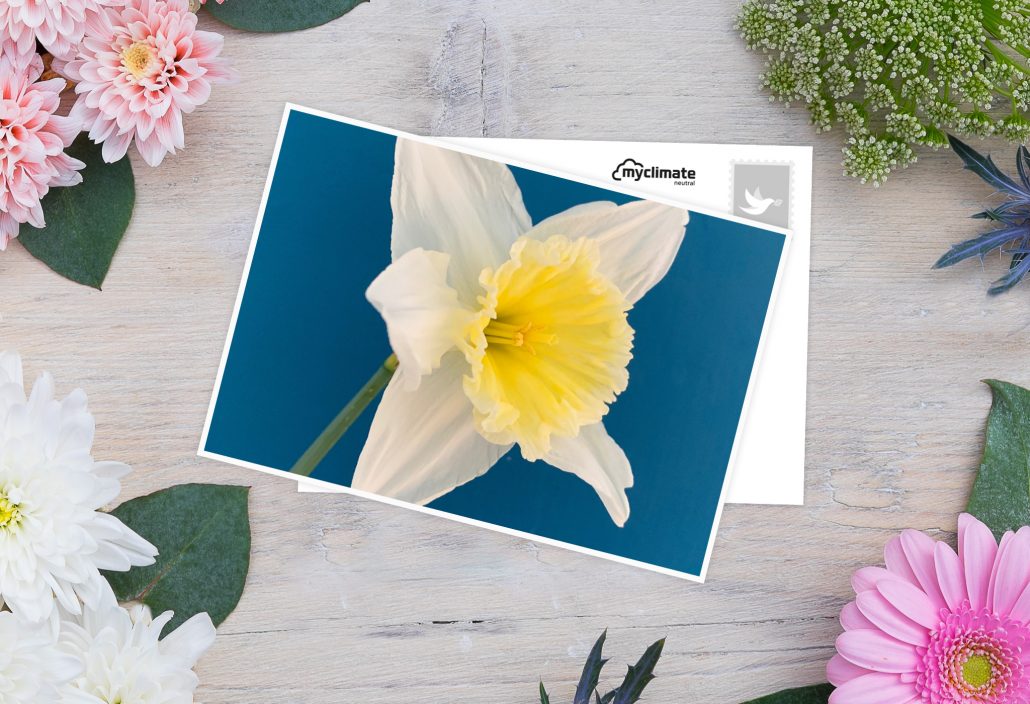 Idea for a very special Easter card
If you want to send an Easter greeting of a very special kind, you can for example create a treasure map on which the recipient can see where the Easter eggs are hidden. On the front of your Easter card the picture of the treasure map, on the back a few helpful hints or even a little puzzle, matching the treasure map and the hiding place.
You can either make this treasure map in the form of a postcard yourself, or, if you want to save yourself the hunt for a letterbox and stamps, you can easily send it from home with our Postando Postcards App. You can either design your treasure map on your PC or paint it on a piece of paper and then take a photo. All you have to do is insert the photo or graphic into the Postando app, write a small text, send it off – and the search can begin!
Business Easter greetings
Companies also make use of the custom of sending out Easter cards. Whether as a thank you & greetings for customer loyalty, for reactivating existing customers or for acquiring new customers, Easter offers the perfect opportunity. With Postcard Marketing it is easy to reach thousands of customers at once. In addition, the postcard conveys a certain appreciation from the company side to the customer.
Business Easter greetings for customer loyalty
A postcard in the letterbox is really something everyone is happy about, because it is associated with a positive feeling, as it is usually associated with a holiday greeting. With the postcard as a marketing tool, companies can use this positive feeling to strengthen customer loyalty. A nice greeting at Easter, wishing for a few relaxing holidays in the company of loved ones, expresses the company's appreciation to the customer. Studies show that the expression of loyalty to a company is based primarily on emotional foundations and not, as previously assumed, on price and product quality alone. A business Easter greeting should therefore not be missing in customer communication.
Business Easter greetings for the acquisition of new customers
The business Easter greeting from the company can do much more than just strengthen customer loyalty. The medium is also increasingly used to win new customers. Easter is the perfect occasion for this. With a beautiful Easter card, which has an opening rate of 100% and thus really reaches every potential new customer, companies skilfully draw attention to themselves and stay in the minds of new customers.
.
Business Easter greetings for existing customers Reactivation
Even the existing customers should not have to do without a small Easter present from the company. Especially if they have not used the product or service for a long time. In this case the business Easter greeting can be sent as a reactivation measure. With an extra Easter discount, companies not only make their customers happy, but also encourage them to redeem the voucher and use the product or service again.
For further information on the handling of the business Easter greetings please visit our postcard marketing page.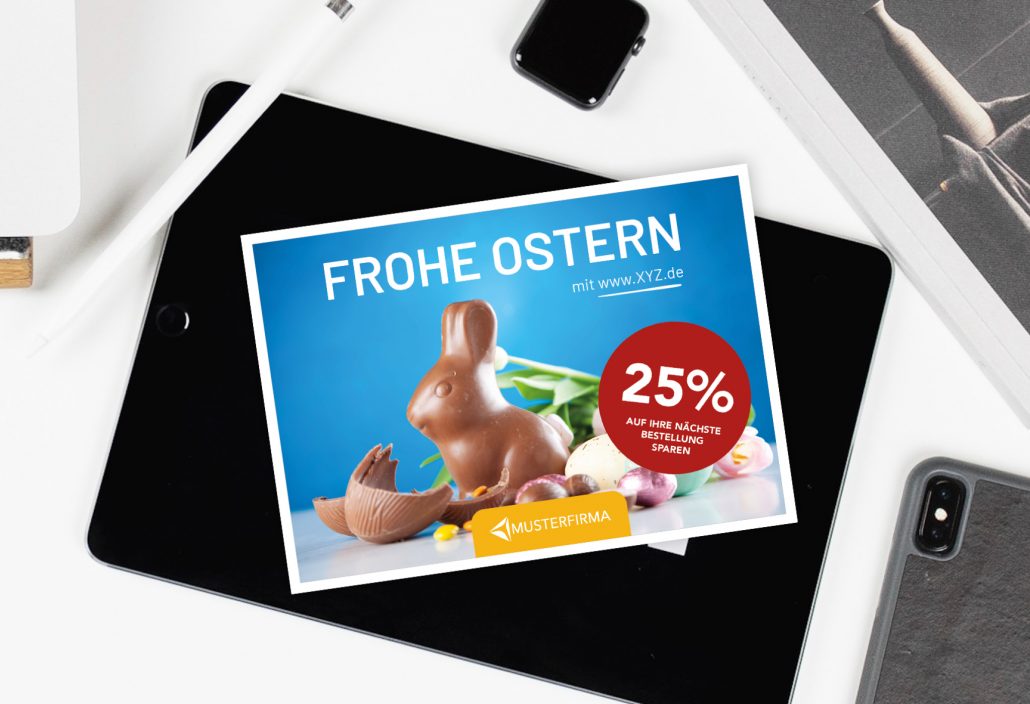 Sending your Easter greetings
When should I send my Easter card
To make sure that the Easter cards and Easter wishes arrive in time, it is best to send them on the Tuesday before Easter. As Good Friday is a public holiday when no mail is delivered, it is advisable to allow for some extra buffer. International Easter greetings should be sent one week before Easter. So if you send your Easter greetings on Thursday in the week before Easter, you are on the safe side. For international journeys, your Postandos will need about 3-7 working days until they arrive in the recipient's letterbox.
Even if the Easter greeting arrives in the letterbox one day before Easter, or a little later, this will not diminish the joy of the recipient. What is important is the gesture and that you have thought of each other.
3 reasons why you should send your Easter greetings with Postando
Integrated video function: With Postando you can attach a real video to your postcards. You can even send your personal Easter greetings in moving pictures or send a video of your loved ones in the garden looking for Easter eggs. This way, the recipients feel as if they had been there.
Send your Easter greetings on an international journey: Each Postando costs only €1.99 for worldwide shipping. Your international relatives and friends will also enjoy a very personalised Easter greeting.
The climate neutral Easter greeting: Postando is climate neutral in printing and shipping. Because we not only want to make it possible to send long-lasting memories, but also to avoid long-lasting damage to our environment. The climate neutral Easter greeting is only available at Postando.
Known from