SEND Christmas cards WITH THE POSTANDO POSTCARD APP
Soon Christmas is just around the corner. Would you rather spend the time with snowball fights, drinking mulled wine and winter walks through snowy forests, instead of getting stressed in search of the ideal Christmas present? Understandable! That's why we at Postando have a solution for you: Surprise your family and friends with self-designed Christmas cards.
Not only do you have the choice between different formats and design options, but you can even attach a personal video file. And the best part is that you can do all this in a blanket murmured from your sofa.

Christmas is the feast of love - in addition to the love for our fellow human beings, respect for nature should also be the focus. That's why we print your personal Christmas cards exclusively on CO2-neutral paper and send them with the GoGreen shipping from the German Post Office.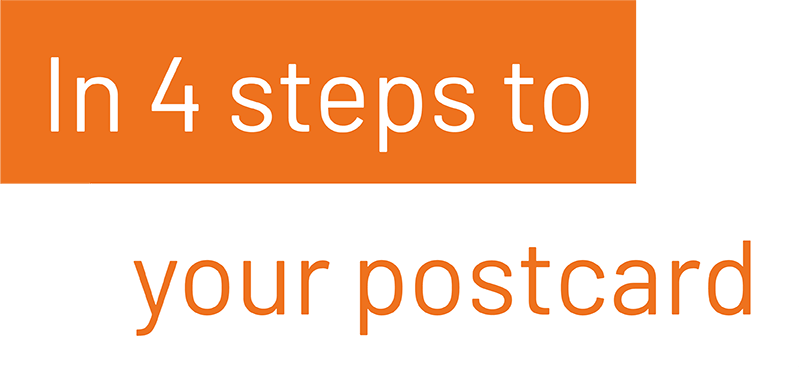 1st step
Choose the format of your Christmas card and use your own photos or numerous templates.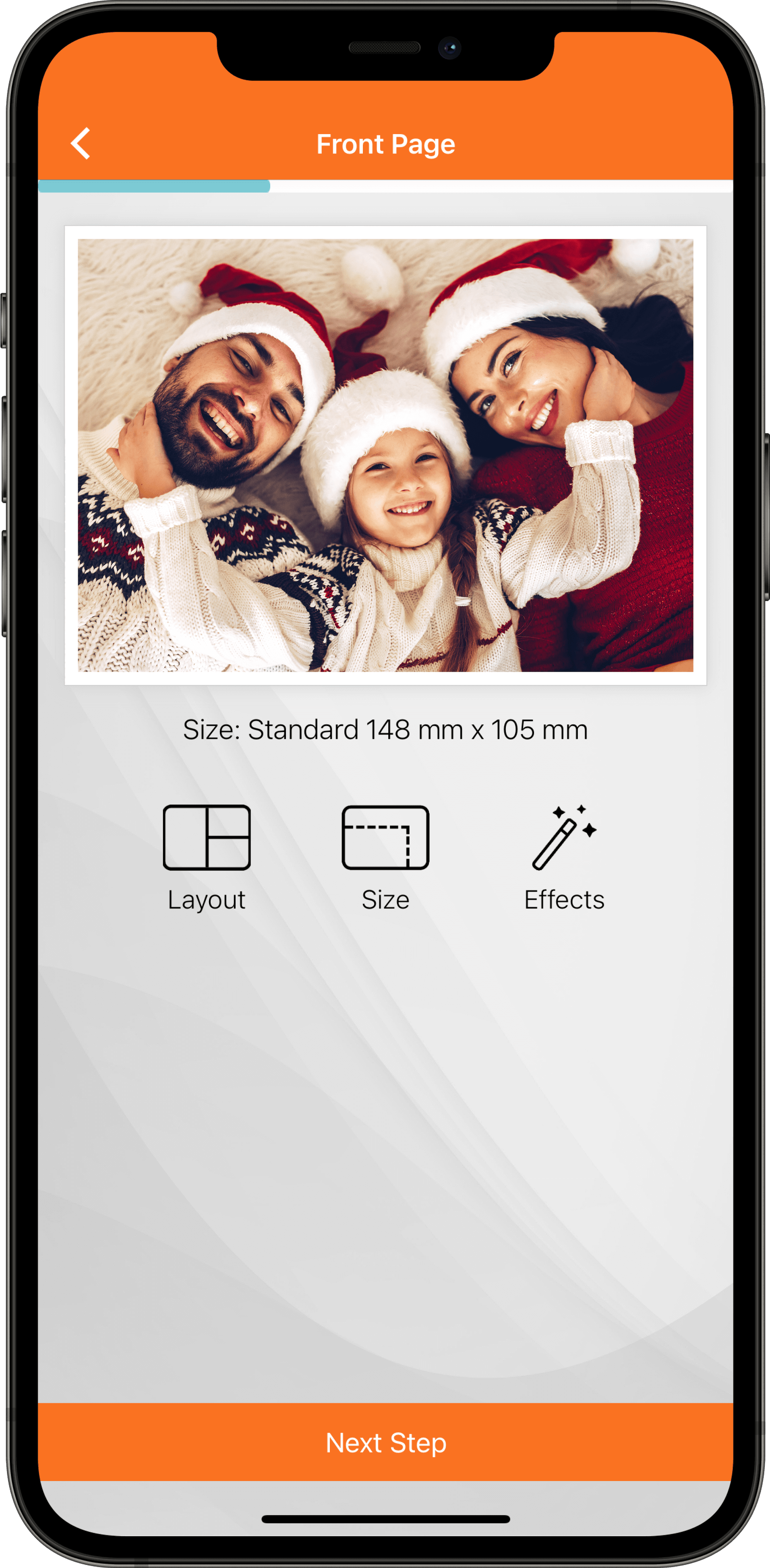 Step 2
Compose your personal message and choose the happy recipient of your Christmas card.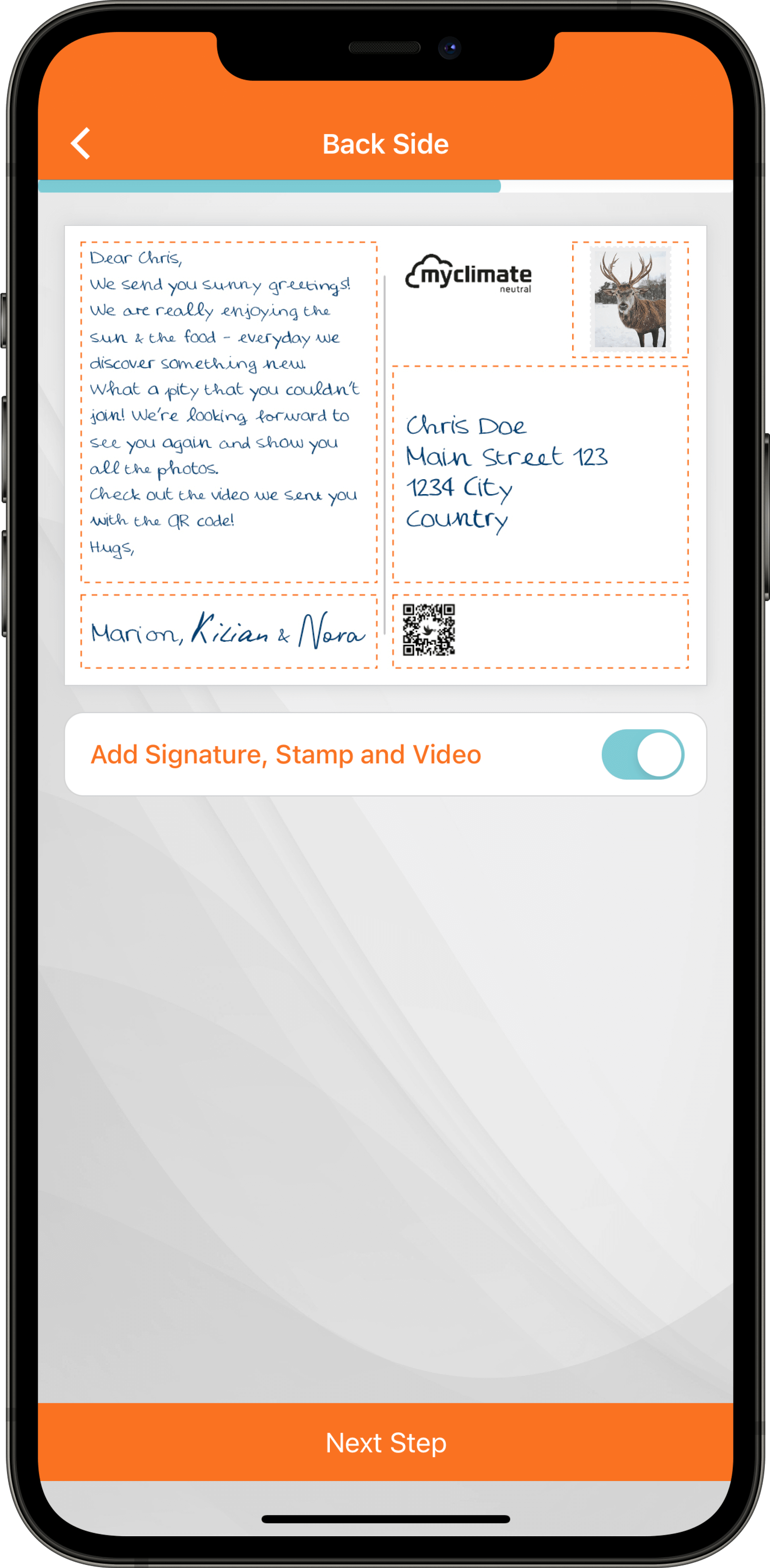 Step 3
Review your Christmas card & check the front and back of your self-made postcard before final shipping.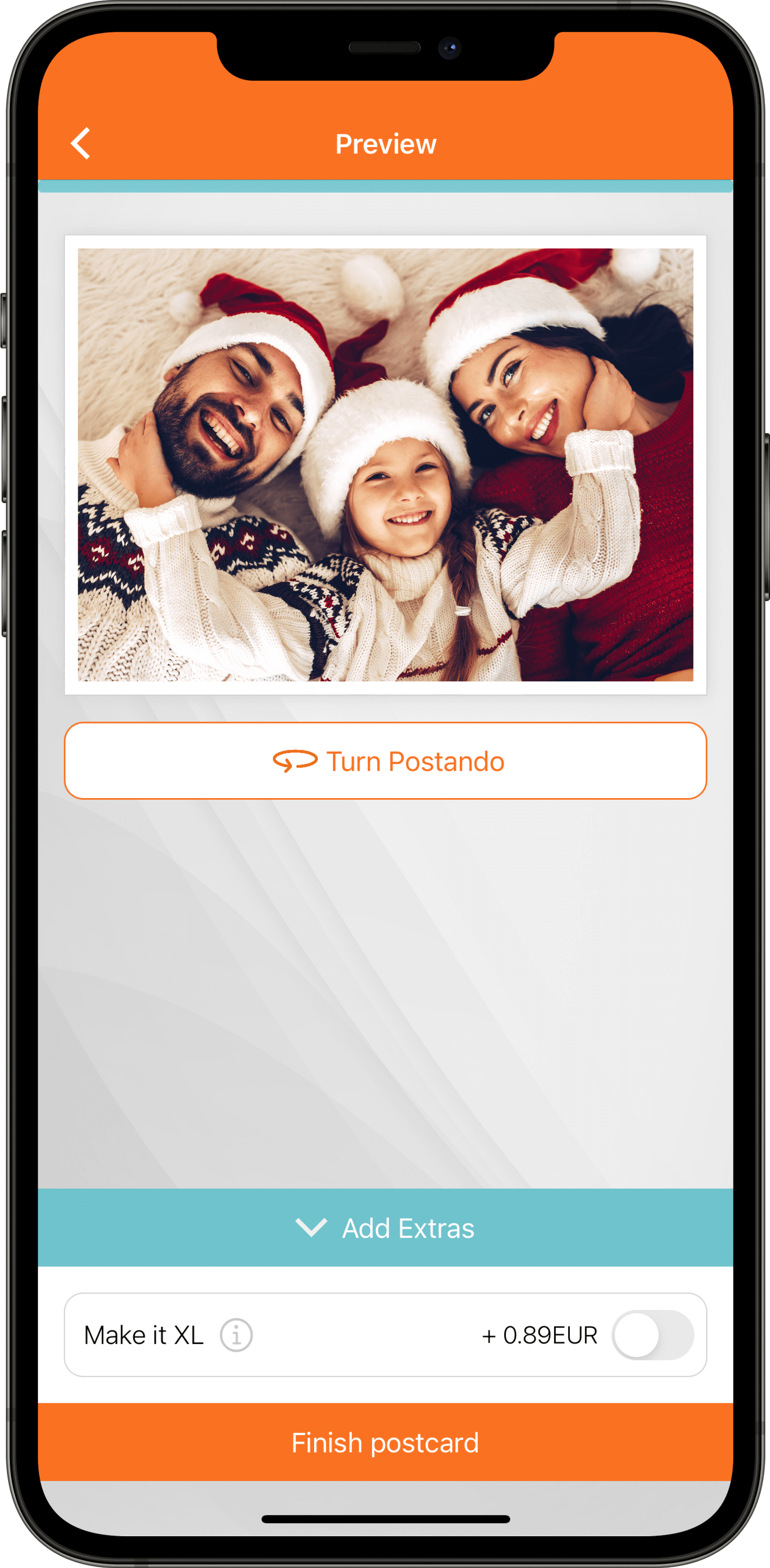 Step 4
Pay and send your Christmas card directly in your recipient's letterbox to spread great joy.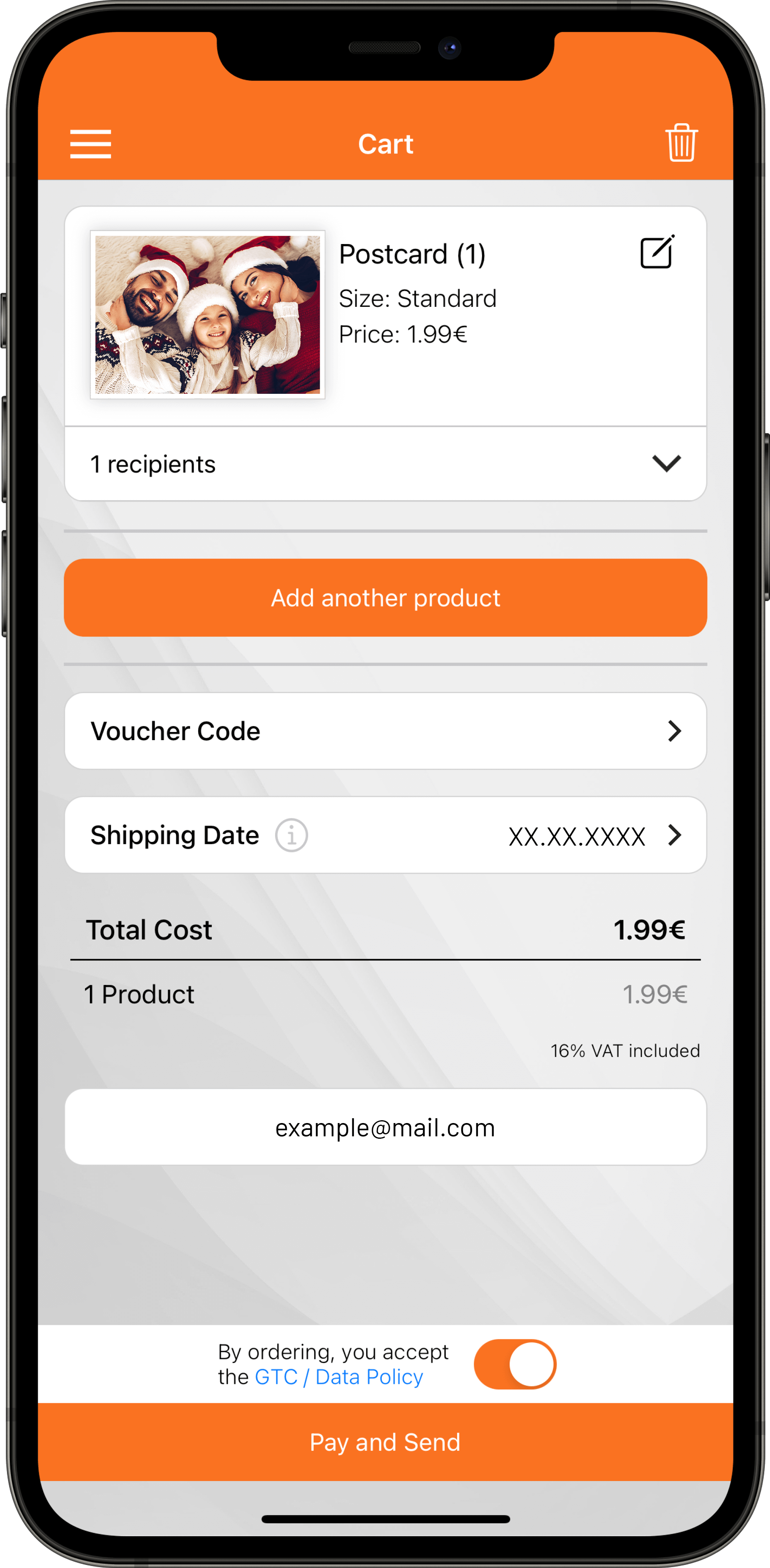 Our promise to you
Individual cards
With Postando you can customize your personal Christmas card with your own photos. No need for standard postcards anymore.
Simple & time-saving
Create your own Christmas card in just a few steps: Select your picture, write a message, add a recipient & send.
Worldwide shipping
Whether to Germany, Thailand or the US – we deliver your Christmas card worldwide for only 2,49€ per card.
Integrated video function
Share your breathtaking moments also in moving images, by simply adding a video to your Christmas card with the use of a QR code.
No registration
You do not need to create an extra account with us. Just download the app and send postcards - without registration & without entering your data.
Sustainable
Together with myclimate we are committed to protect our environment. Every Postando is printed and sent climate-neutral.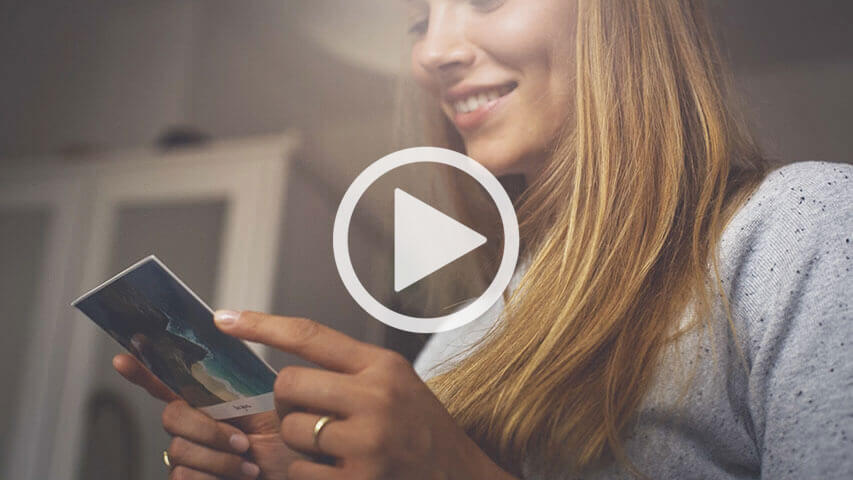 Send Christmas cards – create your own personal greeting for Christmas!
Why send Christmas greetings?
Christmas is known to be the festival of love. During the Christmas season it is therefore customary to send Christmas greetings to those whom you cannot visit personally. This custom goes back to a long history. Already in the Middle Ages and possibly even earlier there was a custom in many regions to send Christmas greetings to relatives and neighbours in the form of delicious pastries. Often the children brought the homemade pastries.
With the introduction of the modern postal system and increasing literacy, Christmas greetings could also travel further distances. The inventor of the Christmas card is Londoner Henry Cole. The Englishman printed a card motif for Christmas, which had been painted by the illustrator John Callcott Horsley and showed a Christmas family idyll. Henry Cole sold his 1,000 printed cards in 1843, thus starting a trend that already in the middle of the 19th century enjoyed great popularity: the Christmas card.
In Germany, the custom of sending postcards for Christmas spread after the First World War. In the age of fast e-mails and free messengers, traditional postcards have not lost their topicality. On the contrary: Analogue greeting cards are again perceived as something special by many people today. This is what makes the classic paper Christmas greetings stand out from the electronic Christmas mail.
What should I write on my Christmas card?
To ensure that the Christmas wishes do not miss the hoped-for effect, they should be tailored to the respective addressee. Individualised and self-designed Christmas cards are therefore ideal for finding just the right words for employees, friends or your own parents.
Christmas cards for colleagues and employees
Friendly Christmas greetings for colleagues are a nice way to say thank you for the successful cooperation in the past year. This warm attention can strengthen the team spirit and have a positive effect on the working atmosphere. For this reason, supervisors and company owners also like to send Christmas greetings for their employees. Cards to business partners and important customers are also part of good manners in many companies and are intended to improve business relations.
.
A typical Christmas card from the professional environment not only wishes colleagues or employees a Merry Christmas, but also expresses appreciation for a job well done. Motivating Christmas greetings and a neutral design that fits in with the corporate culture are standard features of a professional Christmas greeting.
In addition, professional Christmas greetings should have a "strong professional" effect. However, a photo of the company headquarters, the management board, the personal contact person or the whole team can give the Christmas cards an individual touch and create a personal connection to the addressee. In addition, it is often a good idea to use the company logo, corporate design or other visual recognition features for Christmas business mail.
Christmas greetings for friends
It is also common among friends to wish each other a Merry Christmas. With self-made Christmas cards you can give free rein to your creativity and strike just the right note – because one friend is happy to receive a contemplative Christmas card, whereas the other friend prefers to receive funny Christmas sayings.
You can make personalised Christmas wishes for your friends if they live far away and unfortunately you cannot visit them yourself at Christmas. Making Christmas cards with your own photos is also a nice surprise if your friends live next door.
Christmas greetings to parents & family
The Christmas wishes for parents are often made with great care – after all, you wouldn't be here without your parents. The Advent and Christmas season is therefore also a good opportunity to simply say "Thank you" for the many years your parents have raised and supported you.
The Christmas wishes for your parents can be as funny, charming and creative as any other Christmas card. If you design your own Christmas cards, you can take your parents' personality and preferences into account when creating them. Your grandparents and parents-in-law will certainly appreciate a greeting card for Christmas.
How can you design your own Christmas cards?
Self-made Christmas cards are among the many handicrafts that probably everyone has done as a child. Demands usually increase with age – but designing a Christmas card yourself does not mean that quality has to take a back seat.
The starting point for a funny, charming or fresh Christmas card is the motif. During the Advent season, motifs related to Christmas and winter are particularly popular: snowmen, sledges, Father Christmases, snowy landscapes, socks by the fireplace, Christmas trees, colourful glass balls, …
If you want to design your own Christmas cards, you can capture suitable motifs with your camera or draw them by hand. Even a photo of yourself or your family wearing a red Santa hat or angel wings is a nice motif for private Christmas cards with your own photo. You might also find a snapshot of your pet that fits the season.
With a self-designed postcard, it is not only the front that matters, but also the <> nice words that you place on the back of your card. After you have added a picture of your choice to the postcard, you can add text to the picture and thus make your Christmas greeting even more individual and to match the recipient's interests.
At Postando you can create your own Christmas cards to give your friends, family or your sweetheart a very special Christmas surprise. With our Postcards app you can create Christmas cards with your own photo, which will then be printed and sent by post. With this service, Postando builds a bridge between the modern demands of the digital society and the heartwarming tradition of the analogue Christmas greeting.
When is the right time to send Christmas cards?
Every year, senders all over the world worry whether their lovingly designed Christmas cards will reach their recipients in time. If the Christmas greeting cannot be delivered before Christmas Eve, disappointment is often unavoidable.
The cards from Postando need one day to be printed and handed over to a shipping service provider. Within Germany, one to three working days usually elapse from this time until the recipient finds his or her postcard in the letterbox. If a Christmas card is sent abroad, delivery often takes three to seven days.
Since many letters are sent out during the Christmas season, it is worthwhile to plan for a temporal buffer. If you want to make sure that the Christmas greetings are delivered before the holidays, you can allow two extra days.
That is why you should send your Christmas greetings with Postando
Postando enables you to send Christmas greetings on self-made Christmas cards worldwide for a price of only 1.99 Euro. The individual cards are a personal gift and have a emotional value. A personalised Christmas card, which is perfectly tailored to the addressee, brings a smile to the recipient's face when opening the letter box and beautifies the Christmas season.
To protect the environment, Postando's Christmas cards are printed on CO2-neutral paper and sent by the GoGreen service of the German postal service. This way you not only get lasting memories, but also sustainability in the sense of the environment.
The Postando cards look both professional and personal and can be created in just four easy steps. Using the Postando app is uncomplicated and intuitive. Sending postcards online has never been so easy.
Both young and old postcard fans can make the eyes of their friends, colleagues, parents or grandchildren shine with a homemade Christmas card. A Christmas card that has been designed with care and love is not only a nice greeting, but also a wonderful souvenir.
Known from